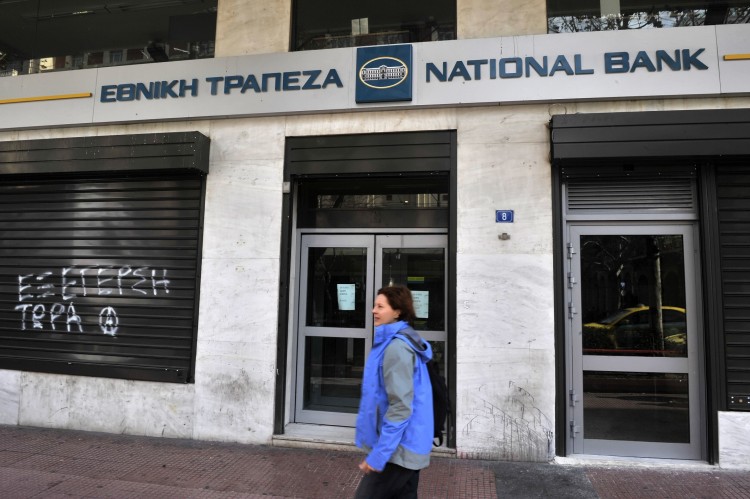 Four Greek banks received a capital infusion of 18 billion euros (US$22.7 billion), according to a report on Monday.
AFP reported that the funds would be divided among National Bank, Alpha, Eurobank, and Piraeus Bank, and released by the European Financial Stability Fund to the Greek body—Hellenic Financial Stability Fund—in charge of distributing the funds.
The biggest lender in Greece, National Bank, received the bulk of the funds, or 7.4 billion euros (US$9.3 billion). Piraeus Bank received the second largest distribution
The funds are a welcome injection for the Greek banks, which are teetering on the brink of insolvency.
A CNBC report said that Greece could run out of cash to pay pensions and other bills by end of June, according to government officials.
The funds for the Greek banks are part of a second 130 billion euro (US$163 billion) bailout the Mediterranean nation received this year from the International Monetary Fund and other Eurozone constituents.
In Europe on Monday, market sentiment was that Greece could work out a plan to stay within the eurozone, as public opinion polls last week signaled that pro-bailout parties should be able to form a coalition government to keep Greece in the Eurozone following upcoming elections.
After the news, the EURO STOXX 50 Index rose by 0.9 percent, and Greece's ATG index rose 2.6 percent.
While investors are becoming more hopeful leading up to the June 17 elections in Greece, news out of Spain was deflating. The Spanish banking sector, which withstood a round of credit rating cuts, looks increasingly weaker. Shares of Bankia SA dropped 27 percent on Monday in Madrid.
The Epoch Times publishes in 35 countries and in 19 languages. Subscribe to our e-newsletter.