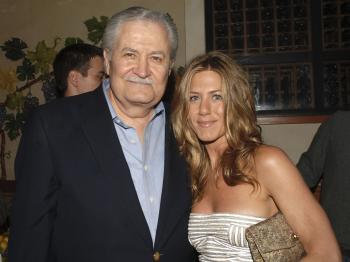 Jennifer Aniston Narrates Children's Book
Actress, Jennifer Aniston, and her father, actor, Jon Aniston, have narrated a children's book for charity. "Loukoumi's Good Deeds," by Nick Katsoris, tells the tale of Loukoumi, the lamb, and how she makes others happy by doing nice things for them. A portion of every book sale benefits St. Jude Children's Research Hospital, which works to help children with cancer and other diseases.
Sarah Palin to Talk to Oprah
Former Alaska governor and vice presidential candidate, Sarah Palin, will appear on "The Oprah Winfrey Show," on November 16. As the two meet for the first time, many topics will likely be covered, including the release of Palin's first book, "Going Rogue: An American Life."
Andy Garcia Portrays Georgian President
Actor, Andy Garcia, was working in the presidential palace of the former Soviet Republic of Georgia, recently, taking on the role of Mikheil Saakashvili in a film centering on the five-day war with Russia. Dubbed an anti-war film, the piece is directed by Renny Harlin of "Die Hard 2."
Run-DMC, The Musical?

Rap legends, Joseph, "Rev Run," Simmons and Darryl, "DMC," McDaniels are reportedly considering the potential for a musical that tells the tale of Run-DMC's rise to the top. The two are talking with producer, Paula Wagner, according to "Variety," to decide if their story, including that of late member Jason, "Jam-Master Jay," Mizell, fits the format. Wagner tells the publication, "I feel their story lends itself perfectly to the stage. This project has been a passion of mine for some time, and I couldn't be more thrilled to be working with them."
New Music Director for New Jersey Symphony
The New Jersey Symphony Orchestra has announced that Jacques Lacombe will become its 13th music director, succeeding Neeme Järvi, who held the post for the past five years. Lacombe said, in a statement, "This orchestra plays with such passion and the chemistry between us has been invigorating. I am proud to have the opportunity to nurture this special energy as the Orchestra's next Music Director."