Senate Judiciary Committee Chairman Lindsey Graham (R-S.C.) suggested that if House Speaker Nancy Pelosi (D-Calif.) does not send articles of impeachment to the Senate in a timely fashion, she and her Democratic caucus would be carrying out "constitutional extortion."
He wrote on Twitter: "Constitutional crisis unfolding before our eyes. Senior Democratic leaders are openly contemplating refusing to send Articles of Impeachment to the Senate for disposition. Trump Derangement Syndrome is reaching a new level!"
After the House passed articles of impeachment against President Donald Trump in a mostly partisan vote, Pelosi declined to say when or if the two articles would be delivered to the Senate. Some legal experts have said that the Senate has the sole power to try all impeachments and have said the House holds no power in this regard.
"What is driving this crazy idea? Democrats have finally realized they have a very WEAK case which NEVER should have been brought forward to begin with," Graham added on Twitter. Later, he said that it's a threat to the Constitution.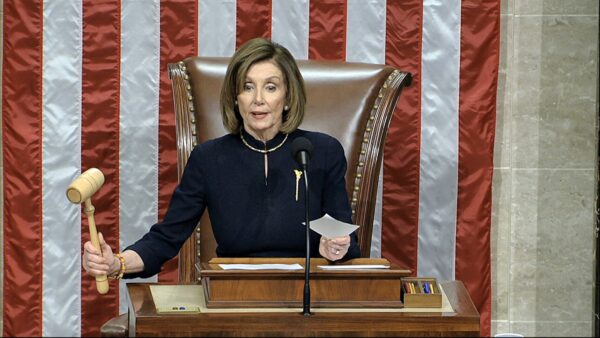 "Not allowing the Senate to act on approved Articles of Impeachment becomes constitutional extortion and creates chaos for the presidency," the longtime senator explained. "It also sets in motion a tremendous threat to our constitutional system of checks and balances."
The House voted to impeach Trump on Wednesday night and made him the third president in history to face removal from the Senate, which has never been done before. Democrats alleged in the two articles that Trump abused his power and obstructed Congress.
After the articles were passed, Pelosi held a press conference said the Democratic leadership has to "see what the process is on the Senate side" before the articles are sent to the Senate floor. "And I would hope that that would be soon. So far we haven't seen anything that looks fair to us," she told reporters.
Graham and Senate Majority Leader Mitch McConnell (R-Ky.) have repeatedly described the House's impeachment efforts as a partisan farce. McConnell also suggested in recent interviews that he would work with the White House on how to hold the Senate trial.
McConnell, on the Senate floor on Thursday, said the two articles passed against Trump are "fundamentally unlike any articles that any prior House of Representatives has ever passed."
The leader also accused Democrats of backpedaling, making a reference to Senate Minority Leader Chuck Schumer's (D-N.Y.) request to provide more witness testimony. McConnell said Schumer "began searching for ways the Senate could step out of our proper role and try to fix House Democrats' failures for them."
On Article I, which charged Trump with abuse of power, every Democrat except for three voted in favor of it. Reps. Jeff Van Drew (D-N.J.) and Collin Peterson (D-Minn.) voted against it while Rep. Tulsi Gabbard (D-Hawaii) voted "present." On Article II, which accused the president of obstructing Congress, the same three Democrats voted the same way, but Rep. Jared Golden (D-Maine) voted against it.
The White House issued a statement slamming the vote on Wednesday evening.
"Without receiving a single Republican vote, and without providing any proof of wrongdoing, Democrats pushed illegitimate articles of impeachment against the President through the House of Representatives," press secretary Stephanie Grisham said in a statement. "Democrats have chosen to proceed on this partisan basis in spite of the fact that the president did nothing wrong."