Gubernatorial Candidate John Cox Wants to Run California's Government More Efficiently
July 23, 2018 Last Updated: July 24, 2018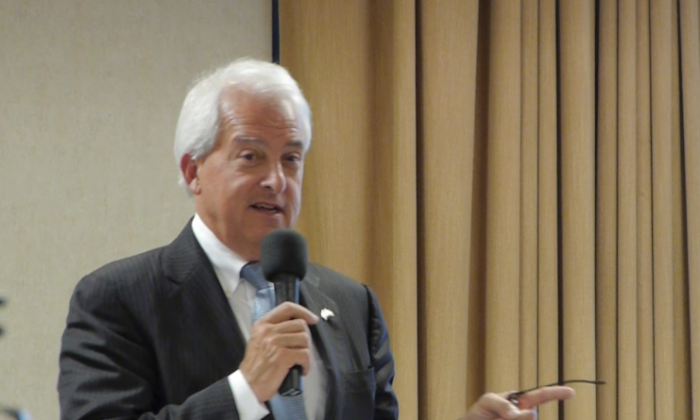 California Republican gubernatorial candidate John Cox was invited to Pacific Palms Resort in City of Industry near Los Angeles on July 20. He addressed about 80 constituents and answered some media questions before and after the event. 
Cox said that California's government is not as efficient as it could be, saying "the legislatures are the best ones money can buy" and controlled by special interest groups. He said this has resulted in most Californians struggling to make ends meet, including paying their rent or buying even a small house in many parts of the state.  
The businessman shared his professional experience regarding the big differences between California and other states such as Indiana.
"I'm in the housing business. I build apartments for $80,000 a unit in Indiana, which is a well-managed state. Here in California, it's $300,000 to $500,000, driven up by government regulations," he said.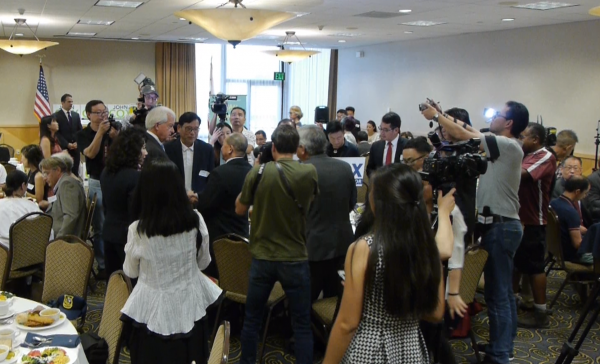 Streamlining the state's regulations would reduce the price of housing, Cox said.
"When I am the governor of the state, we are truly gonna build affordable housing that people can afford and have a great quality of life."
Cox claimed people are leaving California and said it costs about $2000 to rent a U-Haul to move out of California, while only about $200 to move into California. Gas in California is also more expensive than most states.
"This state has become unaffordable for the middle class. There almost isn't a middle class any longer," he said. "The price of gasoline has been pushed up so high, especially by the gas tax that we are going to repeal in November."
Cox said Californians are paying almost twice for gas as as much as their neighboring states. He's determined to repeal SB1's gas tax by asking people to vote yes on Proposition 6 in November.
In terms of a single-payer health care system, he said he's very against this idea due to his 40 years of business experience, because "the only way to make any product or any service better quality and more efficient is with competition." He wants people to decide what they want directly. In addition, he wants the process to be transparent.
"I want to put patients and doctors in charge of our health care and inject competition. Get the government out as much as possible," he said.

Cox criticized his democratic opponent, Gavin Newsom, who has promised to provide more welfare benefits. He said he wanted to remind that public that nothing is free. More taxpayers would need to cover the cost of the increased welfare, and California would end up with more debt, which would create more problems.
He also thinks the public school system needs improvement, and university tuition is too high.
"As a matter of fact, I finished college in two and half years because I was paying for it. Most of my four daughters took five years," he said. 
He suggested that schools be more efficient and not just keep asking for more funding. For instance, college professors could teach more classes to reduce the cost. Otherwise, with students taking on so many loans for their education, California would risk economic disaster. The state also now leads the nation with the number of people in poverty.
California is also chronically short of water, and around Memorial Day this year, Cox said the current government decided to cut the water supply by half. He joked that we need to choose between taking a shower or washing our clothes. He proposed to "do recycling, desalination, and build a water reservoir."
In addition, he said that he supports policies such as building a border wall and working with the federal government to solve illegal immigration issues versus making California a "sanctuary state."

He is openly against California's high speed rail system, because he disagrees with the current route and they way the program is spending money. He said the rail system is being built nowhere and leads to nowhere.
He stated several times, "I am dedicated to making this state livable, affordable, safe and successful. I am dedicated to making this state open for business and opportunities."
Trump has endorsed Cox as the next California governor several times on Twitter. Cox is competing against former San Francisco Mayor Gavin Newsom, who currently serves as Lieutenant Governor.