House Democratic Leader Nancy Pelosi called President Donald Trump's chief strategist a "white supremacist" Thursday, saying he has no business serving on the National Security Council.
Her comments earned her a swift rebuke from other lawmakers, including Republican Sen. Mike Lee, who said her comments were unhinged.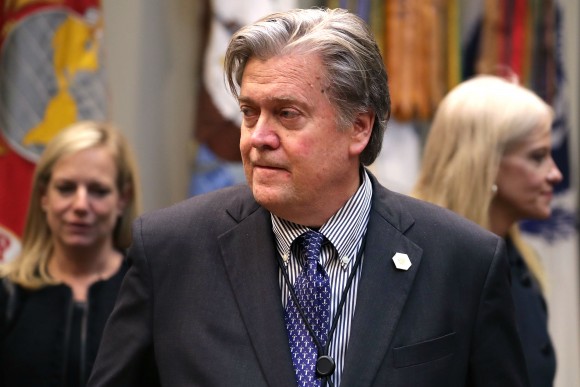 "I think this is nonsense," Lee told CNN of Pelosi's comments. "I think this is defamatory. I think she's acting with reckless disregard for the truth. I wish people would stop throwing out arguments like that."
Pelosi, he added, shows a "reckless disregard for the truth."
Pelosi's comment had echoed the torrent of media hit-pieces against Bannon that began last year during Trump's campaign.
"It's a stunning thing that a white supremacist, Bannon, would be a permanent member of the National Security Council," Pelosi said.
Lee said that Pelosi's comments should be focused on policy—especially amid the Democratic Party's stunning losses in November and during the Obama administration.
"If they want to focus on a particular policy, fine," Lee said. "But it's time for them to stop throwing around dangerous labels like that one."
"That's not helpful," he said, according to The Hill. "That's not part of productive discourse for this country and I encourage Speaker Pelosi and anyone else who is inclined to use language like that to respectfully refrain from it. Focus on the policy. Stop attacking the person."
Former Breitbart editor and current Daily Wire editor-in-chief Ben Shapiro said of Bannon: "I have no evidence that Bannon's a racist or that he's an anti-Semite; the Huffington Post's blaring headline 'WHITE NATIONALIST IN THE WHITE HOUSE' is overstated, at the very least."
Bannon became the chief of Breitbart News after the death of its owner, Andrew Breitbart, in 2012. Bannon left the publication to become CEO of Trump's presidential campaign in August 2016, initially planning to return to Breitbart after the election, but was offered a job as chief strategist for the White House when Trump won.
During her news conference, Pelosi said her party would fight the Republican-led effort to dismantle Obamacare, also known as the Affordable Health Care Act.
The Associated Press contributed to this report.