The $1.9 trillion COVID-19 relief bill crafted by President Joe Biden's team and endorsed by congressional Democrats isn't targeted enough, Sen. Mike Rounds (R-S.D.) said Tuesday after meeting with Biden.
"They really wanted to spend a lot of money on additional unemployment benefits for people that literally could, like in South Dakota, by the time you're all done, you could be making close to $90,000 a year in unemployment benefits. That's not appropriate and it doesn't get people back to work," Rounds said on "Fox & Friends."
The senator and nine Republican colleagues met with Biden on Monday night at the White House to discuss their competing relief bills.
"I came away thinking there's hope to try to find something in the future, but it's not going to be easy," Rounds said. "Clearly there's folks out there that would love to spend a huge amount of money, as long as it doesn't come out of their paycheck, it comes as borrowed money for the next generation, they're not afraid to spend it."
The Republicans have put forth a $618 billion plan as an alternative to the Biden proposal.
Both plans have $160 billion for COVID-19 testing and vaccines. The GOP plan cuts stimulus checks from $1,400 to $1,000 and makes the distribution more targeted, lowers the supplemental weekly unemployment aid to $300 a week and doesn't extend the extra money for as long, and increases the pot for low-interest loans to small businesses $15 billion to $50 billion.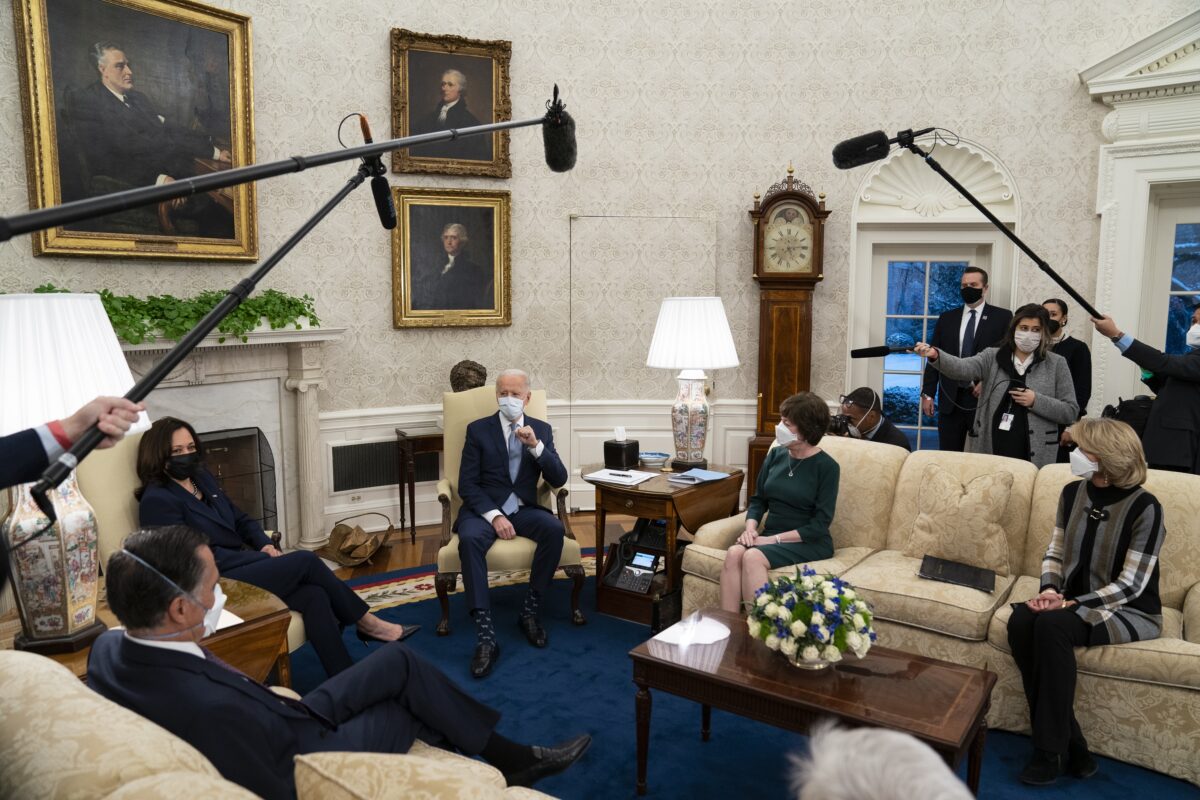 Biden's team and Republicans said they didn't expect to come out of the meeting with a compromise but expect to keep talking in the coming days.
"It was an excellent meeting, and we are very appreciative that in his first official meeting in the Oval Office, President Biden chose to spend so much time with us discussing the response to the COVID crisis. We presented our proposal to the President, and we had a very productive exchange of views," the group of senators said in a joint statement.
White House press secretary Jen Psaki called the meeting "substantive and productive." Biden "reiterated his view that Congress must respond boldly and urgently, and noted many areas which the Republican senators' proposal does not address," she said.
Congressional Democrats earlier Monday filed a resolution as a first step in pushing Biden's package through Congress without Republican support, if a compromise isn't reached. Democrats can do so because they hold majorities in both congressional chambers.
"We are hopeful Republicans will work in a bipartisan manner to support assistance for their communities, but the American people cannot afford any more delays and the Congress must act to prevent more needless suffering," Senate Majority Leader Chuck Schumer (D-N.Y.) and House Speaker Nancy Pelosi (D-Calif.) said in a statement.