The Golden State Warriors (31–11) came to Chicago Friday on a back-to-back to embarrass the Chicago Bulls (27–13), 138–96, after being blown out at Milwaukee the previous night.
"We needed it after losing four of the last five," said Warriors coach Steve Kerr. "Last night's blowout, it's humiliating to feel that, and they responded well. Tonight, Billy [Donovan] probably had to give the same speech I gave last night. It's 24 hour difference, and who knows why this stuff happens. It makes no sense."
The Warriors were up 31 at halftime, but the previous night were themselves behind a record 39 points at halftime against the Bucks. The 70-point swing at halftime scores is the largest by a team on consecutive days in the shot clock era beginning in 1954.
Six Warriors scored in double-figures, led by Jonathan Kuminga, off the bench, with 25 points on 10 of 12 shooting. Jordan Poole had 22 points along with five assists, while Andrew Wiggins scored 21, with four rebounds and six assists. Stephen Curry contributed with 19 points on 7 of 15 shooting. Damion Lee scored 11 points, and Kevon Looney added 10 points with 12 rebounds.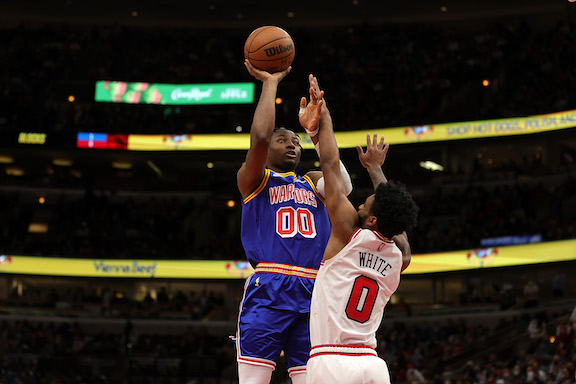 Golden State, with the second-best record in the Western Conference, has won 10 straight against Chicago; improving on a current slump its last five games. While Chicago, with the best record in the East, has lost three of four following a nine-game winning streak.
"We came out pretty determined," added Kerr. "Obviously, they were behind the 8-ball almost immediately when Zach got injured."
Bulls' second-leading scorer, Zach LaVine, ended his 140-game streak of scoring in double figures after suffering a left knee injury less than four minutes into the game, and did not return. LaVine tore his left ACL in February 2017 while playing for the Minnesota Timberwolves, and will have an MRI on Saturday.
The Bulls were led by Coby White with 20 points on 9 of 17 shooting, while Nikola Vucevic had 19 points with 14 rebounds. DeMar DeRozan contributed 17 points and seven assists, and Lonzo Ball added 15 points.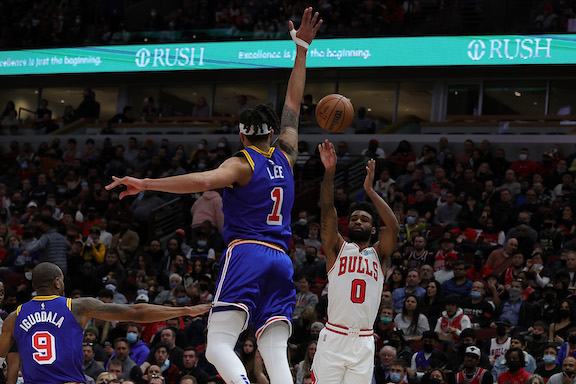 Chicago's Alex Caruso missed his 11th game in a row—the past five due to COVID protocols—after being out following a sprained left foot. Caruso is not planning to travel on the Bull's upcoming road trip.
The Warriors led 37–28 at the end of the first quarter, despite the slumping Curry, the team's leading scorer, scoring just two points. Klay Thompson is playing limited minutes, approximately 20 per game, since recently returning from a 2.5-year recovery from injuries; he was held out of this second game of a back-to-back. Golden State is still without Draymond Green, their best inside player, out with tightness in the left calf.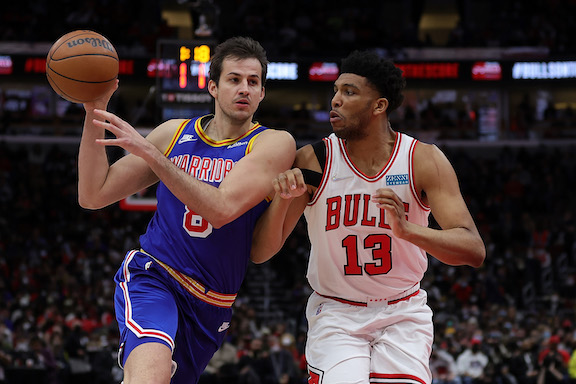 The Warriors took a 78–47 lead at half-time following  Chicago's 11th turnover of the half, which came from a steal by Otto Porter Jr., assisting Curry's 26-foot three-pointer from the top of the key with 27.9 seconds remaining.
The Warriors shot 57.7 percent in the first half, converting 11 of 24 three-pointers, as Wiggins scored 20 points on 8 of 10 attempts. The Bulls were 44.7 percent overall shooting at halftime, despite hitting just five of 18 threes. The lopsided affair ended with Golden State cruising to a 138–96 victory.
"The NBA season tests you, to remind yourself who you are," said Curry. "Don't lose confidence, never get too high, never get too low. Just come with the right intentions, the right effort, the right attitude; and if you're a good team, good things usually happen.
"I just like the way we responded."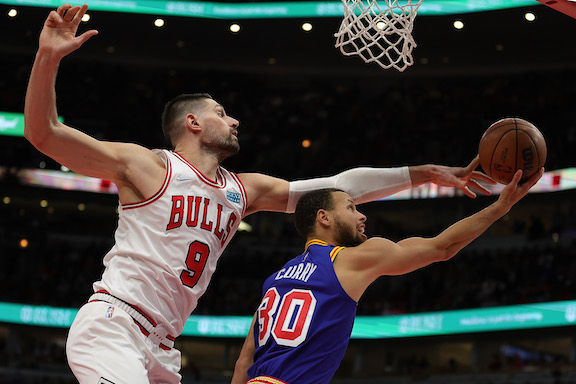 The Warriors continue their road trip at the Minnesota Timberwolves on Sunday, as the Bulls are also away at the Boston Celtics on Saturday.