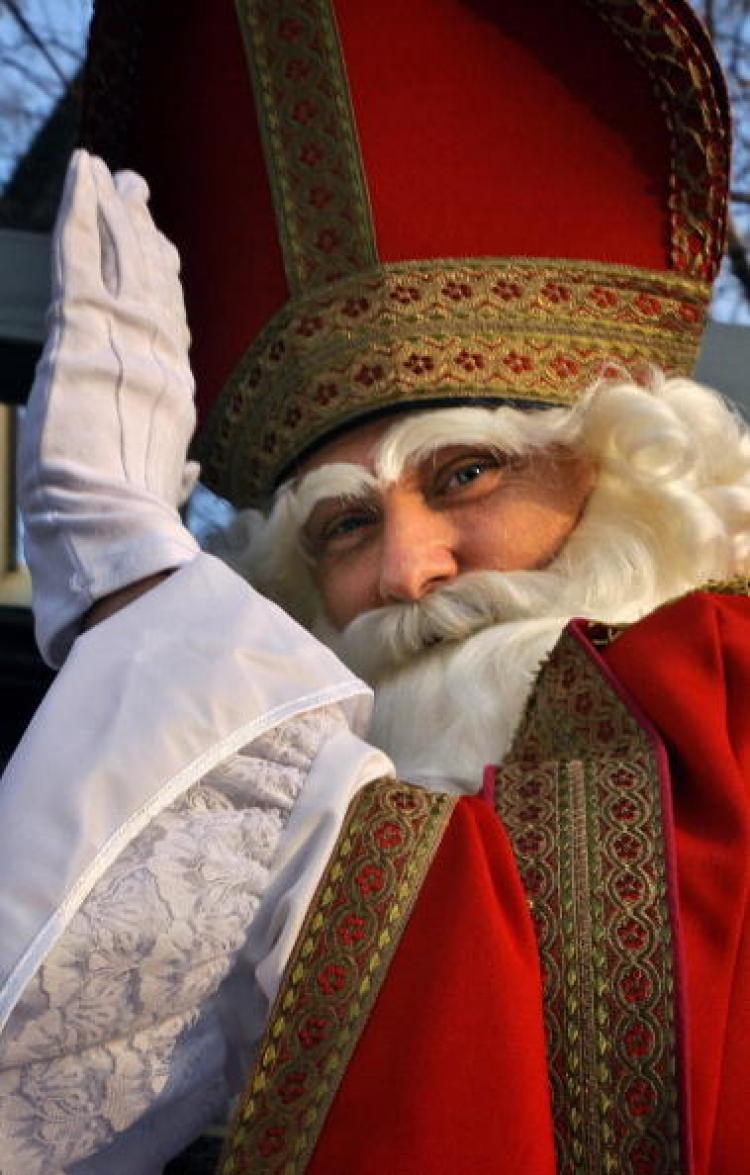 WOERDEN, The Netherlands—As the weather is getting colder and the days shorter, the ever-friendly St. Nicolas comes to the rescue.
Once a year St. Nicolas, his servants called Black Peters, a white horse, and a shipload of presents, set out on an arduous steamboat journey from Spain to the Netherlands to bring cheer to everyone. In the harbor, crowds of people, mostly children, gather and passionately sing songs in anticipation of his arrival. In our collective memory there exist canons of songs dedicated to this tall, white-bearded saint.
"See there arrives the steamboat,
From Spain again.
It brings us Saint Nicolas,
I see him standing there already.
Look how the flags,
Flutter back and forth.
Look how his little horse,
Hops up and down the deck.
His servant stands there, laughing
And he shouts at us:
"Who's good, gets sweets,
Who's bad, gets the whip."

St. Nicolas, himself, is a real creature of habit—he has been doing this for hundreds of years.
St. Nicolas is not to be confused with Santa Claus, whom we call the Christmas Man. In terms of appearance, St. Nicolas is tall and rather skinny unlike, with all due respect, Santa Claus.
From the moment St. Nicolas and his joyful companions set foot in our damp country until Dec. 5, he and the Black Peters make their appearance on Dutch television, in magazines, newspapers, and perhaps you even bump into them in person.
We also start the custom of placing our footwear—any kind, from sports shoes to high heels, to moonboots, wooden shoes and slippers—in front of the fireplace (or heater) before we go to sleep. It is recommended to make an effort to tidy up your home, and most importantly your shoes. You should also leave a big carrot and some water for St Nicolas's horse, write a poem, leave a wish list, and most of all, sing a lot of songs.
When all the lights are out and when the streets are dead silent, St. Nicolas on his white horse and band of Black Peters with bags full of presents skillfully weave their way through the Dutch rooftops. In the bright moonlight, this scene is truly a sight to behold.
At certain chimneys, the Black Peters, who as their name suggests have pitch dark skin (possibly from the soot), glide down to drop a small present (usually a chocolate letter) and some gingerbread and nuts into our shoes.
I am not sure whether the horse also goes through the chimney or not, but I do know that each time they visited my house the carrot was gone, the water had been drunk and the chimney was left intact.
But be mindful that you cannot demand he come to your house and give you loads of presents. He may very well ignore you, as happened to me several times.
I always had the impression from song lyrics that he only gives to good kids that somehow deserve it. But truth to be told, I had some classmates who weren't all that good, or deserving, and I know that for a fact that they got more presents than I did.
It has been said that really nasty children get a beating with a birch rod and some are even put into Black Peters's sacks and brought back to Spain. Maybe the lingering threat is enough for Dutch children to behave reasonably well.
After returning home from several years abroad, I am glad to resume the practice of putting out my shoe, hoping for a visit from St. Nicholas.
Song translation from mamalisa.com
Views expressed in this article are the opinions of the author and do not necessarily reflect the views of The Epoch Times.