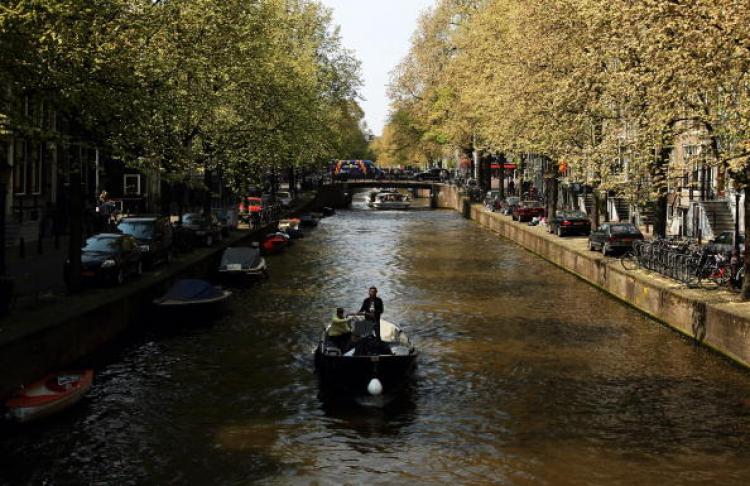 The Netherlands is the only country in the world where it is legal to buy and smoke marijuana. The soft drugs industry is big business and attracts millions of "drug" tourists to Holland.
Mayor of Amsterdam Eberhard van der Laan, estimated that for 1 million out of the 4 million tourists who visit Amsterdam each year, coffee shops are a reason for their visit.
Weed and hash are bought and sold in designated establishments called "coffee shops."
Most Dutch cities have at least one coffee shop; Amsterdam has 223. You can easily identify coffee shops from their appearance and by the pungent smoke that enters your nostrils when you happen to pass near one.
Coffee shops have become part of the Dutch street scene, and in a weird way, symbolize Dutch tolerance and liberality.
Smoking marijuana is no longer associated with flower power and peace as it was in the '60s and '70s, now it is Bob Marley tunes and red-yellow-green reggae paraphernalia on coffee shop walls.
For many however, entering a coffee shop still feels like doing something illegal, it is not approved of by most Dutch parents and remains taboo.
Oddly enough however, production, import, export, and possession of cannabis is illegal, and violators can be prosecuted. These rather incongruous policies make one wonder: Where do the drugs come from? When do they suddenly become legal? And who decides this? I really do not know.
In any case, the new Dutch government is intent on some reforms and is now preparing legislation that would close coffee shops within 350 meters (1,100 feet) of schools. If the plan is enforced, it will close 6 out of 10 coffee shops, according to a research by a Dutch newspaper.
Recently there was also talk of introducing a weed-pass that would allow only locals to buy drugs at coffee shops, making it virtually impossible for tourists to purchase them.
It is likely that these measures will cause upheaval among pot-smoking Dutch and tourists, coffee shop owners, cannabis cultivators, and all concerned middlemen.
Supporters of soft drug legality say that for various reasons the closure of coffee shops will push sales onto the street and into the black market, thus increasing crime.
Under current laws, you must be 18 to purchase marijuana and can buy no more than 5 grams a day. Coffee shops are only allowed to stock half a kilo (1.1 pounds) and will be held responsible for disturbances caused by smokers.
Dutch authorities currently regulate cannabis sales and quality. The state regularly checks, not to see whether it is "good stuff," but to determine whether the amount of THC, a psychoactive substance is still within the prescribed limit. THC levels distinguish soft from hard drugs.
A final argument in favor of the legal purchase of soft drugs is that the percentage of soft drugs users in the Netherlands is not higher than in other European countries. The U.K., Germany, Czech, Spain, France, and Italy surpass the Netherlands in average percent of youths using soft drugs.
But regardless of how Dutch politics play out, the choice to use drugs comes with consequences. No loss no gain; what goes up must come down.
Views expressed in this article are the opinions of the author and do not necessarily reflect the views of The Epoch Times.