In the CPF semifinal, the #3 Georgia Bulldogs cruised to victory, 34–11, after completely dominant first-half scoring on a CFP record-breaking first five drives over #2 ranked Michigan Wolverines, on Friday at Hard Rock Stadium for the Orange Bowl in Miami Gardens, Florida. They will meet their SEC foe Alabama for the College Football Playoff Championship game on Jan. 10, 2022.
The game saw approximately 66,000 fans in attendance, who looked as if two-thirds were wearing the yellow and blue of Michigan. Georgia (13–1) tallied 515 yards of total offense, while Michigan (12–2) gained 325 yards.
The Georgia Bulldogs' defense clamped down on Michigan, while quarterback Stetson Bennett passed for 307 yards on 20 of 30 attempts and had three touchdowns, giving Georgia a three touchdown and two field goal lead in the first half 27–3.
Bennett threw to nine different receivers and four touchdowns. James Cook led the way with three catches for 99 yards and one touchdown. Jermaine Burton had a catch-and-run bomb of 57 yards, and Brock Bowers added a touchdown on five catches. On a trick play, Kenny McIntosh threw a halfback option touchdown pass to Adonai Mitchel of 18 yards.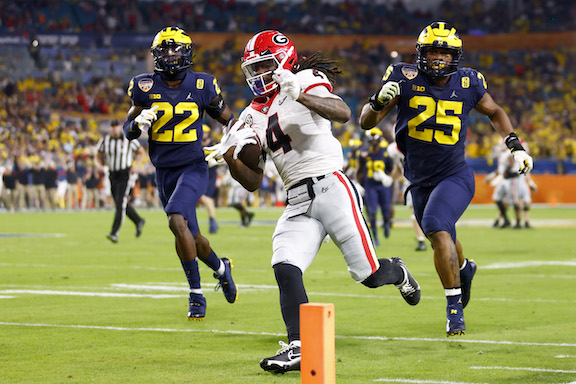 Following the sole loss in their last game to Alabama in the SEC Championship game, Bennett received much criticism for his performance of 60 yards passing, on 5 of 15 attempts, one interception, and three sacks.
The former walk-on fairy-tale starter Bennett said, "We knew we were better than what we showed that last game." Bennett also stated earlier in the week, "I wouldn't listen to myself if I was giving a speech on heart surgery, so why would I listen to somebody who doesn't do this for a living, and just watches it happen? It really doesn't bother me."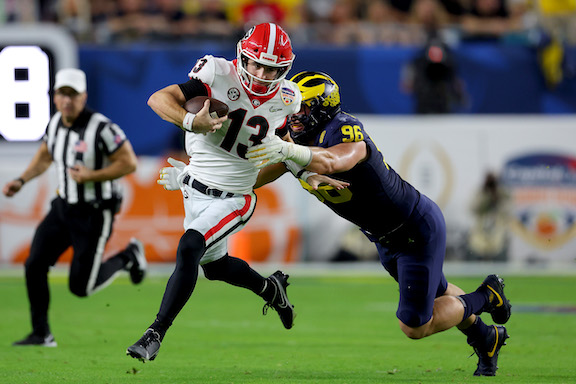 Running back Cook added, "He [Bennett] ain't got no social media, he carries a flip phone around, and he lets the noise go over his head and play football. That's what I love about him. I tell him during the game, 'Stay in there, don't make bad decisions, use your feet, do all the little things that will help you get out of situations you can't fix.'"
"I thought our front controlled line of scrimmage. I thought our offensive line controlled the line of scrimmage," said Georgia coach Kirby Smart. "That's a total team effort."
The Georgia defense allowed less than a touchdown per game before getting shell-shocked by Alabama; they stifled a Michigan offense that typically runs over their opponents.
The Georgia defense had four sacks, while cornerback Derion Kendrick had two interceptions and was named the defensive player of the game.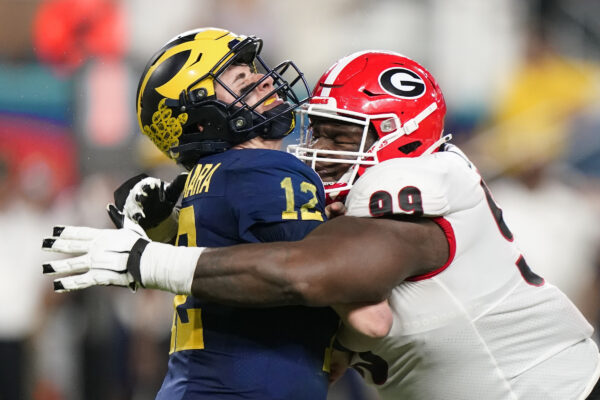 Coach Smart was defiant in avoiding the Gatorade splash celebration by his players. "It's not what it's about right now," said Smart. "I'm so happy for these kids. They worked their tails off. [This] answered a million questions about our team bouncing back," he added. "We've got a lot of high-character guys on this team and they played their tail off today."
For Michigan, QB Cade McNamara completed 11 of 19 passes for 106 yards and two interceptions, and was replaced by backup J.J. McCarthy, who completed 7 of 17 for 131 yards and one touchdown.
"Obviously, it's very disappointing right now," said McNamara. "We gave it everything we've got and we got beat tonight."
Heisman Trophy runner-up Aidan Hutchinson had four tackles; he stated, "We were so bonded from day one … nothing is gonna take away our accomplishments this year and what we achieved. For what we were expected, I'll probably love this team, we did some amazing things."
Michigan made its first playoff appearance and Harbaugh ended a long losing record against rival Ohio State on the way to winning the Big Ten. They were 2–4 last season in the shortened COVID year, and doubts of coach Jim Harbaugh's ability to lead the program were abundant. Michigan began unranked this year, and Harbaugh proved his worth taking the team to the top 10 in October, eventually making it to No. 2 and the playoffs.
"Congratulations to Georgia. They played a heck of a game in all phases," said Harbaugh. "I loved the way our guys fought. It wasn't our best, but certainly was theirs. They played extremely well."
"To me, it feels like a start," Harbaugh added. "Feels like a beginning."
"In Michigan history, it is one of the best teams ever."