A man who killed his ex-girlfriend and another woman over two decades ago has been put to death in Georgia via lethal injection.
Scotty Garnell Morrow was 52 at the time of his May 2 execution at a state prison in Jackson.
According to WSB-TV, Morrow requested a last meal of a hamburger with mayonnaise, two chicken and waffle meals, a pint of butter pecan ice cream, a bag of buttered popcorn, two all-beef franks, and a large lemonade.
Moments before he was executed, Morrow apologized to the family of his murdered victims and to a woman he also shot, but who survived.
Strapped to a gurney before he received a lethal injection of the sedative pentobarbital, Morrow said, "I would like to give my most deepest and sincere apologies to the Woods family and the Young family," adding that he hopes they can find peace.
Morrow was the first inmate put to death in Georgia this year. His execution came shortly after the U.S. Supreme Court rejected a last-hour bid to block the death sentence from being carried out.
The Victims
Morrow was convicted of murder in the shooting deaths of his ex-girlfriend Barbara Ann Young and her friend Tonya Woods at Young's Gainesville home in December 1994.
LaToya Horne, who was shot in the face and arm, survived the attack.
Young had broken up with Morrow after the two had been dating for about six months due to his abusive behavior.
The spurned Morrow went to Young's house on Dec. 29 apparently to try to persuade her to continue their relationship.
An argument ensued, in which Morrow shot and killed the two women and severely wounded the third.
Young's 5-year-old son, hiding in a nearby bedroom, saw Morrow fatally shoot his mother in the head.
Morrow was convicted on two counts of malice murder, among other charges, in June 1999.
The State Board of Pardons and Paroles, the only authority in Georgia that can commute a death sentence, rejected Morrow's request for clemency following a closed-door hearing Wednesday.
Warden Benjamin Ford told witnesses at Morrow's execution that 9:38 p.m. was his approximate time of death.
Crime in the United States
Violent crime in the United States has fallen sharply over the past 25 years, according to both the FBI's Uniform Crime Reports (UCR) and the Bureau of Justice Statistics (BJS) National Crime Victimization Survey (NCVS).
The rate of violent crimes fell by 49 percent between 1993 and 2017, according to the FBI's UCR, which only reflects crimes reported to the police.
The violent crime rate dropped by 74 percent between 1993 and 2017, according to BJS's CVS, which takes into account both crimes that have been reported to the police and those that have not.
"From 1993 to 2017, the rate of violent victimization declined 74 percent, from 79.8 to 20.6 victimizations per 1,000 persons age 12 or older," the U.S. Department of Justice stated (pdf).
Both studies are based on data up to and including 2017, the most recent year for which complete figures are available.
The FBI recently released preliminary data for 2018. According to the Preliminary Semiannual Uniform Crime Report, from January to June 2018, violent crime rates in the United States dropped by 4.3 percent compared to the same six-month period in 2017.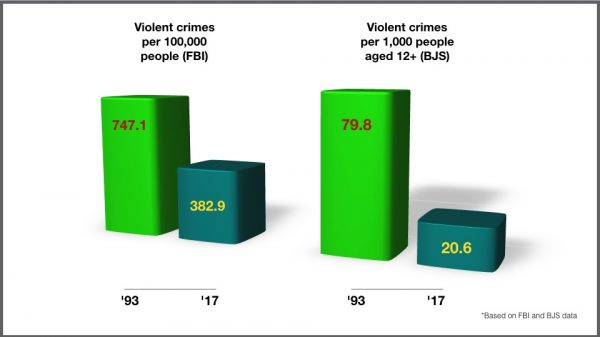 While the overall rate of violent crime has seen a steady downward drop since its peak in the 1990s, there have been several upticks that bucked the trend.
Between 2014 and 2016, the murder rate increased by more than 20 percent, to 5.4 per 100,000 residents, from 4.4, according to an analysis of FBI data. The last two-year period that the rate soared so quickly was between 1966 and 1968.
Property Crime
The property crime rate fell by 50 percent between 1993 and 2017, according to the FBI, and by 69 percent according to BJS.
According to the FBI's preliminary figures for the first half of 2018, property crime rates in the United States dropped by 7.2 percent compared to the same six-month period in 2017.
As with violent crime, the FBI survey only takes into account crime reported to the police, while the BJS figures include reported and nonreported crime.
Public Perception About Crime
Despite falling long-term trends in both violent crime and property crime, opinion surveys repeatedly show Americans believe that crime is up.
The vast majority of Gallup polls taken since 1993 show (pdf) that over 60 percent of Americans believe there is more crime in the United States on a national scale compared to the previous year.
Pew Research surveys show similar findings. A survey in late 2016 revealed that 57 percent of registered voters said crime in the nation as a whole increased since 2008, despite both FBI and BJS data showing double-digit drops in violent and property crimes.
Perceptions differed on a national versus local level.
Surveys of perceptions of crime levels on a local scale showed that fewer than 50 percent of respondents in every single Gallup survey (pdf) done since 1996 believed that crime in their area had risen compared to the previous year.
The Associated Press contributed to this report.