George H.W. Bush Shaves Head, Supports 2-Year-Old Cancer Patient
July 25, 2013 7:49 am Last Updated: July 25, 2013 7:49 am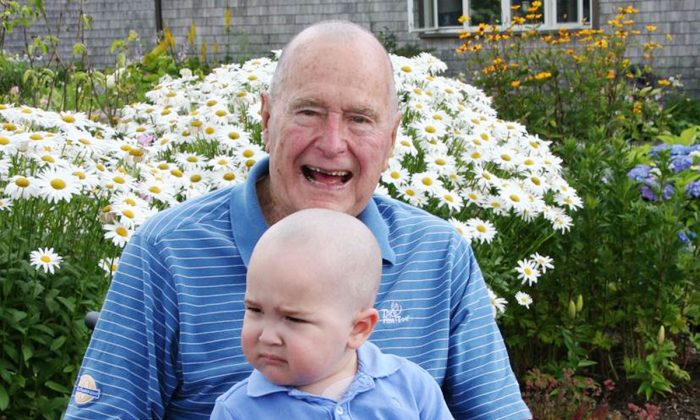 George H.W. Bush lost his 4-year-old son, Robin Bush, to leukemia almost 60 years ago. Bush, 89, wanted to show his support for the 2-year-old son of a Secret Service agent last week. The little boy has lost his hair through treatment for leukemia.
Bush shaved his head after seeing members of the Secret Service do so to show support for the toddler.
The website www.patrickspals.org has been set up to help with expenses for the boy's treatment. The family has only released the boy's first name, Patrick.
British soap opera star Nick Pickard had his head shaved a month ago, and also had his eyebrows and other body hair waxed. Pickard's Hollyoak's character, Tony Hutchinson, has testicular cancer and is undergoing treatment.
"I am extremely honored and humbled to be asked to portray Tony's current cancer storyline, therefore I had no doubts about having all my body hair removed in order to accurately depict the effects of chemotherapy treatment," he told Digital Spy. "We should all remember that it is the real life sufferers of cancer who show courage every day as they battle the disease," he said.
Stars have been using their celebrity power to encourage cancer patients for years. Especially in an industry that relies so heavily on appearance, the sacrifice is evident and the courage is great.
Last year, actress Diane Lane (who most recently played Martha Kent in Man of Steel) cut her hair on the Today show and donated it to make wigs for women with cancer. In an interview at that time, she said: "It'll be very exhilarating, because there's so much emotion behind this for so many people. … Any way that we can ease the fear and ease the transitional time for these women, is a blessing. I'd like to be part of that." 
In 2007, Oscar-winning actress Hilary Swank had her hair cut for cancer on Oprah. Famed D.J. Crisco Kidd grew his hair out in 2004 and cut it for cancer, inspired by an episode of Oprah. In the same year, he was diagnosed with stage-2 testicular cancer himself. He beat it and remains cancer-free, but continues his work to support hair drives for cancer patients.
Some restrictions apply to donated hair: It must not be chemically treated or more than 5 percent gray, and it must be at least 8 inches long. Pantene's Beautiful Lengths program for processing donated hair explains that these requirements are in place to ensure the wigs have a natural, consistent look. Each wig is made from the hair of several different donors and thus must be processed and dyed. Gray hair and treated hair absorb dyes differently and treated hair may not hold up through processing.