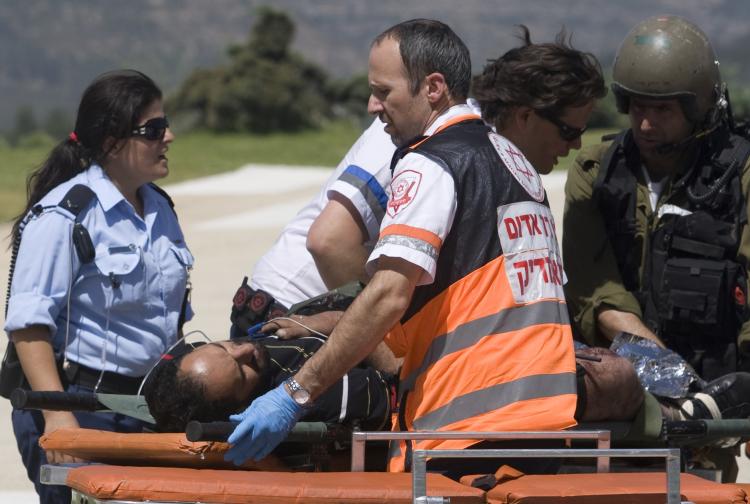 JERUSALEM—A small "gaza" flotilla of ships, bound for the Gaza Strip and carrying pro-Palestinian activists, clashed with the Israeli military on Monday. At least 10 people aboard the ships are dead and at least six Israeli soldiers are injured, according to official reports.
Both the pro-Palestinian activists in the gaza flotilla and the Israeli Defense Force (IDF) said that the other side attacked first. An official IDF spokesperson's statement claimed that the people in the flotilla were prepared for a violent confrontation, carrying with them live ammunition, sharp metal objects, clubs, and knives that were used to attack the soldiers. One weapon was also grabbed from an IDF soldier.
A statement from Greta Berlin, one of the main organizers of the flotilla, said "people were preparing for them [the IDF] to come up and over the sides of the ships."
In response to what the IDF called a "life-threatening and violent activity," naval forces used riot dispersal techniques on ships in the flotilla, including live fire.
Numerous Twitter statements from one of the main organizations coordinating the gaza flotilla, the Free Gaza Movement, have been sent out via freegaza.org in the past several hours. The statements accuse the IDF of attacking sleeping civilians with live fire and continuing to threaten them.
"Now we're getting threatening phone calls from Israeli thugs telling us we should drown or can we swim," said the most recent Tweet posted at 10:42 a.m. local time (3:42 a.m. EDT).
The violence started early Monday morning when the Israeli Navy intercepted six gaza flotilla ships that were trying to break a naval blockade of the Gaza Strip. The ships were carrying goods and supplies for residents of Gaza.
The Israeli government has been issuing warnings for several days to the flotilla, telling the ships not to attempt to dock in Gaza. They also said they could unload the ships' cargo and deliver it to the Gaza Strip.
According to a statement from the Israeli Navy, they asked the flotilla ships to redirect toward Ashdod to unload their aid material before boarding the vessels to commandeer them.