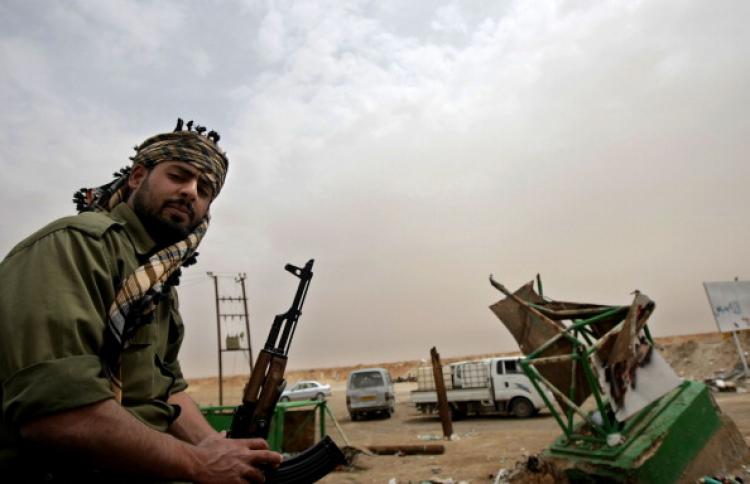 Forces loyal to Libyan strongman Moammar Gadhafi are training and arming civilians to combat rebels, according to media reports on Thursday.
Both the Wall Street Journal and The Associated Press reported instances of ordinary civilians receiving training by the Libyan army as well as receiving weapons. Some of those being trained are as young as 11 years old.
Gadhafi's regime gave a tour of the site where the instructions are being given to civilians.
"We want every home to have a Kalashnikov in case of necessity to fight against the enemy," Abdel al-Muftah, a trainer in the city of Tahrouna, told the Journal. "Any day now, we expect the enemy to attack us here."
The weeks-long conflict between rebels and Gadhafi loyalists has raged on with neither side gaining much ground on the other. Reports on Thursday say that Gadhafi forces have increased shelling on the front-line city of Misrata in their quest to push rebels back.
The Tahrouna training site also apparently doubled as a rally place to bolster the morale for pro-Gadhafi forces.
"Our enemy is the barbarian, colonialist crusader aggression," 16-year-old Ms. Sannah Kanouni told the Journal, which sounded similar to what the state-run media has said about their opponents. "It's NATO, [French President Nicolas] Sarkozy and Barack Obama."
The training site and scene appeared to be hastily made and may have been created solely for the media to give the impression that Gadhafi is preparing large-scale training across the embattled country, reported AP.
Last week, Libya spokesperson Moussa Ibrahim said that thousands of assault rifles were being distributed to civilians so they could fend off any rebel fighters that come their way.
As the training exercises were being conducted, fighting raged on in the crucial Dehiba-Wazin Crossing near the border and even spilled over into Tunisia, reported Al Jazeera television.
The Crossing was taken by rebel forces a week ago, but pro-Gadhafi forces sought to take control of it on Thursday. Al Jazeera reported that loyalist forces were able to drive the rebels away. However, rebel forces will likely make a collective effort soon to retake the area.