News Analysis
The G7 group of the world's wealthiest democracies met recently and denounced Russian troop movements that appear to be gearing up for an invasion of Ukraine.
The group of democracies warned Moscow of "massive" economic consequences if Russian troops invade the Eastern European democracy more than they already have.
What the G7 did not mention on Dec. 12 is likely coordination between Moscow and Beijing, which increasingly train their military forces together. Beijing has significant influence over Moscow due to Russia's reliance on China as an export market for Russian oil and gas.
Russian troop movements are grabbing public attention when the bigger strategic threat is the Chinese Communist Party (CCP), and its control over the world's biggest economy and one of the world's most powerful militaries.
Beijing could be encouraging Moscow in its territorial aggression in order to distract the West from the bigger threat of the CCP's growing power. Nobody knows. What is certain is that Beijing is doing next to nothing to discourage the aggressive excesses of its allies, including Iran and North Korea.
The CCP's leadership of the world's rogue dictators, not to mention its human rights abuse and territorial aggression, has divided the G7—with Japan, Germany, and Italy taking a weak position on Five Eyes proposals for a unified G7 diplomatic boycott of the Olympic games, for example. The Winter 2022 Olympics is scheduled for Beijing, and a diplomatic boycott is the least the G7 could do.
Even Washington continues to allow Chinese companies to list without the same reporting requirements as businesses from other countries, including the United States. This puts Chinese companies at an advantage over U.S. companies. Only on Dec. 2 did the Securities and Exchange Commission (SEC) even require U.S.-listed Chinese companies to disclose state ownership. Much more is needed.
In addition to this low-hanging fruit, the types of economic consequences imposed against Russia, if it invades Ukraine, should also be made against China for its continued illegal claims and occupations of the entire South China Sea. That sea is roughly equal in size to all of India.
Finally, Beijing should face severe economic consequences for its triple genocide against Uyghurs, Tibetans, and Falun Gong. But instead, U.S. sanctions are piecemeal against individual officials and companies.
Because of China's more powerful economy, the G7 countries are likely worried about the economic effects of sanctions to themselves, and so are making the ethically and strategically indefensible choice to continue empowering Beijing through relatively unmitigated free trade with the world's most powerful dictatorship.
At least there is some growing recognition of the CCP threat, however. According to Reuters' reporting on Dec. 12, "While Russian President Vladimir Putin keeps the West guessing over Ukraine, it was the might of Chinese President Xi Jinping that garnered the long-term strategic focus" at the G7 meeting.
British Foreign Secretary Liz Truss said to reporters that "We have been clear at this meeting this weekend that we are concerned about the coercive economic policies of China."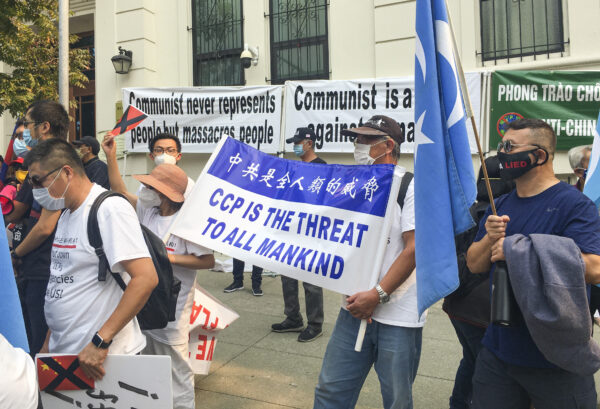 An official who attended the talks told Reuters, there were "very, very intense discussions especially on China."
Reuters described Russia as the "tactical" focus on talks, while China was recognized as the longer-term "strategic" threat.
According to a U.S. State Department official who spoke with Reuters, "It's tremendous that there's such a focus on the Indo-Pacific here."
More specifically, the situations in Hong Kong, Xinjiang, Taiwan, and Lithuania were discussed by the foreign ministers in attendance.
Officials said that "There was serious discussion about G7 coordinated action to counter China over disinformation and to support countries snared in what critics cast as China's global debt-trap web," according to Reuters.
In June, the G7 scolded both China and Russia for what could be increasingly coordinated forms of aggression, which now arguably includes Iranian designs on Iraq and Syria, and North Korean nuclear weapons proliferation.
But talk is cheap.
In June, China responded that "small" groups like the G7 no longer rule the world.
Of course, the G7 never sought to "rule the world," instead seeking to fulfill the U.N. principles of 1945 and 1948, according to which autocracies would gradually evolve into sovereign democracies that respect each others' borders and trade freely.
The CCP's allegation that the G7 seeks to rule the world is a Freudian slip that reveals more about its own hegemonic ambitions, proven by Rush Doshi in his book of this year, "The Long Game: China's Grand Strategy to Displace American Order."
To stop this illiberal end, the G7 should stop talking and start doing, by becoming a powerful and democratic counterweight to the growing power of China and Russia. To do so, it must move more quickly and decisively.
Russia was kicked out of the group, then the G8, after its 2014 invasion of Crimea in Ukraine. China should also be ejected from international organizations for its attempted takeover of the South China Sea and human rights abuse.
The United States is supposedly leading on the China issue, with the largest European economies and Japan dragging their heels. According to Reuters, U.S. Secretary of State Antony Blinken is in Southeast Asia this week in an attempt "to forge a united front against China in the Indo-Pacific."
But Blinken and his boss, President Joe Biden, are moving far too slowly to effectively contain Beijing. If the United States and the G7 do not act more quickly, expect an eventual Chinese hegemony on a global level to be a done deal.
Views expressed in this article are the opinions of the author and do not necessarily reflect the views of The Epoch Times.