Longtime friend of Christine Ford, Leland Keyser, said she was pressured by another friend of Ford's, Monica McLean, a former FBI agent who was allegedly coached by Ford on how to take a polygraph, to revise a statement she issued refuting Ford's claim that she was sexually assaulted by Supreme Court nominee Brett Kavanaugh in 1982.
Ford has claimed that at a small gathering in Maryland that year, when she was 15 and Kavanaugh was 17, she was assaulted by him. She has not been able to provide any evidence of her claim, and all the people she said were at the gathering have denied attending such a party.
That included Leland Keyser, a former close friend of Ford's. Keyser said days before the Sept. 27 public hearing, when Ford testified to the Senate Judiciary Committee, that she had never met Kavanaugh.
"Simply put, Ms. Keyser does not know Mr. Kavanaugh and she has no recollection of ever being at a party or gathering where he was present, with, or without, Dr. Ford," said Howard Walsh, Keyser's lawyer, in the statement.
Ford continued using Keyser's name in her account of the alleged assault and told Senators on Sept. 27, that she believed Keyser didn't remember the gathering because it was an "unremarkable party." Ford has said she ran out of the house after being accosted without alerting Keyser, leaving her there with three or four boys and no girls.
Following the public hearing, Keyser issued another statement stating that she does not remember being at a party where Kavanaugh was present.
A friend of Christine Blasey Ford told the FBI she felt pressured by Ford's allies to revisit statement on the allegation against Kavanaugh https://t.co/u7XMlpx7RF

— The Wall Street Journal (@WSJ) October 5, 2018
Pressure by FBI Agent
Keyser told FBI investigators probing the assault claim that she felt pressured by friends of Ford to revise her statement, including former FBI agent Monica McLean, reported the Wall Street Journal on Oct. 5, citing people familiar to the matter.
McLean "urged her to clarify her statement, the people said," the Journal reported. The second statement Keyser issued included a new portion stating that while she didn't remember attending a party where Kavanaugh was present, she still believed Ford's account.
McLean's lawyer, David Laufman, said in a statement to the Journal: "Any notion or claim that Ms. McLean pressured Leland Keyser to alter Ms. Keyser's account of what she recalled concerning the alleged incident between Dr. Ford and Brett Kavanaugh is absolutely false."
According to Ford's ex-boyfriend, McLean and Ford have known each other for a long time. The man, whose name was redacted by Senators, said they lived together during the 90s and that Ford used her background in psychology to help McLean prepare to take a potential polygraph exam.
In a statement sent to Josh Campbell, a former FBI agent who was a special assistant to ex-FBI Director James Comey, and who now works for CNN, McLean also denied being prepared for a polygraph by Ford.
McLean worked for the FBI from 1992 through 2016 and currently lives in Rehoboth Beach, Delaware, according to her LinkedIn. Ford testified during the public hearing that she wrote a letter describing the alleged assault to Sen. Dianne Feinstein (D-Calif.) while she was in Rehoboth on or about July 26. McLean was part of Ford's support group that attended the Sept. 27 public hearing.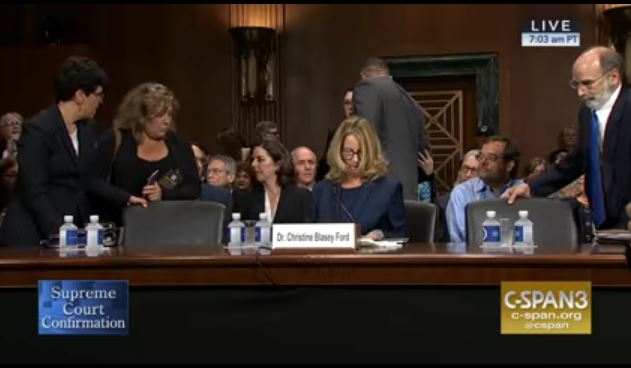 Christine Ford's friend was 'blindsided' when named as a witness https://t.co/20tgS8O6bC #BrettKavanaugh #MeToo

— Laura Collins (@collins_ink) October 3, 2018
'Blindsided'
Keyser, 52, was "completely blindsided" by her name being thrown into the nomination drama, an anonymous family member told the Daily Mail.
"Christine didn't give her so much as a heads up – as far as I know they haven't really spoken for several years and they're certainly not close anymore," the family member said.
"Leland was completely blindsided by her name being thrown into it all. The first thing she knew about it was when she woke up on Thursday morning and her name was just everywhere. It was crazy."
Keyser is just trying to get through the drama and hoping it dies down soon, the family member added, noting she has endured numerous health problems that have included 14 operations.
From NTD.tv
Did you enjoy this article? Continue to read more stories here.