A man who claims to have dated Christine Blasey Ford, the California woman who has accused Supreme Court nominee Brett Kavanaugh of sexually assaulting her in 1982, has sent a letter in response to statements Ford made before the Senate Judiciary Committee, indicating that Ford may have lied to the panel.
Ford testified during a public hearing on Sept. 27. In addition to numerous inconsistencies that emerged with her story, Ford may have also directly lied when she said she "never" helped anyone prepare for a polygraph exam.
The man wrote a sworn statement to the Senate Judiciary Committee, which is investigating the assault claim, that he personally witnessed Ford helping a woman prepare for a potential polygraph exam, according to the letter obtained by Fox News.
"Dr. Ford explained in detail what to expect, how polygraphs worked and helped McLean become familiar and less nervous about the exam. Dr. Ford was able to help because of her background in psychology," the ex-boyfriend, whose name has been redacted, stated.
BREAKING: Fox's @johnrobertsFox obtains letter from Ford ex-boyfriend alleging: dated for 6 yrs, never told of sex assault, Ford coached friend on taking polygraph, flew frequently w/o expressing any fear of flying/tight spaces/limited exits. Doesn't want to b/c "involved". pic.twitter.com/jVeW0qaJD0

— Shannon Bream (@ShannonBream) October 3, 2018
The allegations were revealed by Judiciary Chairman Chuck Grassley (R-Iowa) in a letter to Ford's attorneys, who have so far refused to provide all polygraph-related documents and media for review.
"The full details of Dr. Ford's polygraph are particularly important because the Senate Judiciary Committee has received a sworn statement from a longtime boyfriend of Dr. Ford's, stating that he personally witnessed Dr. Ford coaching a friend on polygraph examinations," Grassley wrote.
"This statement raises specific concerns about the reliability of her polygraph examination results," he continued. "The Senate therefore needs this information."
Prosecutor Rachel Mitchell: "Have you ever given tips or advice to somebody who was looking to take a polygraph test?"

Christine Blasey Ford: "Never." pic.twitter.com/k5Pm424f22

— Ryan Saavedra 🇺🇸 (@RealSaavedra) September 30, 2018
The friend she was helping, Monica McLean, worked for the FBI from 1992 to 2016, according to her LinkedIn profile. The letter-writer said he dated Ford from 1992 to 1998.
McLean had various roles within the FBI, including as a spokeswoman for the FBI's New York office.
McLean, who says she's now an independent consultant, currently lives in Rehoboth Beach, Delaware, according to her LinkedIn page. Ford testified during the public hearing that she wrote a letter to Sen. Dianne Feinstein (D-Calif.) while she was in Rehoboth on or about July 26.
McLean also signed a letter from graduates of Holton-Arms, the school Ford attended at age 15 when she was allegedly assaulted, proclaiming that they supported Ford in making the claim public for the first time since it allegedly happened.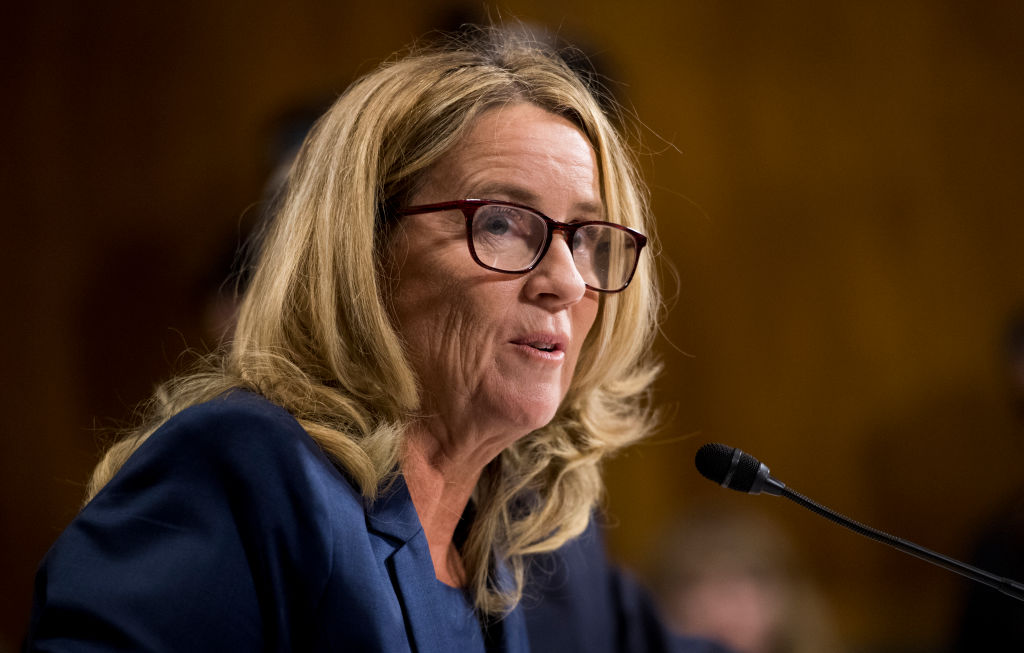 Fear of Flying
The ex-boyfriend also disputed an assertation by Ford's lawyers that she is afraid of flying: "While visiting Ford in Hawaii, we traveled around the Hawaiian islands including one time on a propeller plane. Dr. Ford never indicated a fear of flying."
The man also said Ford never expressed a fear of close quarters, tight spaces, or places with only one exit, noting she lived in a 500-square-foot apartment in Hawaii.
Ford testified during the public hearing that she suffers from claustrophobia and that the alleged assault was revealed in detail to her therapist and husband in 2012, after she insisted on including a second door to her home during a remodel, an insistence she said her husband disagreed with and couldn't understand.
Ford's lawyers at one point in a letter to the Judiciary Committee indicated that Ford would have to reach Washington from California by driving or some other transportation method other than flying because she was afraid of closed spaces and flying.
In a memo to Republican senators, a veteran prosecutor they hired to question Ford noted that "the date of the hearing was delayed because the committee was informed that her symptoms prevent her from flying. But she agreed during her testimony that she flies 'fairly frequently for hobbies and … work."
"She flies to the Mid-Atlantic at least once a year to visit her family. She has also flown to Hawaii, French Polynesia, and Costa Rica. She also flew to Washington for the hearing," wrote the prosecutor, Rachel Mitchell.
From NTD.tv