Organizers of Freedom Convoy USA 2022 are urging all truckers and protesters who planned on joining them in their trek to Washington, D.C. to change course and join the main group, The People's Convoy, which as of Saturday morning had reached Amarillo, Texas.
Kyle Sefcik, national organizer for Freedom Convoy USA 2022 told The Epoch Times on Feb. 26, The People's Convoy is now the "official" convoy.
"I'm disappointed that our own little convoy didn't have like 30 to 50 trucks. I was a big, wishful thinker," he said. "Our send-off wasn't what we were planning and hoping to be."
The Freedom Convoy USA has abandoned its proposed northern route and has asked all truckers and supporters who planned to follow in motorhomes and smaller vehicles to join The People's Convoy.
"We do apologize to all those people that were in Utah and in Colorado and those northern states in the West that were excited to see all these truckers go by, but we have to make these big decisions."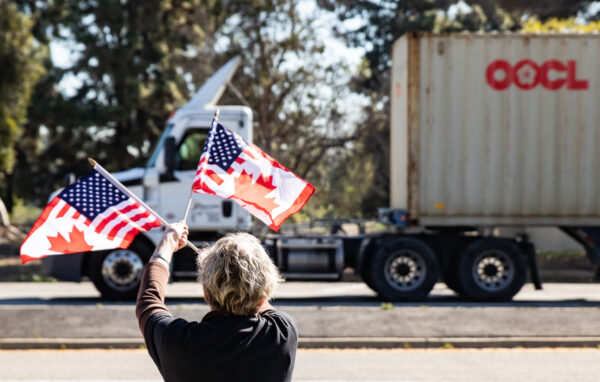 He expects more truck drivers in semis and protesters in private vehicles to converge near Indianapolis before proceeding to the Washington, D.C. area.
Sefcik said he has a permit to hold a rally to cheer on the convoy at the National Mall in Maryland, just outside the limits of Washington proper, on March 1 when President Joe Biden is expected to deliver his State of the Union speech. He claims to have a permit for the event.
Sefcik admitted in a video statement on the group's Instagram page that the launch of the Freedom Convoy USA 2022 on Feb. 25 was as successful as the group had hoped.
Though hundreds of people showed up to show their support for truckers, there were no trucks at rallies in El Monte and Fontana, both in California, on Friday.
"The launch in Cali today … was not very successful," he said.
"All these convoys are coming together at some point. We're all in this together," he said.
"That's going to be an epic merge."
Meanwhile, California organizer Mark Perez experienced logistical problems at El Monte on Friday when no semis showed up to pick up donated supplies that supporters dropped off at a roadside rally where more than 200 people had gathered to support the convoy.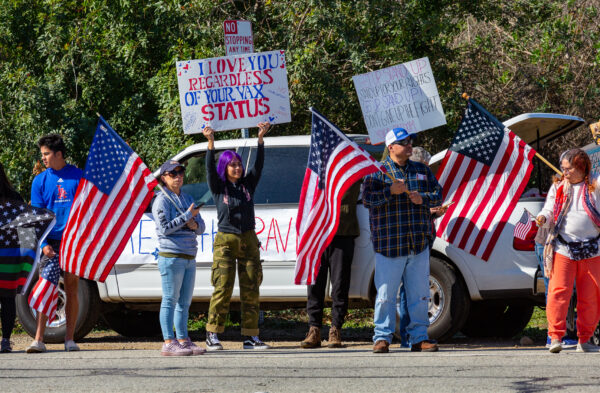 Perez told The Epoch Times on Saturday morning that he spent Friday night scrambling to rent two 15-foot U-Haul trucks and load them with supplies.
"I wasn't expecting that many donations," he said.
Perez had to change routes and now hopes to reach The People's Convoy when it stops for a scheduled overnight stay near Elk City, Oklahoma, Saturday night.
"I'm trying to catch up with them," he said