Outsider Kemi Badenoch, who said that "we need to reinvigorate the case for free speech" has been knocked out, but the final two candidates Rishi Sunak and Liz Truss have varied records on the topic which is likely to become a battleground in the race to become Britain's next Prime Minister.
"Sunak as far as I can see has virtually no statements about free speech," Andrew Tettenborn, common-law and continental jurisdictions scholar and advisor to the Free Speech Union (FSU), told The Epoch Times. "I probably prefer Liz Truss on free speech," he said, "but I think she's marginally less bad than Rishi Sunak."
Secure Freedom of Speech
"I think that whoever we have as Prime Minister, is now likely not to do very much [on free speech]," said Tettenborn.
"We have some useful legislation, of course, in the form of the Bill of Rights. Where we have a government consultation coming up. The Free Speech Union agreed to be fairly active in that I'm down to help draft what we say. I think could be quite useful," he added.  The FSU is an organisation dedicated to upholding free speech in Britain.
Tettenborn added that he believed that the government's planned legislation that will make universities have a new duty to secure freedom of speech will go ahead.
The Higher Education (Freedom of Speech) Bill is a proposed Act of the Parliament of the United Kingdom that would impose requirements for universities and students' unions to protect freedom of speech.
"I doubt the Conservative government will take it much further than that," he said, adding that more needed to be done in regards to making extensions for free speech for employers and professional associations.

Free Speech
Rishi was Chancellor of the Exchequer having previously served as Chief Secretary to the Treasury.  His resignation as chancellor on July 5 helped to trigger an avalanche of ministerial resignations.
Truss has held more positions including Education Minister, Secretary of State for the Environment, Justice Secretary, Chief Secretary to the Treasury, and Secretary of State for International Trade and President of the Board of Trade, as well as Minister for Women and Equalities.
She is currently Secretary of State for Foreign, Commonwealth, and Development Affairs.
In December 2021, when Truss was Minister for Women and Equalities Truss, she affirmed the government's stance that free speech and religious liberty should be protected from a conversion therapy ban.
She was asked by Labour MP Kate Osborne in Parliament if the ban would cover "non-physical conversion practices in religious settings, including prayer."
The Minister replied that what is important is that "we ensure that people are not coerced into conversion therapy, but it is also important to protect freedom of speech."
"I hear Opposition Members asking whether freedom of speech is a good thing. Yes, it is," added Truss.
Last September, Truss, when Secretary of State for Women and Equalities, told LBC radio in May "women do have vaginas" in response to student Lisa Keogh who was facing disciplinary action at university for making the same comment. "We need to uphold our very, very important tradition of free speech," said Truss.
In a speech in December, when Foreign Secretary, Truss gave a major policy speech at Chatham House in London saying that the "free world took its eye off the ball" following the fall of the Berlin Wall.
"After the collapse of communism, many breathed a sigh of relief and called it the end of history—confident that freedom and democracy would inexorably go global under its own steam," she said.
She added that "societies turned inwards. Rather than engaging with the big ideas shaping the world, failed ideas ran rife, like the post-modern philosophy that there is no objective truth."
Writing for the Mail on Sunday in a piece called "Equality should be for everyone—not just for the woke warrior's favoured few." Truss said she has has "witnessed the spread of misguided, wrong-headed, and ultimately destructive ideas, which, sadly, have become steadily more prevalent in many aspects of British life."
"Too many people have jumped on this woke bandwagon and lost sight of what most people want: a life in which they can live happily in a secure home, work in a good job, and send their children to a decent school. Rather than engage with these priorities, the Left has been swept up by a warped ideology and all its bizarre obsessions," said Truss.
On quotas, diversity agendas, and so-called "unconscious bias" training she called them "dehumanising, disempowering, and dysfunctional ideas do nothing in practice to make life fairer."
"Those behind this pernicious woke culture see everything in terms of societal power structures. To these zombies, truth and morality are merely relative," wrote Truss.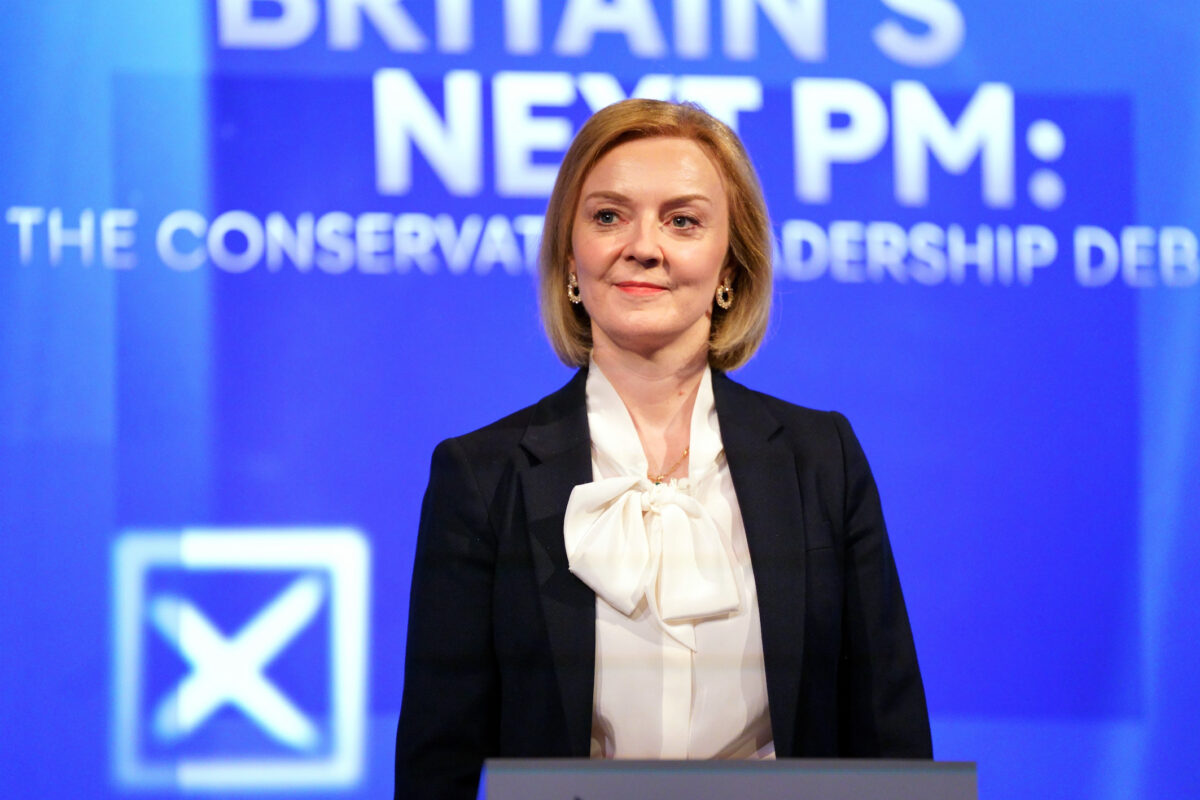 Define What a Woman Is
As Chancellor of the Exchequer, Sunak was responsible for the policy of furlough and if elected would also be Britain's first Asian prime minister.
In March, Talk TV's Julia Hartley-Brewer challenged Sunak to "Define what a woman is?" It is a question that has become a hot topic for some politicians in recent months.
Sunak did not offer his own definition and deferred to a definition previously used by Prime Minister Boris Johnson.
In a recent "manifesto for women's rights" published in the Daily Mail on July 9, Sunak said that he will oppose biological males being allowed to compete against women in sport, while calling on schools to be "more careful in how they teach on issues of sex and gender."

Lecturer at Canterbury Christ Church University, writer, and member of Academics for Academic Freedom and Don't Divide Us, Prof. Jim Butcher said that he found the former equalities minister and former candidate Badenoch interesting for her approach to critical race theory and free speech.
During her short run, Badenoch gained support from the Tory membership and feminists.
"I think we do need to speak out on cultural issues by really, really making clear that freedom of speech is sacrosanct," said Butcher.
"I think we have to remember that the Conservative Party is not a free speech party. And actually the majority of them didn't even vote for Brexit in the referendum," said Butcher, adding that he believed that nobody is saying that the Conservatives are a "sort of people's Populist Party."
But Butcher said that those who are interested in free speech warmed to Badenoch "because the old left-right divisions are not necessarily the ones that people divide on today and rightly so, as these are really important issues."
Online Safety Bill
Still in the background is the Online Safety Bill, which is currently on ice until a new prime minister is in place in the autumn, a move that won praise from free speech supporters.
The planned legislation on online spaces has been increasingly criticised by top Tories for handing "unprecedented censorship powers" to the secretary of state and to online regulator Ofcom.
Badenoch in a post on Twitter had described the Bill that will regulate online spaces as cracking down on free speech to prevent "hurt feelings."
Last week, The Times Of London reported that Truss will revise online safety laws to ensure they do not damage freedom of speech if she wins the Tory leadership contest.
She also told The Spectator's leadership hustings that she was "a believer in freedom of speech. I also believe that we need to protect particularly the under 18s from harm."
"And I think there is a place for further amendments to this legislation to make sure we're delivering it and also make sure that everybody is aware of the intention of the Bill as well, which is also important," she added.
Sunak said he would look into "legal but harmful" definitions in the Online Safety Bill.
"And we've got to find a way to protect children against that in the same way as we do in the offline world, so to speak," he told The Spectator.
Sunak said he was glad the government's paused the Bill so the government can refine its approach here, that the "challenge is whether it strays into the territory of suppressing free speech."
"And the bit in particular that has caused some concern and questions is around this area where the government is saying, look, here's some content that's legal but harmful, and it's that's this kind of area, which I think people rightly have said, well, what exactly does that mean?" he said.
A noted critic of the Bill, Tettenborn said that if Labour wants to insist on picking up this legislation, then it will come out "as the restrictive party, as the Tories have not been keen on restricting free speech."
"I have a funny feeling that it will miraculously turn out that there isn't parliamentary time for it," he said.
The Epoch Times contacted Sunak and Truss for comment.