MOCOA, Colombia—Families and rescuers searched desperately on Sunday through mud-plastered rubble for victims of flooding and landslides that killed 254 people, injured hundreds and devastated entire neighborhoods.
Several rivers burst their banks near the southwestern city of Mocoa in the early hours of Saturday, sending water, mud and debris crashing down streets and into houses as people slept.
"I need to know where they are, if they are injured or where to find them," sobbed Maria Lilia Tisoy, 37, looking for her two daughters, one of whom was pregnant, and a 4-year-old granddaughter in the rubble of their home.
"If they are dead, please God deliver them to me."
Like her, many families stayed up through the night to search in the debris, despite widespread lack of electricity in the city of about 345,000 inhabitants.
President Juan Manuel Santos was returning for a second visit to supervise the emergency operation on Sunday.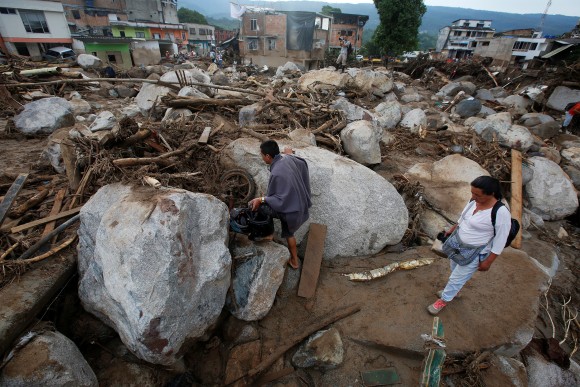 The army said 254 people were killed, 400 people injured and 200 missing. More than 1,100 soldiers and police officers were helping dig people out in 17 affected neighborhoods.
The national disaster unit released a lower death toll of 200, but both could rise on Sunday as the full extent of the disaster becomes clearer.
The attorney general's office said it had formally identified the bodies of 50 victims and social services were caring for dozens of children unable to find their parents.
The disaster came amid extreme weather across the region, including deadly flooding in Peru and drought-induced forest fires in Chile.
Families of the dead will receive 18.4 million Colombian pesos, about $6,400, in state aid, Santos said, adding that the government would also cover hospital and funeral costs.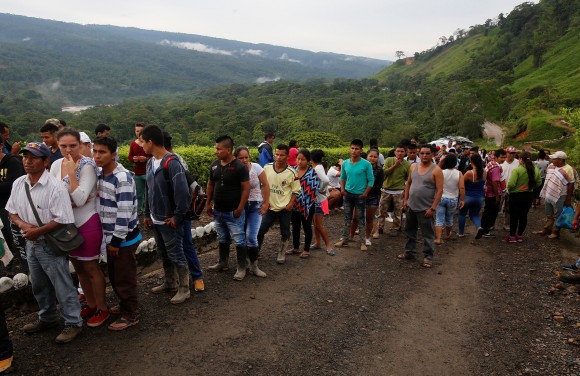 Condolences poured in from around the world, including the Pope, who said he was praying for the victims.
A regional highway closed by the landslide re-opened in the early hours of Sunday.
Even in a country where heavy rains, a mountainous landscape and informal construction of homes combine to make mud and landslides a common occurrence, the scale of the Mocoa disaster was daunting compared to recent tragedies.
A 2015 landslide killed nearly 80 people in Antioquia.
Colombia's deadliest landslide, the 1985 Armero disaster, left more than 20,000 dead.
Santos urged Colombians to brace for continued rains and take what precautions they could to protect their properties from flooding.