NEW YORK—A partner of a private equity firm with backing from the Chinese regime was found guilty in a U.S. court of insider trading related to the attempted acquisition of American chipmaker Lattice Semiconductor Corp., prosecutors in New York said on April 24.
Benjamin Chow, who co-founded Canyon Bridge Capital Partners, was convicted of securities fraud and conspiracy by a jury in Manhattan federal court, according to the office of U.S. Attorney Geoffrey Berman in a statement. Chow is scheduled to be sentenced on Aug. 20 by U.S. District Judge Gregory Woods.
Canyon Bridge's financing can be traced back to China's State Council, the top administrative authority of the Chinese central government, Reuters had previously reported.
Acquiring foreign semiconductor technology via investments in foreign firms is part of the Chinese regime's strategy to develop its semiconductor industry. China has lagged behind in innovation, and relies heavily on foreign imports of the chips, which are used to power many electronic devices. The regime's centerpiece economic plan, Made in China 2025, includes the goal of dominating global supply chains in high-tech sectors such as semiconductor-manufacturing.
Lawyers for Chow, 45, could not immediately be reached for comment.
"While we have been informed of the verdict, we have not had the opportunity to review the court's ruling," Canyon Bridge said in an emailed statement. "We will be assessing the situation."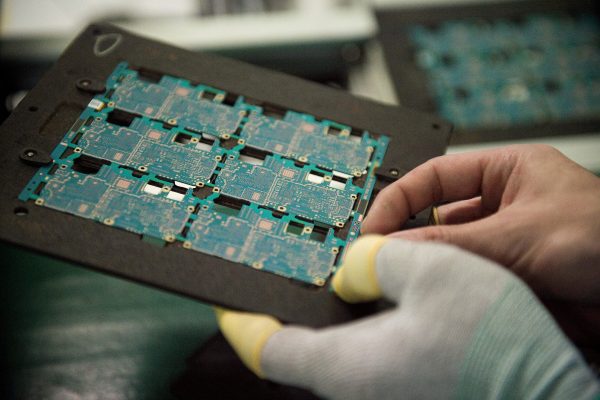 Prosecutors charged Chow, a U.S. citizen born in China, with tipping a friend in 2016 about Canyon Bridge's planned acquisition of Oregon-based Lattice before it was announced, allowing the friend to make about $5 million in profits.
The friend was identified in a separate lawsuit by the U.S. Securities and Exchange Commission last year as Michael Yin, a former Hong Kong-based private equity executive who had become a hedge fund manager.
U.S. President Donald Trump blocked the Lattice deal in September.
Since then, Canyon Bridge has set its sights on acquisition targets outside of the United States. It closed on the purchase of British chipmaker Imagination Technologies Group for 550 million pounds ($718 million) late last year. The sale did not include a unit of the company, U.S. chip designer MIPS, which was divested to an investment firm.
According to Canyon Bridge's website, Chow previously ran semiconductor investments for private equity firm Warburg Pincus in Asia, and was a managing director of China Reform Fund Management, a private equity investment firm financed at least in part by China's government and its state-owned firms.
Two former business partners of Chow who declined to be named said he is a native of Tianjin, a port city 30 minutes from Beijing by high-speed train, and has relatives who work in the Tianjin government.
Epoch Times staff member Annie Wu contributed to this report.