Former British consulate employee Simon Cheng couldn't have imagined that his participation in the Hong Kong pro-democracy protests would land him in a prison in China and labeled an "enemy of the state."
Last August, the Hongkonger's short business trip to the Chinese border city of Shenzhen turned into a nightmare: For 15 days, Cheng was held incommunicado, accused by Chinese authorities of being a British spy, and tortured to extract intelligence about protesters in his home city.
Since June 2019, demonstrators had taken to Hong Kong's streets en masse in opposition to the Chinese regime's growing interference in the city's affairs.
Cheng was only released after making a televised appearance on a state-run broadcaster "confessing" his crime of "soliciting prostitution," a violation of Chinese law.
Cheng has repudiated this confession, saying he was forced to admit the charge, which he described as politically motivated.
He has since resigned from his post at the UK consulate in Hong Kong and spoken out about his experience, insisting that he will not be silenced.
However, this has come at a cost. Cheng has cut off ties with his relatives in Hong Kong and mainland China in the hopes they can "live in tranquility and peace, without external harassment and threat," he wrote in a Jan. 9 Facebook post.
"We once loved and nurtured each other, now we better forget it, as we will take no more agony and worry," Cheng added.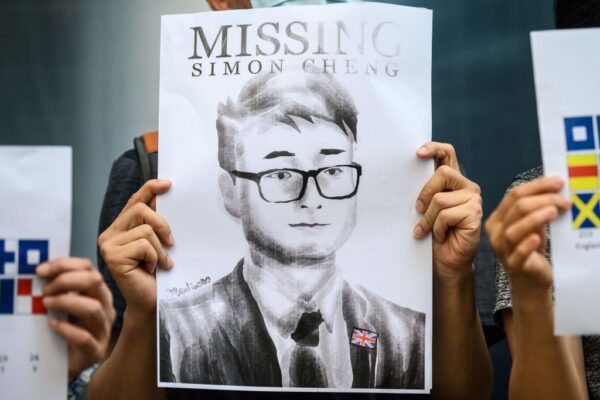 A Nightmare
Over the summer, the then 28-year-old was at the forefront of several protests in Hong Kong. Sometimes, he would try to negotiate with local police who had surrounded demonstrators and blocked their way.
In early August, however, an encounter with mainland authorities turned his life upside down. While on the way back from his business trip, he was arrested at a mainland Chinese checkpoint at Hong Kong's West Kowloon Station, steps away from Hong Kong territory.
Mainland customs officers seized his backpack and phone, and put him in custody. Late that night, he was escorted onto a high-speed train to Shenzhen and handed over to Chinese police officers on the high-speed train to Shenzhen.
Cheng tried to ask the escorting police what they would do to him. "Don't be so insolent, brat!" he recalled a burly plain-clothes officer saying, in a Dec. 31 interview with The Epoch Times in London.
At this, Cheng immediately threw his hands up.
The officers took him to a police station in the district of Futian, Shenzhen.
"Once the car got into the police station, you had nowhere to turn for help, because you are basically left to their mercy, you are in their domain," he said.
It marked the beginning of what Cheng would remember as a 15-day "nightmare."
'No Human Rights'
The interrogation began shortly after his arrival at the station.
Cheng was made to sit inside a steel cage, with his hands cuffed and body shackled to an iron stool, while interrogators grilled him for seven to eight hours.
They pressed Cheng on his as well as the UK government's role in the Hong Kong "riots," and asked him to give names of mainlanders who joined in the protests.
"Suppose what you do is legal in Hong Kong, but where are you right now? … Once you are in mainland China, you are subject to the mainland's judicial standard," they told him.
"It was a blatant contradiction of the 'one country, two systems' policy, but I couldn't retort back under the circumstances. I could only express my sense of remorse," Cheng said, referring to the framework governing the city under which the Chinese regime pledged to maintain the city's autonomy and freedoms.
Cheng was transferred to two detention facilities throughout his ordeal. At each of these facilities, he was taken to a secret location for interrogation almost on a daily basis.
The guards would put a hood over his head, shackle and blindfold him before taking him to the interrogation location by van. He was also ordered to wear his prison uniform—which contained his name and where he was from—backward so as not to reveal his identity.
The interrogation sessions lasted about seven to eight hours each time.
During some sessions, he was blindfolded with his hands and feet bound into the spread-eagle position—a pose he had to hold for hours. At other times, he was made to squat while raising his hands up high.
If he made a slight move or if his pose was not "perfect," the interrogators beat him and hit his vulnerable areas—ankle and knee joints—with what seemed to be sharpened baton. He had to say "master" whenever he wanted to speak, or get a slap on the face.
The interrogators said it was a "training" to keep him healthy.
"They are the ones who make the call, this is their stage … they don't care if you talk or not, and they only let you talk when they feel like it," Cheng said.
An interrogator speaking flawless Cantonese said Cheng was "no better than human waste," while a mandarin-speaker told him there were "no human rights to speak of."
As he approached a mental breakdown and burst into sobs, they would release Cheng for a while and feed him, while still prodding him for intelligence.
They also labeled him a "state enemy."
The torture stopped in the second week as police waited for directives from higher-ups, he said. Officers applied drugs and ointment to his wounds in an effort to erase traces of abuse. For a period of time, Cheng could not move his legs due to the prolonged torture. He has since recovered.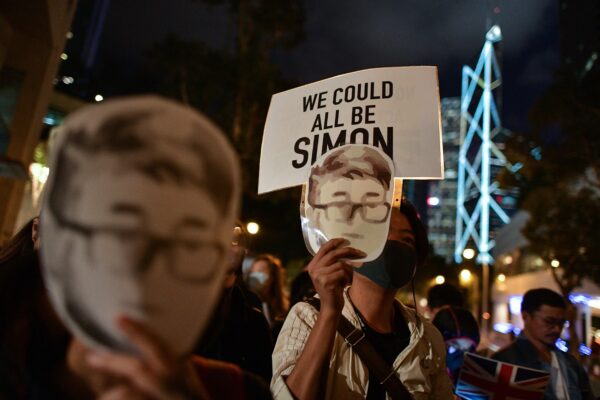 Inmates From Hong Kong 
During the second week of interrogation while at Luohu Detention Center, Cheng walked by a group of around 10 young prisoners held inside glass cells. Donning orange prison uniforms, they all looked down at their handcuffs, looking dejected. He suspected them to be Hong Kong protesters.
Cheng then heard a Cantonese voice from a guard while walking through the hallway: "Raise your hands higher, didn't you raise flags very high during the protests?"
He also brushed past a young girl of around 15 or 16. An officer said she was arrested for protesting in Hong Kong, and asked if they were acquaintances. He shook his head. "Then that's the best," the officer said.
Interrogators also handed him photos of around 1,000 protesters, with some appearing like images pulled from social media, and asked him to provide information about those he knew. He was to fold one corner of the photo if he recognized the face and stamp it with his fingerprint. He had no choice but to comply and gave information about protesters he recognized.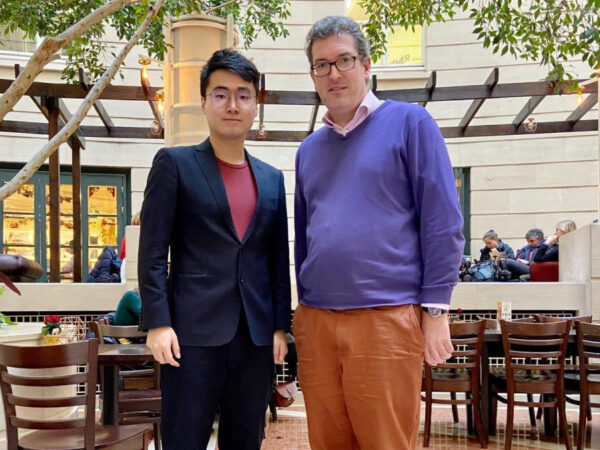 New Start 
In late August, Cheng was released to Hong Kong. Soon after, he booked a flight to Taiwan where he stayed for three months and shared about his experience with local media.
Three days after going public, he found a man following him on the street. The man had no reaction when Cheng took a photo of him. About an hour later, he saw the same person checking his phone near him—but in a different outfit. After reporting the incident to Taiwanese police, officers told him that the man was not a local.
Alarmed by the occurrence, Cheng soon left for England, where he stays on a business visa.
His experience in Chinese prisons, Cheng said, provided him with a glimpse of the plight of persecuted faith groups in China, such as practitioners of spiritual practice Falun Gong, who refused to yield to the "state persecution engine" or renounce their beliefs.
Before in Hong Kong, Cheng had passed by stalls run by local Falun Gong practitioners where they displayed images of torture in China, and wondered if they were being "dramatic." But he has since begun to see things differently.
"I already appeared cooperative, but still I got punches and kicks, and went through torture. It's even harder to imagine what they might face," he said.
Cheng cut off communication with his relatives in the mainland and Hong Kong because he fears that the Chinese regime will retaliate by harming or harassing his family members.
He said that exposing such human rights abuses perpetrated by the Chinese regime is a moral obligation and what ensures his own safety. "I don't want to be silenced by the CCP's [Chinese Communist Party] threats and blackmail … otherwise I will regret for life.
"It has been a difficult choice … a price I paid."