Former Queensland Premier Campbell Newman has resigned from the Liberal National Party, citing disappointment with the response of state and federal governments to COVID-19.
In a statement released on July 26, Newman said, "I have in recent months become dismayed that the political wing has failed to stand up for our core values of fiscal responsibility, smaller government, support for small business, the elimination of red tape, and the defence of free speech and liberty."
"The last straw for me has been the destruction of people's livelihoods, jobs and freedoms under governments' heavy-handed response to COVID-19 across the nation," he added. "It is important to keep Australians safe, but it is equally important to keep us free. The two concepts do not need to be mutually exclusive."
"Our federal and state governments have failed to honour the spirit of individual freedom that is at the heart of not only Liberal Party values, but wider Australian values."
Since last year, Australian state governments have implemented over 11 lockdowns, with Victoria going into one of the longest lockdowns of any city in the world—lasting 112 days.
On July 24, Sydney and Melbourne saw thousands of protestors march through their respective CBDs as part of the "World Wide Rally for Freedom."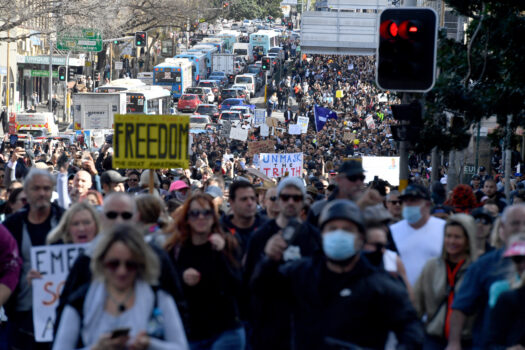 Newman was the popular lord mayor of Brisbane from 2004 to 2011, before being parachuted into the electorate of Ashgrove as state opposition leader and contesting the Queensland election.
He made history winning a landslide victory and consigning the Labor Party to just seven seats.
However, the pendulum swung back after one term in 2015, where Newman lost government to the now-Premier Annastacia Palaszczuk. The cause for the loss has been attributed to the dismissal of 14,000 public servants and the privatisation of state assets.
While on the sidelines, Newman has been a regular commentator on federal and Queensland politics.
Most recently he has taken aim at lockdown measures telling Sky News Australia that businesses were suffering while the public sector continued to "maintain total job security, have seen their wages go up—in some cases well in excess of inflation."
Newman has indicated a potential run for a federal Senate seat in Queensland.
LNP State Director Tony Eyres meanwhile thanked Newman for his service.
"The LNP would like to wish former premier Campbell Newman all the best in his new direction," Eyres said in a statement on July 26.
"On the weekend, the grassroots members and the parliamentary team of the LNP made a clear decision to chart a new path of unity, laying a strong platform for the party's future and in turn the future of Queensland."
Deputy Prime Minister and leader of the National party Barnaby Joyce also said he respected Newman but that his decision lacked political valour and that the timing was designed to damage the Liberal-National Party.
Newman's resignation came a day after former Queensland Opposition Leader Lawrence Springborg was re-elected as Liberal-National Party president.
"To be quite frank, I don't respect this," Joyce told ABC Radio National on July 26.
"To make an announcement in the middle of a conference without telling anybody is not the first move of a person who's doing something that is showing sort of some form of political bravery. It's obviously (the) timing is for damage," Joyce said.
"Why would you do that to the people who formerly supported you? Now I can understand people's political views change, but the first move you make in your new political career is a reflection of the type of politics that you will follow, and the first move was: 'I'm going to kick you.'"