A former MP with the Scottish National Party has been jailed for two years for embezzling £25,000 ($30,350) from the SNP and the Women For Independence (WFI) pressure group.
Natalie McGarry, 40, was convicted of embezzlement last month following a retrial at Glasgow Sheriff Court.
In the May 2015 general election she unseated the Labour MP for Glasgow East, Margaret Curran, with a 30 percent swing in what was a landslide victory for the SNP across Scotland.
But a few months later discrepancies were discovered within the WFI accounts and it later emerged that McGarry, who was the group's treasurer, had set up a Scottish independence crowdfunder so that money from the PayPal account went straight into McGarry's personal bank account.
The court heard McGarry—who earned more than £80,000 ($97,200) a year as an MP—had personal financial difficulties and was often loaned money by friends and relatives.
'Society Has a Right to Expect the Highest Standards'
Sentencing her on Thursday, Sheriff Tom Hughes said he had no choice but to send her to jail for the "very serious charges" she had been convicted of, and told her, "It's quite clear that society has a right to expect the highest standards from those who seek and eventually achieve high public office."
"Through your role in these offences, you have not only betrayed the trust placed in you by others, but your standards have fallen well short of those the public should have a right to expect from MPs," he added.
She was convicted of embezzling £19,974 ($24,268) from WFI between April 26, 2013 and Nov. 30, 2015, and embezzling £4,661 ($5,663) from the Glasgow regional association of the SNP between April 9, 2014 and Aug. 10, 2015.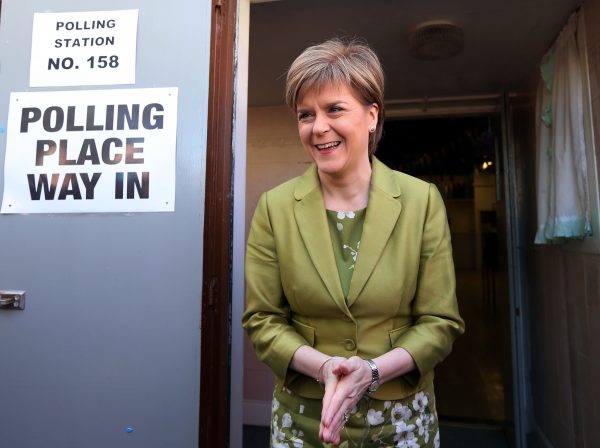 In his mitigation speech, her lawyer Allan Macleod said she had "withdrawn from life itself" and was focused on caring for her 4-year-old daughter.
Murdo Fraser, a Conservative MSP, wrote on Twitter: "Justice is served, but what an absolute tragedy for all involved. A young girl left seeing her mother go to jail."
'Inconsistencies in Justice System'
Chris McEleny, general secretary of the Alba Party, wrote on Twitter: "Natalie McGarry sentence exposes inconsistencies in justice system again. There was a case of a man in Greenock charged with over 50k fraud. He got a 9 month sentence whereas a mother is separated from her child for 2 years when she is of no threat whatsoever to society."
McGarry pleaded guilty in 2019 but her conviction was later quashed because the appeal court judges felt she had made the plea in "circumstances which were clearly prejudicial to her."
During the six-week retrial, Scotland's former Health Secretary Jeane Freeman said she reported McGarry after noticing a shortfall in the WFI accounts.
The Epoch Times has contacted the SNP for comment.
Earlier this week SNP leader Nicola Sturgeon said she planned to hold a second referendum on independence for Scotland in October 2023.
PA Media contributed to this report.