News Analysis
China's drone maker DJI has recently come under the spotlight when a former chief of staff of Russia's armed forces stated in his new book that Chinese commercial quadcopter drones have revolutionized the use of traditional artillery and rocket artillery.
In April, DJI made a statement opposing the military use of its commercial products when Russia and Ukraine employed DJI's drones and technology in the military conflict.
DJI also temporarily suspended its business operations in Russia and Ukraine a month later.
However, the praise from Gen. Yuri Baluyevsky caused mixed reactions for DJI, according to the Chinese news portal Sohu. It underscores DJI's position as the world's largest drone maker. However, in December 2020, the U.S. Commerce Department put DJI on an "entity list" due to human rights abuses. Thus, the company is subject to additional scrutiny and license requirements for the export and transfer of technology.
In his new book "Alien Wars—A New Paradigm," Baluyesvsky claimed the Chinese-made commercial quadcopters "have almost completely solved the age-old problem of reconnaissance, target designation and adjustment of artillery fire."
A Self-Sufficient Inventor and Manufacturer
DJI, or Da Jiang Innovations, is a private company headquartered in Shenzhen.
According to Prospective Industry Research Institute, a Chinese consulting firm reported that DJI accounted for over 80 percent of the global market share and over 70 percent in China, ranking first among global commercial drone companies in 2020.
The market share of DJI products in 2021 was 80 percent overseas and 20 percent in China and accounted for 40 percent of the North American market, the Chinese business news Yicai reported.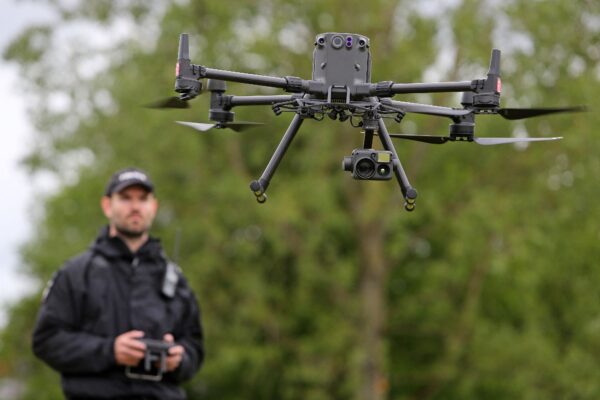 DJI produced almost every component of its drone, including the underlying code, and has flight control intelligence, low power consumption, and a high degree of integration. DJI Sullivan China President Wang Xin said that DJI mastered core technology; thus, "it would not encounter situations similar to Huawei and ZTE," according to the report.
Yicai's 2021 report also revealed DJI's ambition and its progress in China's fastest-growing market in the field of imaging automation.
A Highly Suspected Spying Machine
In 2017, the Department of Homeland Security (DHS) issued a warning that DJI was likely providing U.S. critical infrastructure and law enforcement data to the Chinese Communist Party (CCP) and owning and exploiting users' data.
"According to the source of information (SOI), DJI automatically uploads this information into cloud storage systems located in Taiwan, China, and Hong Kong, to which the Chinese government most likely has access," the warning said.
Since 2015, DJI has targeted a number of U.S. companies in the critical infrastructure and law enforcement sectors to market its UAS (unmanned aerial systems), said the DHS report.
"As of July 2017, at least ten large companies and organizations operating in the railroad, utility, media, farming, education, and federal law enforcement sectors have already purchased and begun using DJI UAS," according to the report.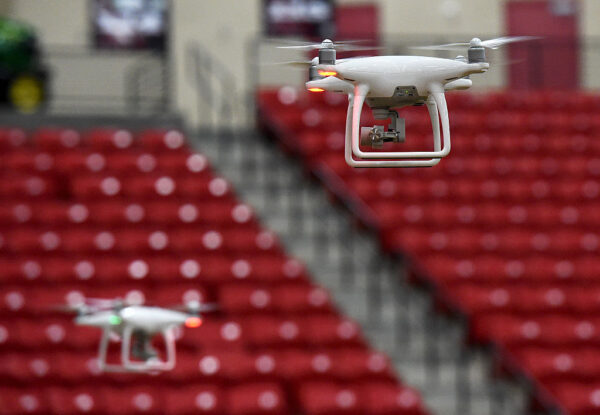 CCP's Military-Civilian Integration Strategy
The Epoch Times previously reported China's bet on winning the future war with its drone forces.
In January 2021, the Chinese language edition of The Epoch Times obtained a confidential document regarding the CCP's 2017 national defense proposal for lightweight long-endurance drone development.
Some of the product specifications listed in the proposal include the following: the mission load is greater than 6 kg; the total takeoff weight is less than 50 kg; the endurance time is greater than 24 hours; the flight speed range is 100–160 km per hour.
The document complies with the CCP's 2017 guideline for a five-year plan to develop military-civilian integration equipment by the Equipment Development Department of the CCP's Military Commission.
The proposal listed the core technologies that Beijing would invest in: the overall comprehensive design technology of long-endurance UAVs; "SCAD" image system and controllable image retrieval system; a high-efficiency hybrid power with low resistance surface structure; high-gain data collection system; ultra micro intelligence integrated sensors and systems combining functions of screen and array.
According to the proposal, the CCP's lightweight long-endurance military drones are intended to rival two U.S. models: the RQ-1 Predator, a long-endurance, medium-altitude UAV designed for surveillance and reconnaissance missions and developed by General Atomics, and the RQ-4A Global Hawk reconnaissance system produced by Northrop Grumman for the U.S. Air Force.
Li Jing contributed to this report.