An ex-Vatican ambassador to the United States claims that Pope Francis was aware of allegations of sexual abuse against former U.S. archbishop Cardinal Theodore McCarrick for years but took no action and tried to cover it up.
Former apostolic nuncio Carlo Maria Viganò, 77, wrote in a lengthy 11-page written statement dated Aug. 22 that he had personally told Pope Francis years ago about sanctions imposed on McCarrick by former Pope Benedict XVI. But he wrote that Pope Francis didn't respond to the exchange and that McCarrick was allowed to continue in his role as a public figure for the Roman Catholic Church.
"In any case, the Pope learned about it from me on June 23, 2013, and continued to cover for him [McCarrick]. He did not take into account the sanctions that Pope Benedict had imposed on [Cardinal McCarrick] and made him his trusted counselor along with [Cardinal Rodriguez] Maradiaga," Viganò wrote.
Pope Francis in July accepted McCarrick's resignation from the College of Cardinals, about five years after the original disclosure by Viganò. A month earlier, American Catholic Church officials said the allegations that McCarrick sexually abused a 16-year-old boy almost 50 years ago were credible and substantiated. McCarrick, a former archbishop of Washington, has maintained his innocence.
Viganò, who served as apostolic nuncio in Washington from 2011 to 2016, also accused several other senior church officials of complicity with regard to McCarrick. In the last page of his statement, he called for Pope Francis to resign, in order to set a good example within the church.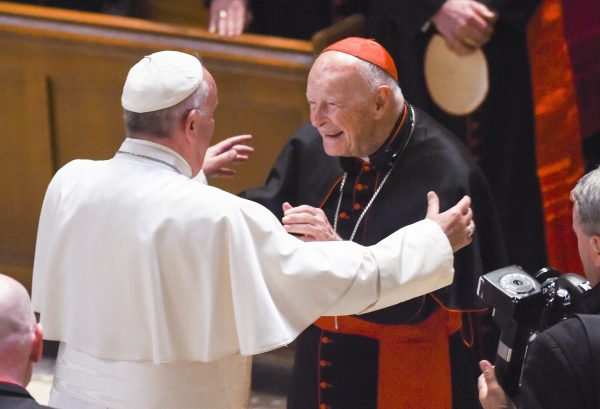 "In this extremely dramatic moment for the universal Church, he must acknowledge his mistakes and, in keeping with the proclaimed principle of zero tolerance, Pope Francis must be the first to set a good example for cardinals and bishops who covered up McCarrick's abuses and resign along with all of them," he wrote.
"Pope Francis has repeatedly asked for total transparency in the Church and for bishops and faithful to act with parrhesia. The faithful throughout the world also demand this of him in an exemplary manner. He must honestly state when he first learned about the crimes committed by McCarrick, who abused his authority with seminarians and priests."
On Aug. 25, the pope met with victims of sexual abuse by clergy in Ireland and faced a lukewarm reception and scattered protests on his trip that was originally meant to celebrate Catholic families. Since the 1990s, Ireland has been shaken with allegations of violence and humiliation against women and children, which were brought to light again by the recent, high-profile U.S. incidents.
"The failure of ecclesiastical authorities—bishops, religious superiors, priests, and others—to adequately address these repugnant crimes has rightly given rise to outrage, and remains a source of pain and shame for the Catholic community," the pope said during a speech to Irish government authorities at Dublin Castle. "I myself share these sentiments."
In his statement, Viganò offered details of the meeting he had with Pope Francis on June 23, 2013. Pope Benedict XVI had convened a meeting of all the apostolic nuncios in Rome during the last months of his pontificate, and Viganò said it was the first time he saw Pope Francis.
Viganò wrote that Pope Francis asked him in a "deceitful" way, "What is Cardinal McCarrick like?" He remembered answering with "complete frankness" and with "great naiveté."
Viganò said he recalls saying: "Holy Father, I don't know if you know Cardinal McCarrick, but if you ask the Congregation for Bishops, there is a dossier this thick about him. He corrupted generations of seminarians and priests and Pope Benedict ordered him to withdraw to a life of prayer and penance."
He said the pope didn't make any comments and showed no signs of expression, as if "he had already known the matter for some time." The pope then quickly changed the subject.
"He [Pope Francis] clearly wanted to find out if I was an ally of McCarrick or not," Viganò wrote.
Viganò observed that when Pope Francis was elected, McCarrick was able to travel freely with no constraints.
"In a team effort with Cardinal Rodriguez Maradiaga, he [McCarrick] had become the kingmaker for appointments in the Curia and the United States, and the most-listened-to advisor in the Vatican for relations with the Obama administration."
The former nuncio, in the statement, described how the face of Christianity has been "terribly disfigured" by the many crimes continuing to make headlines. Just this month, a state grand jury report, nearly 900 pages long and almost two years in the making accused more than 300 "predator priests" across Pennsylvania of sexual abuse—and the Roman Catholic Church for its decades-long coverup of the alleged activity.
"If we truly want to free the Church from the fetid swamp into which she has fallen, we must have the courage to tear down the culture of secrecy and publicly confess the truths we have kept hidden," Viganò wrote.
"We must tear down the conspiracy of silence with which bishops and priests have protected themselves at the expense of their faithful, a conspiracy of silence that in the eyes of the world risks making the Church look like a sect, a conspiracy of silence not so dissimilar from the one that prevails in the mafia."