Approximately one year after the Chinese Communist Party (CCP) enforced the National Security Law in Hong Kong, Mr. Yip (pseudonym), a former journalist in that city, left for the U.K. to avoid harassment or possible arrest by the authoritarian Chinese regime.
In an interview with The Epoch Times Chinese edition, he recalled his reporting of the anti-extradition bill protests in the island city, weeping because he felt sorry that he could no longer report the facts for Hong Kongers, and sad that fellow reporters were being charged and jailed for telling the true situation in Hong Kong.
Yip worked for several media in Hong Kong. He is a member of the Hong Kong Journalists Association and holds an IFJ International Press Card (IPC). He traveled to France in 2018 to report on the "Mouvement des gilets jaunes," or "Yellow vest movement," initially, a protest  against a planned tax increase on fuel plus the high cost of living.
When Hong Kongers took to the streets to protest the Extradition Law Amendment Bill in 2019, he began reporting the local protests, and later, dissatisfied with the reporting tactics of the mainstream media company he worked for, he resigned and began reporting for an online media company.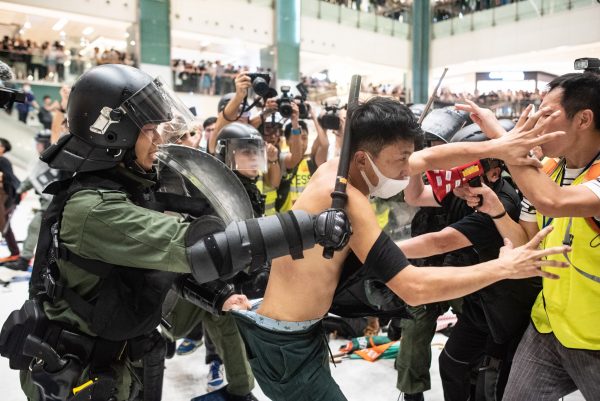 "The [online] media I worked for abides by a code of ethics, and it has editorial independence and won't call black white," Yip said.
2019 Yuen Long Attack
According to Yip, two incidents became turning points of the Hong Kong anti-extradition bill protests: the 2019 Yuen Long Attack and the Prince Edward station attack; both exposed Hong Kong police brutality and their collusion with triad gangsters. These incidents changed the nature of the movement and people's attitude towards Hong Kong police and government, Yip said.
Yip was at the scene of the Yuen Long attack on July 21, 2019, and witnessed how gangsters attacked people with wooden sticks and metal bars in a subway station. "Many people were simply passing by. [The triad gangsters] beat people for no reason, they even beat pregnant women!" recalled Yip.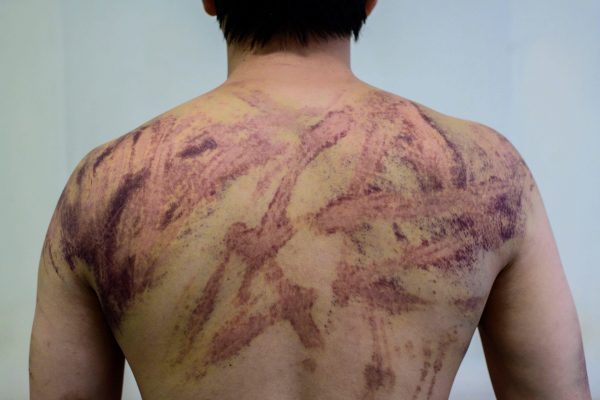 The police did not show up in time to protect people and enforce the law; and when they finally arrived after the bashing was over, they came with an arrogant attitude. Yip, like other media professionals at the scene, was completely disappointed by how the police handled the mayhem. "Such blatant collusion is really outrageous!" Yip said.
After the CCP implementation of the National Security Law, the situation in Hong Kong changed drastically. Pro-democracy media waere forced to censor themselves, and Apple Daily, whose founder Jimmy Lai was jailed for taking part in a pro-democracy assembly in 2019, was forced to close down in June.
Seeing the arrest of Jimmy Lai, Yip realized that the Communist regime of Hong Kong would sooner or later take action against the press. He started to think about his own safety, "My personal information is all registered in the Information Services Department (ISD) of Hong Kong, how could they not have my information?"
He said he was a journalist for eight years and had always felt protected by Hong Kong law, but now, there is no more freedom of the press in Hong Kong. The fate of a journalist in Hong Kong is no different from that of journalists in mainland China, because reporting the truth will be politically prosecuted by the authorities as "inciting subversion of state power."
"I just do normal reporting, but now they can put a label on you at any time and say that your interviewing foreigners is colluding with foreign forces. I lived in this fear every day. It has been exposed that the CCP's Security police like to arrest people at midnight. How could I possibly sleep peacefully?," said Yip.
In the end, after much hesitation and struggle, he discussed with his family about his future and finally decided to leave Hong Kong for the U.K. in late February this year.
He recalled the moment that he said goodbye to his parents in the Hong Kong airport.
"My parents are both in their fifties, but they are worried that I may be taken away by someone. We are all afraid that we will not see each other in the future, so we hugged for several minutes at the departure gate…" Yip said as tears welled up in his eyes.
Survival and Starting Fresh in the UK
Yip had two jobs in mid-March to maintain daily expenses: working as a freelance journalist writing news and taking photos for different online media, and working in a Taiwan bubble tea shop as a kitchen manager. However, after only two weeks, he had to quit working at the tea shop.
"He [the boss of the tea shop] did not allow me to speak Cantonese with customers and said that only Chinese should be spoken. I told him I was speaking Chinese, and he scolded me in Taiwanese. Since my parents came from the southern Fujian Province of China where people speak a similar dialect, I could understand what he was saying. We quarreled, and I told him I quit this job," Yip said.
When asked whether he would return to the media industry as a full time reporter, Yip said that he wanted to be a freelancer at the moment, even though he's had eight years of experience in journalism. "Coming to the U.K., I want to start afresh," Yip said.
Yip said that since 2019, Hong Kong people have lost a lot of ground, including freedom of the press. He couldn't help but cry when talking about the loss of press freedom.
"I just want to report the truth, and this is the responsibility of journalists. Why are reporters jailed today for reporting the truth?"
"Take good care of yourselves, because tomorrow Hong Kong will take a new look…" Yip used the lyrics of the hip hop group LMF to encourage the Hong Kong people.
Yip wanted to express his appreciation to the Hong Kong people for their support of the journalists and his former colleagues who have stood by his side.
"Even the strongest opponents have weaknesses," Yip said, and he hopes that Hong Kong people can persevere to the end.
Cathy Zhang and Sophia Lam contributed to this article.