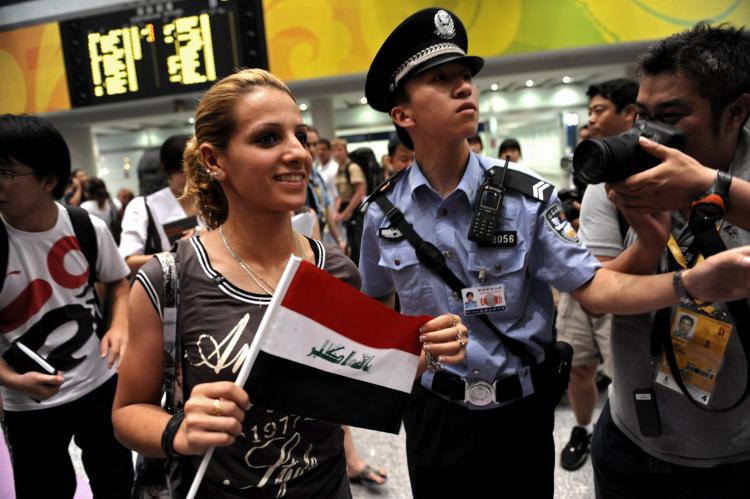 "Stop snooping on foreign journalists in Beijing," is the terse warning from a press association to the Chinese regime. The caution follows reports of security staff shadowing and taking photos of reporters working at the Olympic Games.
The International Federation of Journalists (IFJ) said a number of overseas and Hong Kong journalists have complained that security personnel have been photographing them and checking their press accreditation and nationality while they were conducting interviews—amounting to severe curtailment of press freedom.
"This is unacceptable interference in the work of journalists," Aidan White, IFJ General Secretary, said in a press release. "Once again, we call on the Chinese authorities to make good on their promise that journalists can work without intimidation."
One foreign reporter told the IFJ that two strangers with no press accreditation took photos of him and his notes when he was interviewing an athlete from France at Beijing airport on the eve of the opening of the Games.
"Certainly it has become clear that in Beijing itself and particularly in these more sensitive areas, [such as] Tiananmen, that people are being shadowed. Photos have been taken of a lot of their movements," said Sam Grunhard, Projects Director for IFJ, in an interview with The Epoch Times.
"It is very clear that local people are reluctant to speak despite the fact that there are reporting regulations that allow it it is very clear that they are being watched and photo's are being taken," he said.
Last Saturday, the killing of an American tourist by a Chinese man outside the Drum Tower attracted a great deal of media interest. There were others whose interest lay not in the incident itself but in taking photos of the journalists and their notes at the scene. But when pressed by an IFJ representative to give an explanation for the communist-style monitoring tactic, "curiosity" was the reply from one such security forces woman.
Protecting journalistic sources is a "cornerstone of press freedom," White said. He condemned the Chinese Communist Party's (CCP) "complete disregard for that principle".
Another case of police interference in Beijing was reported to the IFJ by reporters from Radio Television Hong Kong (RTHK). They were filming a discontented land owner appealing against the regime's acquisition of his land in the appeals department of Chongwen District People's Government. The police took photos of the journalists and ordered them to stop filming. No explanations were given.
Citing reasons of "safety", Chinese security forces have barred reporters from covering the aftermath of a series of bomb attacks on Sunday that allegedly killed 11 people in Xinjiang, according to state-run media. Police deleted photographs taken by Japanese journalists on the scene.
"Authorities use the excuse of protecting journalists' safety to ban them from the area. However, this seems to be a pretext used to stifle press freedom and curb coverage of the bombing," said Paco Audije, IFJ's Deputy General Secretary.
In an more serious incident on August 4, two Japanese reporters were beaten in Xinjiang by police. The journalists were trying to report on the aftermath of a previous attack that had allegedly killed at least 16 police officers.
China's reporting regulations issued in 2007 allows journalists from all countries, including Hong Kong, to report freely and to interview Chinese people with consent.
Beijing has ignored the regulations and continued to impose censorship. Notably, websites relating to Free Tibet, Falun Gong, and the Tiananmen Square massacre are outlawed. Some sites previously barred, such as Amnesty International and Reporters Without Borders, now have access—but it is limited to within the press centre.