Forbidden Love: Canadian Trapped in Saudi Arabia
April 28, 2010 10:52 pm Last Updated: October 1, 2015 8:16 pm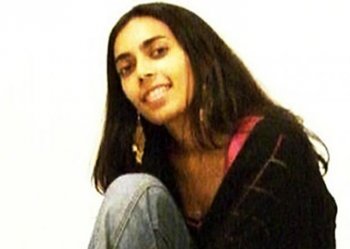 As the old saying goes, the course of true love never runs smooth. But for Nazia Quazi it has been a particularly rough ride.
Twenty-four-year-old Quazi's problems started when she began dating a man her Muslim parents didn't approve of. There were several reasons for that, she says, including that his parents were of different religions and his mother was a smoker.
They also had concerns that the boyfriend, Indian citizen Bjorn Singhal, whom she met when they were both students at the University of Ottawa, only wanted to marry Quazi to become a Canadian citizen or to get his hands on her father's estate.
Originally from India, Quazi moved to Canada with her mother and her two brothers in 2001 from Riyadh, Saudi Arabia, where they had been living for many years. Her father, Quazi Malik Abdul Gaffar, stayed behind. Quazi holds dual Indian-Canadian citizenship.
In 2007, Quazi traveled to Dubai to visit her boyfriend where he now lives and works. Her parents flew to Dubai to intervene, and took her from there to India. Then her father took her to Saudi Arabia to do Umrah, the religious pilgrimage to Mecca.
She's been trying to get back to Canada ever since.
When she arrived in Riyadh, Quazi's father took all her travel and identification documents and made himself her sponsor and male guardian without her knowledge. Gaffar also had her temporary visitor's visa changed to a permanent visa.
Now, according to Saudi law, she needs her father's permission to leave the country which he refuses to give.
"He had all this planned out," she said from Riyadh, where she works for her father's friend who also provides her with accommodations.
"He knew that if he sponsored me on my Indian passport rather than the Canadian one, then there would be no way I could escape from here since the Indian government is not so serious about all this and they branded it a private family matter in which they would not interfere."
Male Guardianship System
Under the Saudi system, women must have her male guardian's permission to do things such as hold a job, travel, drive, or marry. Because of this system, Quazi's father has been able to prevent her from leaving the country—despite the fact that neither of them is a Saudi citizen.
Quazi alleges that both her parents, but particularly her father, have been physically and emotionally abusive to her because she refuses to give up her relationship with Singhal.
"He has held a knife to my throat, threatening to kill me if I did not forget Bjorn. Along with my mother, he burnt my abdomen with incense sticks back when I was in India," she said, adding that they also tried to "marry me off forcefully" to another man.
But the most frightening thing of all, says Quazi, are her father's threats of an honor killing.
"He said he can get away with it although I do not know if that would be possible. I am unsure of the law here. Even a Saudi father who killed his son in the name of honor has had to face the death penalty. But I'm not sure if the same is true for someone who kills his daughter."
Quazi says Canadian Embassy officials, who she first approached for help about six weeks after her arrival in the country in 2007, told her they are working together with their Saudi counterparts to get her back to Canada.
Shahla Khan Salter, chair of Muslims for Progressive Values Ottawa, which has been campaigning to get Quazi out of Saudi Arabia, says that under the Saudi system "women are treated like perpetual minors their entire life."
"The only reason she cannot leave the country is because she's a woman. If Nazia Quazi was a man she would not be in this situation at all."
She says she is concerned for Quazia's safety given her father's threats. "I don't know that Saudi laws can protect Nazia."
Calls seeking comment from Quazi's mother in Ottawa went unanswered. Although the story of their daughter's plight has been fairly widely reported, neither Gaffar nor her mothers Unnisa have spoken to the media.
Growing Support
Khan Salter is critical of the Canadian government's slowness in getting Quazi out. But Deepak Obhrai, the parliamentary secretary to the minister of Foreign Affairs, says Canada is doing what it can given the situation with Saudi law.
Obrhai told CBC's The Current that although Quazi entered the country on an Indian passport, she has now been issued with a Canadian passport to enable her to leave. He noted, however, that she also needs an exit permit—which requires her father's signature.
"We have been in contact with the Saudi authorities to see how they can help us and see how we can resolve this issue," he said.
Both Human Rights Watch and the Canadian Civil Liberties Association have taken up Quazi's case. Paul Dewar, New Democratic Party member of Parliament, has written to Foreign Affairs Minister Lawrence Cannon asking him to seek an exception from Saudi authorities on the requirement for her father's permission. Liberal Bob Rae has also called for action.
Quazi, who says she has nightmares and trouble sleeping, recalls that the last time she saw her boyfriend was in July 2008 when he traveled to Riyadh to ask her father for her hand in marriage.
"My father called the police on him and warned him to leave before he pressed charges. Bjorn left quietly. In Saudi it is illegal to be seen with the opposite sex if that person is not a blood relative," she says.
Quazi's latest chance for escape is a promise from her mother to go to Riyadh and take her to Dubai so that she and Singhal can finally be together. However, she's not getting her hopes up.
Quazi's mother in Ottawa could not be reached for comment.