The U.S. annual inflation rate surged in October at its fastest pace in 31 years, driven by skyrocketing food and energy prices. Staples found in kitchens across the country were more expensive, weighing on families' monthly or weekly grocery budgets.
On the protein front, beef and veal prices increased 20.1 percent year-over-year. Pork cost 14.1 percent more, while ham prices rose 7.1 percent. The cost of chicken jumped by 8.8 percent; fish and seafood by 7.5 percent; and eggs by 11.6 percent.
The fruits and vegetables index rose at an annualized rate of 3 percent. Within this category, apples cost 6.7 percent more; bananas, 2.9 percent; potatoes, 1.7 percent; and citrus fruits, 3.7 percent.
Coffee, consumed by seven in 10 Americans, cost 4.7 percent more in the 12 months ending in October. Roasted coffee prices rose by 5.6 percent, while instant rose a modest 1.2 percent.
Nearly every food item, from white bread to margarine to salad dressing, became costlier for consumers.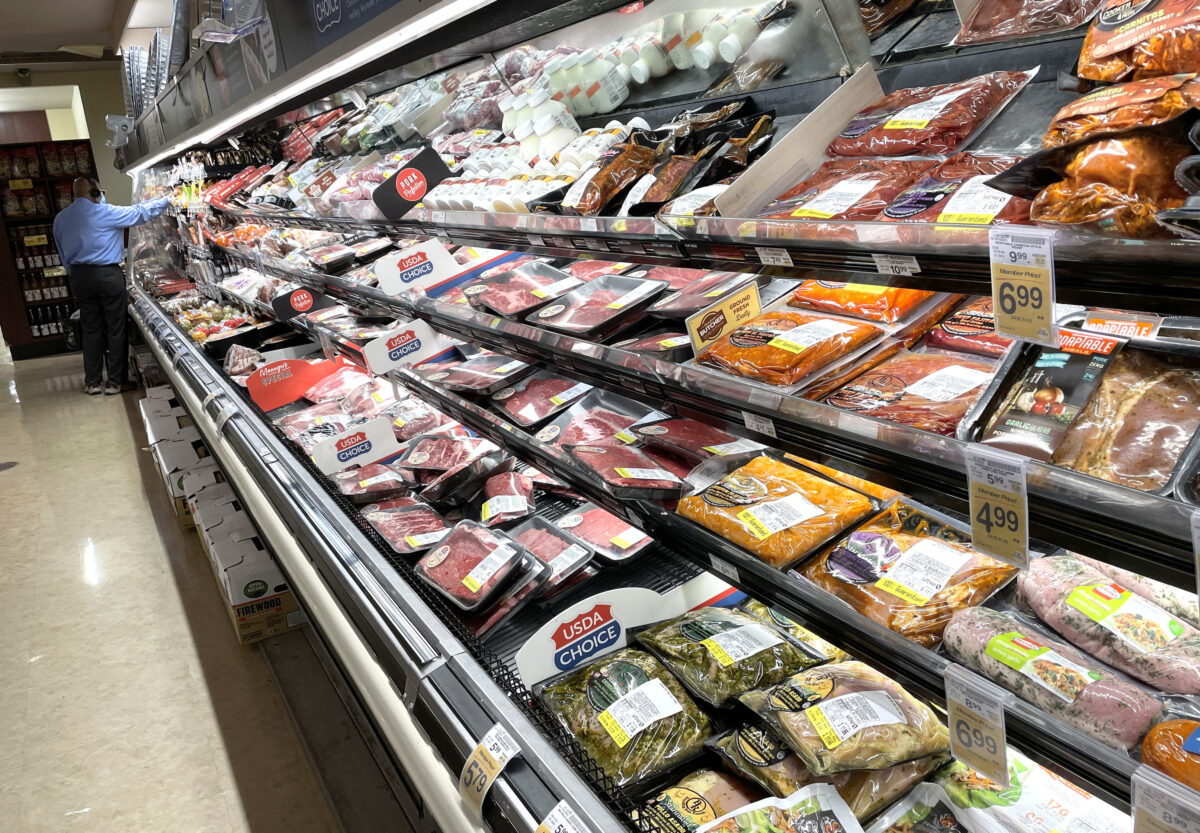 Eating at a local restaurant or coffee shop is just as expensive for Americans. The food away from home index was 5.3 percent higher than it was at this time in 2020.
Is Relief Coming to Supermarkets?
The Federal Reserve and White House insist that inflation is transitory, despite trending at its highest level in three decades. Could higher supermarket and restaurant prices linger into 2022?
"It looks like it's going to continue for a while," Phillip Streible, chief market strategist at Blue Line Futures, told The Epoch Times, adding that the supply chain crisis and adverse weather conditions impacting many crops are driving up food prices.
This year, the commodities market has been booming, Streible said, fueled by a broad range of factors, such as record-high fertilizer prices, tightening inventories, and output failing to satisfy demand. Sugar is up 29 percent, wheat has rallied 27 percent, corn has gained 18 percent, and cattle has surged 18 percent.
The fertilizer crisis could trigger upward pressure on the chief staple crops such as rice and wheat. Nutrien Ltd. and Mosaic Co., two of the world's largest fertilizer producers, anticipate a prolonged price surge that could affect nearly everything on dinner plates.
The U.S. Chamber of Commerce suggested that food inflation could persist until these four factors subside: the labor shortage, supply chain disruptions, the energy crisis, and higher wages.
"Anyone who has purchased food lately knows that food prices are rising and rising pretty sharply," noted Curtis Dubay, senior economist for the U.S. Chamber of Commerce.
In the energy sector, there has been a decline in capital expenditures and investment. In the food industry, meat-packing plants are catching up on the backlog inventory, requiring employees to work weekends.
"They're running extra shifts on Saturdays [and] Sundays, and people aren't willing to do that for free," stated Jayson Lusk, head of the Department of Agricultural Economics at Purdue University. "That's what it took and is taking to keep workers in those plants running close to full capacity."
But food distributor Sysco Corp., which recently recorded product cost inflation of roughly 13 percent, predicts that sky-high inflation levels will moderate by the fourth quarter of the fiscal year 2022. The Houston-based company is anticipated to pass these higher costs on to its customers.
Streible is also forecasting food deflation sometime in the second quarter of 2022, citing excess inventories, an easing of the supply chain bottleneck, and less-robust demand.
Some market strategists assert that the data show inflation is looking like it is less transitory.
"More worryingly, it looks less and less transitory, because the rise is mostly due to the rise in cars prices, but also the rise in food prices (where you can argue it's volatile), the rise in energy prices (which could be temporary indeed, but the fact is that we have a growing energy crisis going on across the globe right now), and most worryingly, due to the rise in rents," Ipek Ozkardeskaya, a senior analyst at Swissquote, stated in a note.
"Higher rents and higher wages are factors that will make the rise in inflation stick around for longer, and at this point, we are really moving significantly away from the Fed's 2% average inflation target."
A Thanksgiving Tax for All Americans?
These market conditions will make this year's Thanksgiving feast more expensive, as most ingredients have risen considerably.
The American Farm Bureau estimates a Thanksgiving dinner that includes a turkey and various side dishes will cost as much as 5 percent more in 2021 than in 2020. For example, turkeys weighing as much as 16 pounds will cost 25 cents per pound more this year than last. Sauces and gravies are up 1.8 percent year-over-year.
"Just the cost of metal to put cranberries into a tin can has gone up," said Curt Covington, senior director of institutional credit at AgAmerica. "It's across the board and it's going to take the supply chain well past Thanksgiving and Christmas to get back to normal."
This could result in smaller holiday gatherings, says a new survey. A FinanceBuzz poll revealed that 63 percent of Americans expect rising food costs to impact their Thanksgiving dinner. Twenty-four percent noted they might need to cut back on food because of surging prices, while 21 percent plan to have fewer guests.
And Republicans, including Rep. Elise Stefanik (R-N.Y.), are utilizing these numbers to tie multi-year high inflation figures to President Joe Biden and the Democrats.
"This is Biden's #ThanksgivingTax," the House GOP wrote on Twitter on Nov. 9.
Despite soaring prices, Biden said Americans would prefer this Thanksgiving to last year's.
"But the bottom line is that I think that, and anyone who would prefer, as bad as things are in terms of prices, helping hurting families now, to trade this Thanksgiving for last Thanksgiving," the president told reporters during last week's press conference at the U.N.'s climate change summit in Glasgow, Scotland.