A Florida father unwittingly took photos of a shark approaching his children at New Smyrna Beach last week while using his drone.
"Kids were playing in the beach and I just decided, 'Hey, now's a good time to get a picture of them overhead," Dan Watson said, Fox News reported. "Literally, as soon as I got it into the air, I started seeing a shadow moving through the water right towards them."
Watson said he went to his wife and told her to tell the children to get out of the water.
Photographer Using Drone Spots Shark Approaching His Family https://t.co/KvtcYWdQcZ pic.twitter.com/R94EzQXr9D

— pixelexperto (@pixelexperto) July 1, 2019
"I immediately get the kids out of the water. I see them get out of the water, and he immediately brings the drone to me, and I see the shark swimming at my children," Sally Watson told News 13.
She added, "When you think of a shark, you think of them in deep water, you don't think of them extremely close, and you don't think they'll come in knee deep water … it is terrifying to see them come that close to my kids."
Florida dad spots shark lurking near kids while taking beach photos with drone https://t.co/DpnNWKvr42 pic.twitter.com/5eJVX17gKA

— DemocraticParty (@HillaryNewss) July 1, 2019
In a photo captured via the drone, the family is seen rushing from the water.
When they got back from the beach, Watson spoke about the incident on Instagram.
He wrote, "See that dark shadow making its way straight for the shore and those people? That was my view this weekend while flying my Mavic 2 Pro… and oh, 3 of those people are my kids!"
"Definitely too close of an encounter for my liking!" continued Watson. "Thinking my DJI drone is now coming with me to every beach day!!!"
Shark Attack Statistics
The Florida Museum of Natural History's International Shark Attack File investigated 130 incidents, finding that "the 2018 worldwide total of 66 confirmed, unprovoked cases was lower than the most recent five-year (2013-2017) average of 84 incidents annually."
"There were five fatal attacks this year, four of which were confirmed to be unprovoked. These numbers are in line with the annual global average of six fatalities per year," the website says.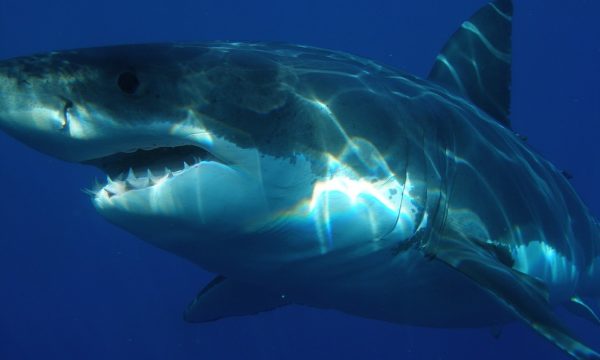 The United States, it said, had the highest number of unprovoked attacks with 32 confirmed cases in 2018.
"This is markedly lower than the 53 incidents that occurred in the U.S. in 2017. The 32 cases represent 48 percent of the worldwide total. This is a decline from 2017, which saw 60 percent of the worldwide unprovoked attacks in U.S. Only one shark attack in the United States resulted in a fatality," the museum wrote.
Australia, meanwhile, had 20 unprovoked attacks in 2018 and South Africa had two during the same year.