The decision not to test passengers flying into the UK for the CCP virus was based on flawed analysis, according to a new study.
Instead of catching just 7 percent of infected travelers, as the government was advised earlier in the pandemic, testing on arrival could identify over 63 percent.
"Unlike 30-plus countries, including Germany and Italy, the UK has not introduced any form of scheme to test travelers for COVID-19," said a statement from Oxera and Edge Health. The UK instead adopted a policy of 14-day quarantines along with "travel corridors."
That policy was driven in part by Public Health England (PHE) modelling that said only 7 percent of virus cases could be picked up through testing.
'The way in which the PHE model is set up means that only a tiny proportion of infected passengers—those who become symptomatic or are asymptomatic but detectable by a PCR test during the flight—can be detected at arrival," said George Batchelor, co-founder and director of Edge Health, an analytics firm that works with the NHS.
"This means the widely quoted 7 percent excludes anyone who is in theory detectable or symptomatic before the flight takes off."
By contrast, Edge Health and Oxera estimate that up to 63 percent of infected passengers could be identified and prevented from entering the country with a testing scheme.
Their review, which is supported by academics including Dr. Kit Yates, co-director of the Centre for Mathematical Biology at the University of Bath, was submitted as evidence to a UK government taskforce that is trying to set up a passenger testing policy to replace the 14-day quarantine.
"The PHE paper is based on a theoretical model and is not calibrated to real-world data," according to Oxera. "It does not consider actual infection rates in the country of origin and therefore fails to provide any real insight into the relative risk that inbound travellers pose to the UK population."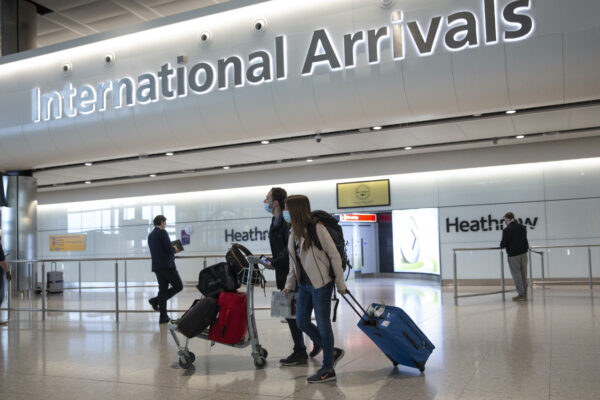 On Tuesday, Heathrow airport announced passengers can now get a 1-hour test for the CCP (Chinese Communist Party) virus, also known as the novel coronavirus, in the airport, smoothing the way to destinations requiring proof of a negative test before departure, such as Italy and Hong Kong.
The rapid saliva swab is the first of its kind in a major airport in the UK.
The pre-departure tests, which cost £80 ($104) apiece, were rolled out by Collinson and Swissport, which described them as "a critical step" in the aviation sector's recovery and in reopening routes.
The government has announced it is supporting private industry to establish a single test for arrivals in the UK.
The aim is to cut in half quarantine times for passengers arriving from virus hot spots, who must currently quarantine for 14 days.
That model is sometimes called "test and release."
Speaking at an aviation industry event on Monday, Transport Secretary Grant Shapps said, "In addition to this domestic 'test and release' model we are also working on schemes with partner countries to establish whether self-isolation could take place before departure."
Shapps said that the development of the tests would not impact NHS capacity. "That's been one of the big challenges of designing such a scheme when NHS test and trace has been under enormous strain," he said.
Shapps said that the UK government would also push to develop an international standard for airport testing.