EDMONTON, Canada—Canadian police on Sunday arrested a man whom authorities said they believe acted alone to carry out violent "attacks of terror" in the western city of Edmonton, injuring a police officer and four pedestrians with two vehicles and a knife.
A graphic surveillance video shows a Chevy Malibu hitting a police officer standing in front of a football stadium at about 8:15 p.m. on Saturday, sending him flying into the air. The driver gets out of the car and appears to stab the officer multiple times before fleeing.
A flag of the ISIS terrorist group was found inside the Malibu, after the suspect ran off, said Rod Knecht, police chief of Edmonton, Alberta's provincial capital.
The suspect, who authorities have not identified, was arrested several hours later following a car chase across a busy downtown street during which he intentionally sought to hit pedestrians, police said.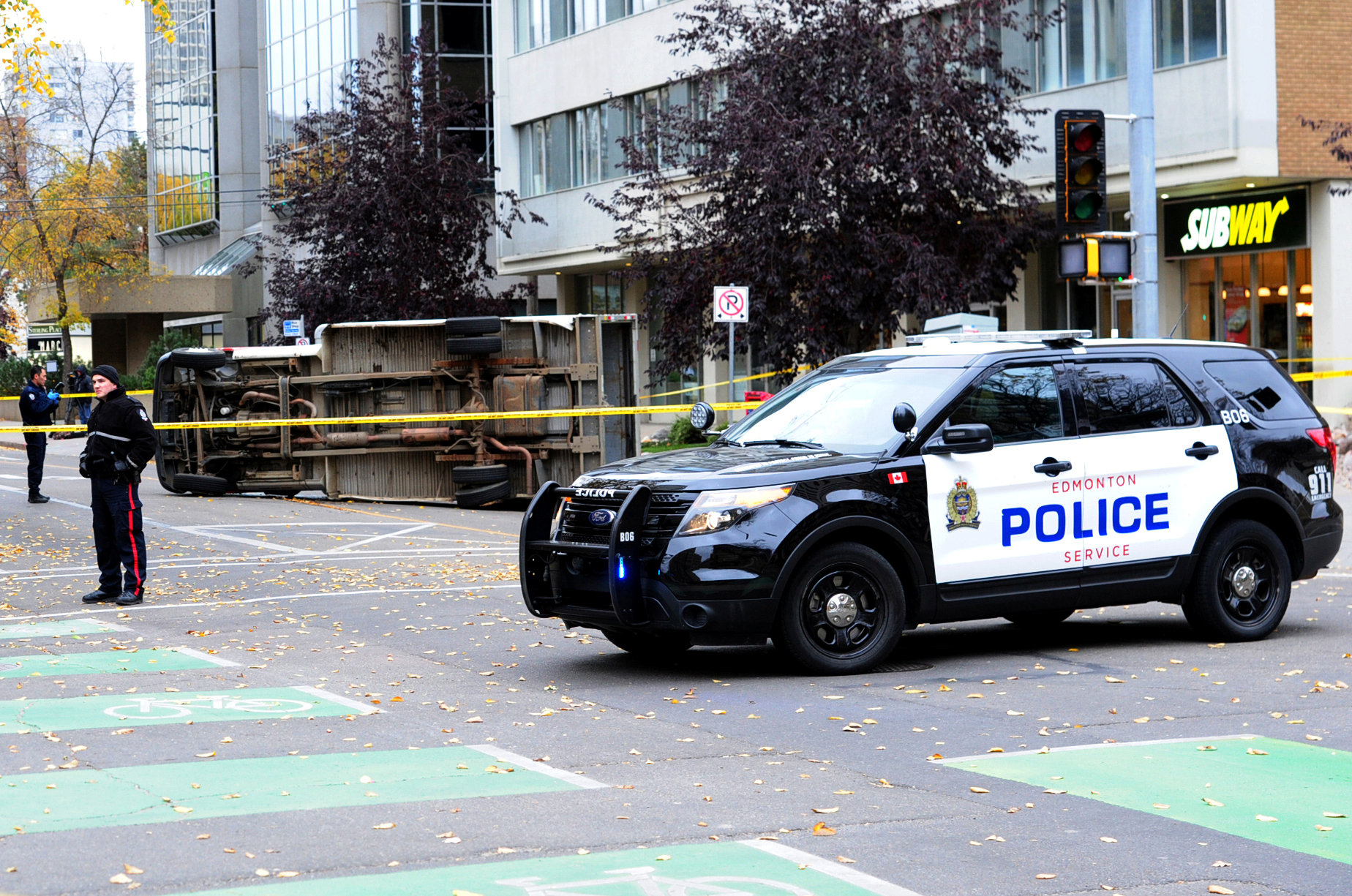 "To the best of our knowledge, this was a lone wolf attack," Edmonton Mayor Don Iveson told reporters on Sunday. "There's no immediate cause for panic or concern."
U.S. national security agencies strongly lean toward the conclusion that the suspect acted alone, though they are still reviewing the matter, a U.S. official told Reuters.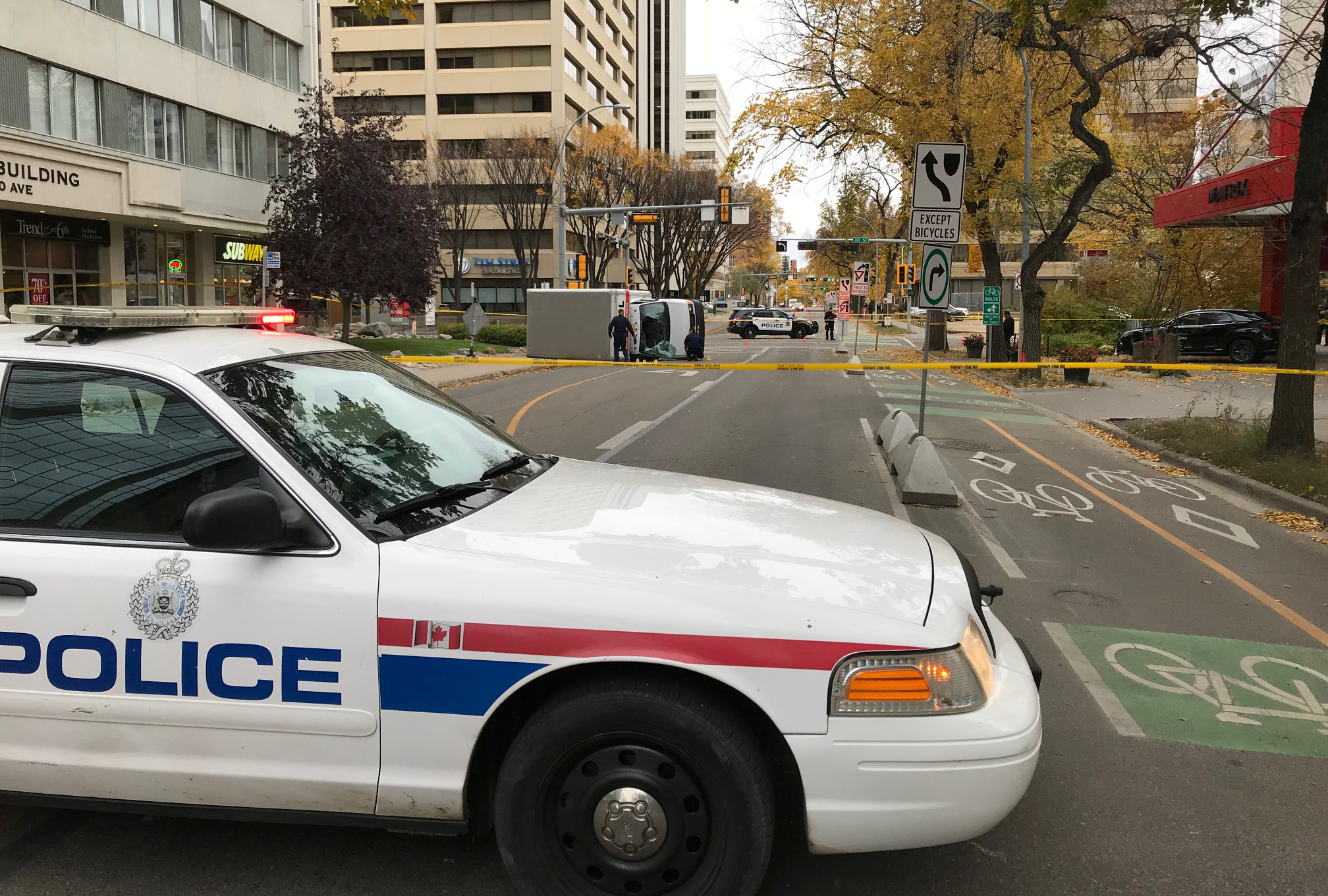 Prime Minister Justin Trudeau condemned the attack in a statement that called it "another example of the hate that we must remain ever vigilant against." Canada's government said it would keep the terror threat level at medium, where it has been since late 2014.
Today, we honour seniors across Canada – their contributions, and their cherished place in our families: https://t.co/jT6jy7UuPi

— Justin Trudeau (@JustinTrudeau) October 1, 2017
Victims were taken to the hospital for treatment, and the officer's condition was not critical, Knecht said at a morning news conference. Details on the other victims were not immediately available.
Police identified the suspect when he got stopped at a checkpoint and his license showed that he was the owner of the Malibu. He fled the checkpoint and was apprehended after a police chase across a crowded downtown street, during which he hit four pedestrians.
Canada has not experienced as much violence from extremist attacks as the United States and Western European nations, but there have been several deadly incidents in recent years.
In January, a French-Canadian university student was charged with murder after six people were shot and killed inside a Quebec City mosque, in what Trudeau called "a terrorist attack."
In August 2016, Canadian police raided an Ontario home and killed Aaron Driver, who they said was an ISIS supporter preparing an attack on a Canadian city with a homemade bomb.
In 2014, Canada was stunned by two deadly attacks that police said were the work of homegrown radicals and led to tougher new anti-terrorism measures.
A gunman killed a soldier at Ottawa's national war memorial before launching an attack on the Canadian Parliament in October 2014. In the same week, a man ran down two soldiers in Quebec, killing one.
By Ethan Lou