First Bee Species Declared Endangered in US: Impact on Ecosystem and Agriculture
October 3, 2016 4:24 pm Last Updated: October 4, 2016 11:29 am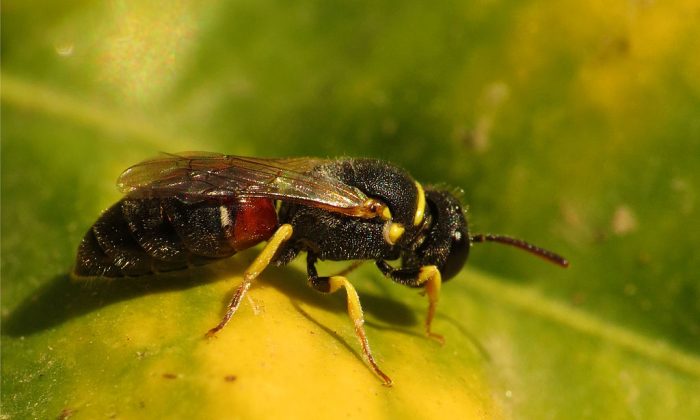 The role of bees in pollinating plants make them an especially integral part of an ecosystem and agriculture. On Sept. 30, for the first time in the United States, the U.S. Fish and Wildlife Service (FWS) declared several bee species endangered.
The species are native to Hawaii and play an important role in maintaining Hawaii's native plant populations. Like the bees themselves, the native plant species have been majorly impacted by habitat destruction due to urbanization and the introduction of non-native plants and animals. 
Animals such as feral pigs, goats, deer, and cattle introduced to the islands have destroyed much of Hawaii's native vegetation, according to a FWS report. Grass-fueled fires have also wiped out many native trees and shrubs, and the number and size of wildfires are increasing on the main Hawaiian islands.
While native plant species could potentially be pollinated by other bees, many of the endangered plant species could become extinct if the native bees die off, according to nonprofit conservation group Xerces Society.
Rusty Bumble Bee May Be First Endangered in Continental US
The FWS also proposed, on Sept. 22, that the rusty patched bumble bee be listed as endangered. It would be the first endangered bee species in the continental United States. A public comment period on the proposal will end Nov. 21. 
This bumble bee pollinates numerous crops, including cranberries, blueberries, apples, and alfalfa, as well as prairie wildflowers. The Xerces Society, which petitioned FWS to list the bee as endangered, reported that the rusty bumble bee has lost nearly 90 percent of its historic range in less than two decades. It was once common from Minnesota to Maine. 

Native pollinators in the United States provide essential pollination services to
agriculture
which are valued at more than $9 billion annually.
, Xerces Society
Rich Hatfield, a senior conservation biologist at the Xerces Society, said in a press release: "Addressing the many threats that the rusty patched bumble bee faces—from neonicotinoid pesticides to disease—will help not only this species, but countless other native pollinators that are so critical to the functioning of natural ecosystems and agriculture."
Eric Lee-Mäder, pollinator program co-director at the Xerces Society, said in the press release: "Native pollinators in the United States provide essential pollination services to agriculture which are valued at more than $9 billion annually. … Providing a landscape that sustains all of our native bees will require continued investment by public agencies, as well as efforts from private residents in both urban and rural areas."
More than 20 cities across the country have halted the use of neonicotinoids and insecticides harmful to bees on public property within city limits. The United Nations reports that more than 40 percent of pollinator species may be at risk of extinction worldwide. 
Follow @EpochEnviro on Twitter for more environment news