Firefighters from Portugal and Spain worked jointly on Sunday to contain a forest fire near their shared border as temperatures in southern Europe climbed towards record highs in the Iberian Peninsula.
Europe is experiencing a heatwave that has brought drought and wildfires from Greece to Sweden. Spanish authorities issued on Sunday a warning that the entire southern region of Extremadura is at an extreme risk of wildfires.
Flames engulfed dry trees and shrubs, burning through Saturday night and into Sunday near Badajoz in southwestern Spain, where temperatures were expected to reach 43 Celcius on Sunday, according to Spain's meteorological service (AEMET).
The European weather alert system Meteoalarm.eu, warned of "extremely high temperatures" across Portugal on Sunday, including in the Portalegre region, close to the where the fire broke out.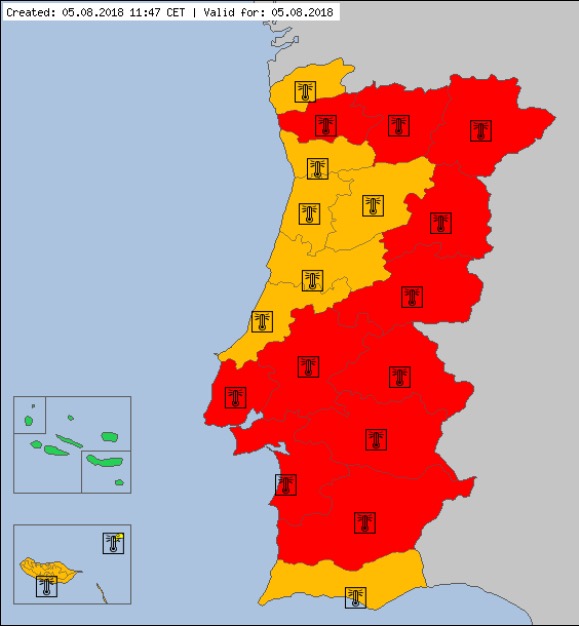 The U.N.'s World Meteorological Organization communicated ongoing "extreme high temperature" weather alerts for a range of locations in southern Europe.
Ongoing weather alerts in Europe: Storms and high temperatures with #RedAlerts in #Croatia, #Portugal, #Spain and #Switzerland. Stay informed: https://t.co/nXQmEViEuR pic.twitter.com/7tOjMpC43w

— WMO | OMM (@WMO) August 3, 2018
The fire was stabilized as of Sunday morning but not yet controlled, Spanish emergency services said on Twitter.
A Badajoz weather station said that possibly an all-time high-temperature record had been broken.
?#ÚLTIMAHORA: Badajoz, con ¡46ºC!, acaba de alcanzar posiblemente un nuevo RÉCORD ABSOLUTO de temperatura MÁXIMA de toda #Extremadura en la historia. Nunca antes ha hecho tanto #calor, al menos desde que se tienen datos.

Pero nah, "el calor de todos los veranos" ¿Verdad? 😉 pic.twitter.com/kCEvuOkHMh

— MeteoBadajoz (@MeteoBadajoz) August 4, 2018
Augustin Sandoval, who posts weather updates from parts of Spain, shared photos taken near Badajoz with the caption "46C (115 F) max in Badajoz (very near Portugal)."
Other hot day today, Sierra de Urbión, N. Spain #España.
32 C here (1200 meters).
But in SW Spain (and Portugal), extreme #heatwave:
46 C (115 F) max in Badajoz ( very near Portugal). Historic record#Atardecer #Sunset now. Saharian dust.@StormHour @EarthandClouds #ThePhotoHour pic.twitter.com/J0sEAKEWA6

— Agustín Sandoval (@meteoduruelo) August 4, 2018