ATLANTA—A bridge on Interstate 85 in Atlanta collapsed on Thursday as a fire raged beneath it, authorities said, sending black smoke into the air and briefly causing a fireball before the structure fell in on itself.
There were no immediate reports of casualties in the incident, which snarled traffic for miles.
"We are trying to assess the damage and determine how quick we can repair it," Republican Georgia Governor Nathan Deal told a news conference.
Black smoke billowed so thickly from the bridge in the heart of Atlanta that area residents told local media they thought a storm was coming or that the sun had set early when the fire started at around 6 p.m. local time.
Then flames rose several stories high from under the bridge before a section collapsed around 7:30 p.m., even as dozens of firefighters fought it, causing a brief fireball.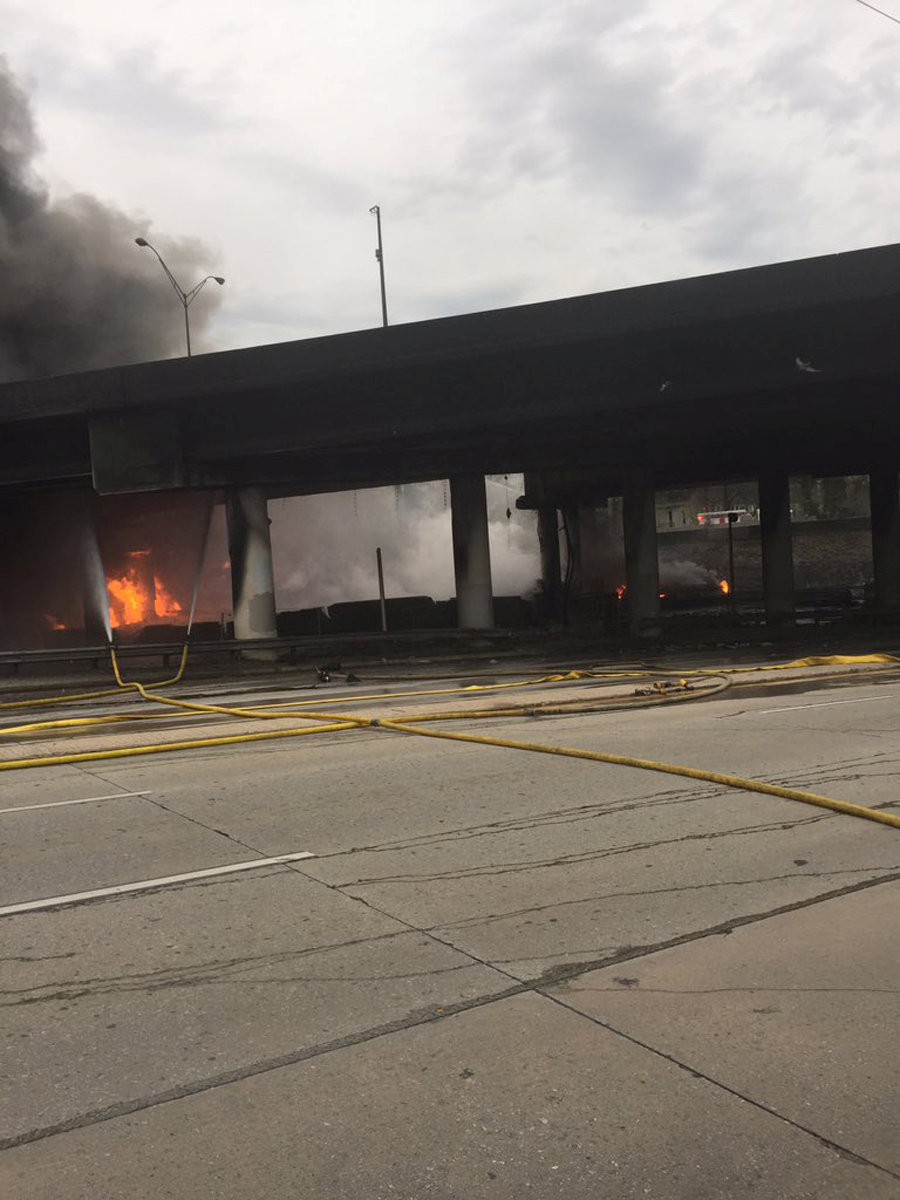 Hours after the collapse, vehicles were still stuck trying to get off the highway. Deal declared a state of emergency for Fulton County, which encompasses much of the Atlanta area. Government offices in Atlanta were set to open at 10 a.m. on Friday to give people extra time to get to work.
Deal said the fire that led to the highway collapse appeared to have been fueled by a large pile of PVC piping under the structure. Authorities did not know who owned the piping or who had put it under the bridge, Deal said.
All lanes of the freeway were blocked, and authorities urged motorists to stay away from the interstate in all directions.
"We cannot have any more traffic on the highway," Atlanta Police Department Sergeant Warren Pickard told a news conference. "We need everyone to stay put and not travel at this time. We need the roads clear for emergency vehicles."
Local TV images showed bright orange flames and thick black smoke billowing into the sky above the freeway as a line of cars stood halted on either side.
Traffic was jammed on nearby roads and freeways as well, according to online congestion maps.
Television station WSB-TV showed what appeared to be barrels and coils under the bridge.
The station reported that fire crews from nearby Hartsfield-Jackson Atlanta International Airport were brought in to help and were spraying foam typically used for airplane crashes onto the flames.