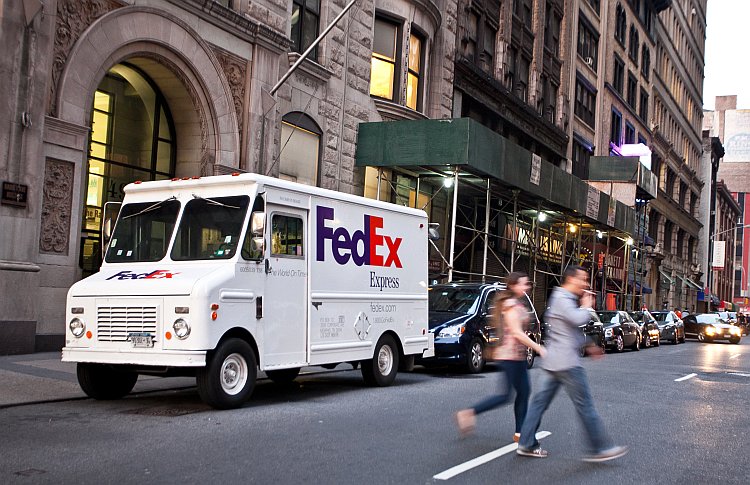 NEW YORK—Shipping and logistics giant FedEx Corp. announced stellar fiscal third-quarter earnings on Thursday, but issued a warning that the global economic growth and recovery in 2012 won't be as strong as previously hoped.
The Memphis, Tenn.-based company said that quarterly profits came in at a robust $521 million for the quarter, a whopping 126 percent increase from the same period a year ago. That translates to $1.55 in earnings per common share for the quarter ended Feb. 29, excluding one-time items.
"Results were driven by improving yields, record holiday package shipping, and exceptional performance at FedEx Ground," said Fred Smith, FedEx chief executive officer, in a statement Thursday.
Topline revenues also increased 9 percent to $10.6 billion, driven by growth in both express and ground parcel shipping on a strong holiday shopping season and increased online sales, which boosted FedEx's business. The company said that it shipped a record number of packages during the 2011 holiday season.
Revenues at the higher-margin FedEx express business, which includes its overnight shipping business, rose 8 percent to $6.5 billion. The gain was largely due to more packages, heavier packages, and higher prices charged. The company said that surcharges related to fuel also were a benefit for the company. FedEx is the world's No. 2 shipping company behind United Parcel Service (UPS).
Weak Forecast
FedEx, and its larger rival UPS, are widely viewed as bellwethers for the U.S. economy, as higher projected forecasts often mean that the companies expect business activity to increase in the near future.
But FedEx was rather downcast regarding its 2012 projections, sending shares of FedEx (NYSE: FDX) down 3.46 percent on Thursday afternoon. After a stellar fiscal year 2011, which has sent FedEx shares surging, the company said that investors shouldn't expect a similar 2012.
FedEx, on a call with Wall Street analysts, said that it expects Europe to experience a mild recession in 2012, partially triggered by the ongoing sovereign debt crisis. However, FedEx is a relatively small player in Europe, where rival UPS recently acquired leading European shipping company TNT Express.
In addition, FedEx said that the Chinese economy would likely cool, slowing business activity there, and higher fuel prices going forward would also put a dent on its earnings in 2012.
The company's economic outlook also had a negative impact on the transportation sector on Thursday, with S&P transportation companies down a combined 2.1 percent, according to Bloomberg data.
In other news related to the company, FedEx disclosed that it has settled with the U.S. Department of Labor for $3 million over alleged hiring discrimination. The amount will help cover back wages and interest for around 21,000 job applicants who were denied FedEx positions. In addition, the company agreed to reform its hiring practices and hire 1,703 of the affected applicants for upcoming open positions.