The U.S. federal budget deficit was $1.4 trillion for this past fiscal year, which ended Sept. 30, according to estimates released on Oct. 11 by the Congressional Budget Office (CBO).
That figure is roughly half of the nearly $2.8 trillion deficit from the prior year, marking a roughly $1.4 trillion decline, CBO said.
According to the CBO, the decline was driven by a drop in spending related to the COVID-19 pandemic, such as stimulus checks and unemployment compensation. The deficit was $984 billion in the fiscal year 2019, before the pandemic upended the economy.
However, the Government Accountability Office (GAO) said on Tuesday that up to 10 million low-income Americans—those with little to no income, who are not required to pay taxes—are still eligible for COVID-19 relief payments. They have until Nov. 15 to complete a simplified tax return in order to get them.
CBO in its estimates released on Tuesday said the decline in the federal deficit was also partly due to increased government revenues across all major categories, particularly individual income taxes.
Revenues were $850 billion, or 21 percent higher than they were in the fiscal year 2021, and outlays (spending) were $548 billion, or 8 percent, lower, according to the report.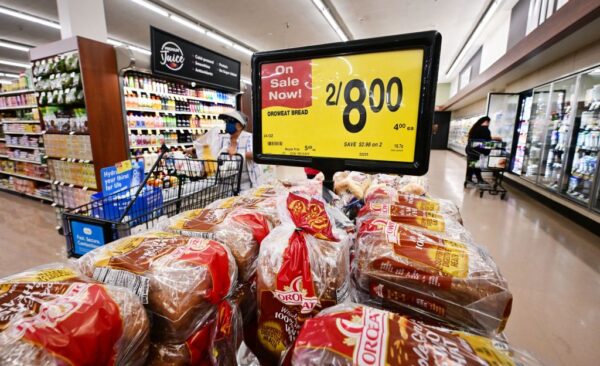 Biden Touts Budget Deficit Decline
President Joe Biden has repeatedly credited his administration's policies for helping to drive down the budget deficit.
"In my first year, I reduced the deficit by $350 billion," Biden said during a speech at the White House in September. "The last guy left me with a giant deficit. Well, guess what? In my first year, I reduced the deficit by $350 billion. And you know how much I'm reducing the deficit this year? A one trillion, five hundred thousand-dollar reduction of the deficit."
During that same speech, Biden took a swipe at Republican lawmakers who had declined to vote for his Inflation Reduction Act, which has sparked concern that the cost of living could further increase.
"You would think that if Republicans really cared about reducing inflation, they'd vote for the Inflation Reduction Act. But every single Republican in the House and Senate voted against it. Every single Republican in the House and Senate," he said.
The president has also touted his American Rescue Plan for taking the country from "economic crisis to economic resurgence."
However, the Committee for a Responsible Federal Budget (CRFB) last month estimated that Biden's policies and executive actions could add $4.8 trillion to the deficits between 2021 and 2031, or around $2.5 trillion when excluding the impacts of the American Rescue Plan.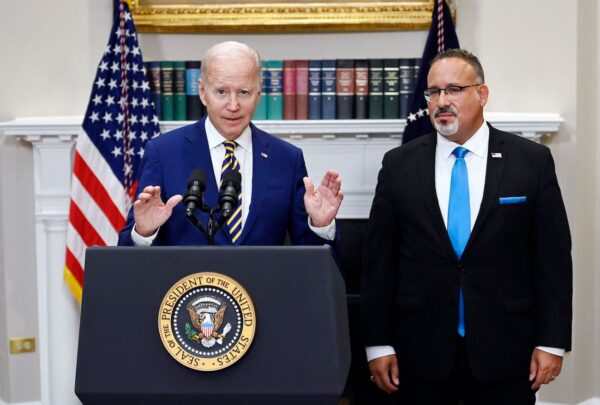 Biden's Actions Have 'Added More Than $4.8 trillion to Debt'
The CRFB also warned that excessive borrowing could prompt even higher inflation and increase the national debt to a new record by 2030.
The latest CBO estimates come as the Federal Reserve has been aggressively lifting interest rates to bring down inflation, currently at 40-year highs, while simultaneously increasing the cost of government borrowing.
They also come after Biden announced a massive student debt-relief plan that would cancel up to $20,000 in debt for federal Pell Grant recipients and up to $10,000 in debt relief to non-Pell Grant recipients.
The CBO noted that the "increase in outlays primarily stems from $426 billion in costs estimated and recorded by the administration in September 2022 to reflect the long-term costs of certain forms of student debt relief, including forgiving portions of federal student loans for many borrowers."
"The budget is also benefiting from the short-term effects of inflation and higher revenues, though over the longer run this will cause a fiscal deterioration," Maya MacGuineas, president of the Committee for a Responsible Federal Budget, told The Washington Examiner. "There have been attempts by the administration to take credit for the decline in the deficit compared to last year, but, in reality, their actions have added more than $4.8 trillion to the debt over the coming decade."