The Treasury collected a record $1,521,589,000,000 in individual income taxes so far this fiscal year, up nearly 4.3 percent from the same period last year adjusted for inflation, according to Treasury data released Sept. 13 and historical data.
On the other hand, the government is running a $898 billion deficit this fiscal year (ending Sept. 30). The deficit is expected to decrease by some $94 billion in the last month, according to projections by the Congressional Budget Office (CBO).
The government pulled in close to $163 billion in corporate taxes so far this fiscal year, only about two thirds of last year's receipts due to the tax cuts passed by Congress as a part of President Donald Trump's agenda.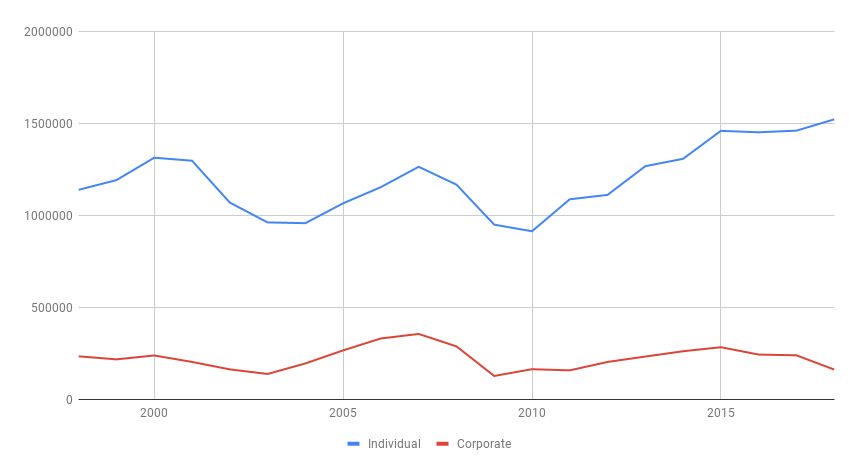 The cuts reduced individual income tax rates too, but the effect of those will be most notable in early months of 2019, when Americans file their taxes under the new rules.
The record receipts from individual taxes reflect strong economy that grew at 4.2 percent rate in the second quarter, based on Gross Domestic Product estimate by the Bureau of Economic Analysis.
The deficit is mostly fuelled by rising interest on government debt, increasing costs of Social Security, Medicare, and Medicaid, as well as increased military spending and costs of disaster relief.
The debt interest payments rose by a staggering $55 billion this fiscal year, partly because of a higher inflation rate, the CBO stated.
Trump has bemoaned the gargantuan $1.3 trillion 2018 budget, saying it included a lot of wasteful spending kept in by Congress to secure sufficient support by Democrats. Trump said he won't sign another such spending bill again.
Democrats have opposed cuts to spending on welfare, such as Medicare and Medicaid, while proposing increased spending on programs like cancelling student loans.
Trump has attempted to slim down government spending. He's recently moved to cancel pay increases for federal workers and in May asked Congress to cancel authorization for $15 billion in useless spending.