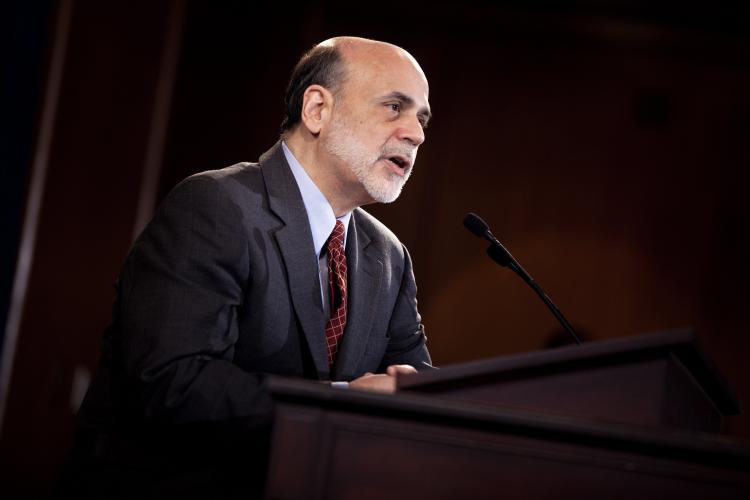 WASHINGTON—In a historic first news briefing from the U.S. Federal Reserve, Chairman Ben Bernanke gave some much-needed color to talk of inflation and interest rates—and then threw in some advice for Congress on the budget debate for good measure.
Financial markets are fiercely susceptible to speculation, and so the Federal Reserve has always carefully controlled communication about its decisions. Since taking office in 2006, Bernanke has been on a mission to change that. In advance of his first-ever open meeting with the press, an internal committee finally concluded that the benefits outweighed the risks.
"I personally have always been a big believer in providing as much information as you can to help the public understand what you are doing, to help the markets understand what you are doing, to be accountable to the public for what you are doing," Bernanke said at the April 27 briefing.
The Fed is the central bank of the United States. Its primary purpose is to control monetary policy in a way that minimizes inflation while growing the economy.
Bernanke's press conference came on the heels of the most recent two-day meeting of the Federal Open Market Committee (FOMC), which consists of 7 members of a board of governors and 5 of the 12 regional Reserve Bank presidents. The FOMC meets eight times per year to review policies.
In a statement released today, the Fed concluded that "the economic recovery is proceeding at a moderate pace and overall conditions in the labor market are improving gradually."
Inflation has picked up slightly in the last quarter due to increased gas and food prices, but the Fed's position is that inflation will continue to stay relatively low. They are closely watching inflation expectations in the medium term, which can be affected by factors such as volatile gas prices.
The Fed is expecting that gas prices will stabilize or decline as instability in the Middle East calms down. At the same time, they are not ruling out further action should something unexpected cause inflation to go up, Bernanke said.
"I think that every central banker understands that keeping inflation low and stable is absolutely essential to a successful economy and we will do what is necessary to ensure that that happens," Bernanke said.
News of a slower than anticipated first quarter GDP growth rate is expected to be released on April 28.
Bernanke confirmed that it will likely be less than 2 percent. He referred to lower defense spending, weaker exports, continued weak construction rates, and "less momentum" than originally projected as the causes for the recent slowdown.
Responding to criticism that the Fed's policies had not done enough to improve the economy, Bernanke said the Federal Reserve had used "extraordinary measures" to control the financial crisis, but said these actions were never meant to be a panacea.