Millions of Chinese citizens could be forced back under lockdown, as discrepancies in data reporting and surging COVID-19 cases in northeastern China show a second-wave outbreak of the CCP virus is now occurring.
Already, the Chinese regime has declared "wartime" status in at least two cities—including the capital city of Beijing, where authorities recently reported dozens of fever patients, whom they insisted were diagnosed with a bacterial infection and not the CCP (Chinese Communist Party) virus, commonly known as the novel coronavirus.
Authorities in northeastern China have quarantined around 8,000 people after they were exposed to confirmed patients. Six local officials were fired for failing to contain the outbreak.
Meanwhile, in Wuhan, where the virus first broke out, authorities mandated diagnostic testing on all 11 million residents, after several cases were reported. The city had lifted lockdown measures weeks earlier after proclaiming that the virus had been contained.
As the Chinese regime continues to fend off international criticism of its handling of the crisis, while lauding its socialist system as a paragon for curbing the outbreak, chaotic scenes at testing sites and consistent coverup have cast doubt over China's virus data.
"They don't report anything, don't you know? Reporting [true figures] will create public panic," Ms. Yang, a small-business owner from the northeastern city of Jilin, told The Epoch Times. "Now we all know how serious this thing is, because it's happening next to us."
Discrepancies
Since the virus first spread, conflicting numbers reported by Chinese authorities have confounded international researchers and Chinese citizens. Internal government data obtained by The Epoch Times have also revealed that local authorities routinely underreport infections.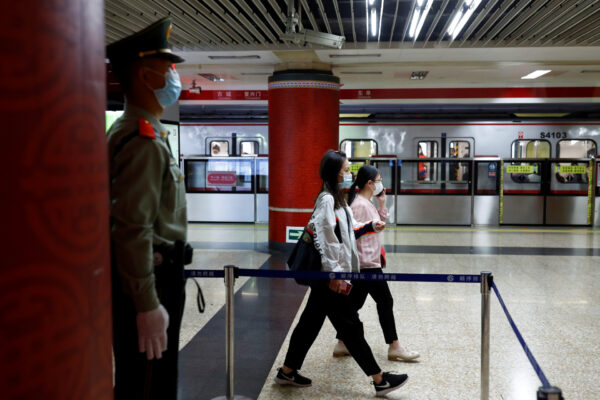 Confusion again arose on May 18 when health officials from China's northeastern province of Jilin reported five new cases while the country's National Health Commission only reported two cases from the region.
Jilin authorities later scaled down their numbers in an update, saying that the other three emerged after May 18 midnight and therefore counted toward the next day's data.
On the same day, Shanghai recorded no new cases, contradicting the National Health Commission's report of one new infection from the municipality. The government hasn't offered an explanation for the conflicting numbers.
In Wuhan, the government swiftly fired a local Party official after a cluster of six infections emerged, breaking a period of more than a month in which authorities consistently reported zero new infections.
Authorities' lack of transparency about the outbreak has made it difficult to understand the true scale of the epidemic in China.
"It sounds like the virus follows their orders," Ge Bidong, a California-based political commentator, told NTD, an Epoch Times affiliate. "There's such a large gap between its data and infection as well as death numbers around the world over the past three months." He noted that even death tolls in smaller countries have overtaken China's. "So how can you believe them?"
Zhong Nanshan, a Chinese respiratory expert who has risen to prominence during this outbreak, warned of grim challenges ahead.
"The majority of … Chinese at the moment are still susceptible of the COVID-19 infection because [of] a lack of immunity," Zhong said in a CNN interview on May 16. "We are facing [a] big challenge; it's not better than the foreign countries I think at the moment."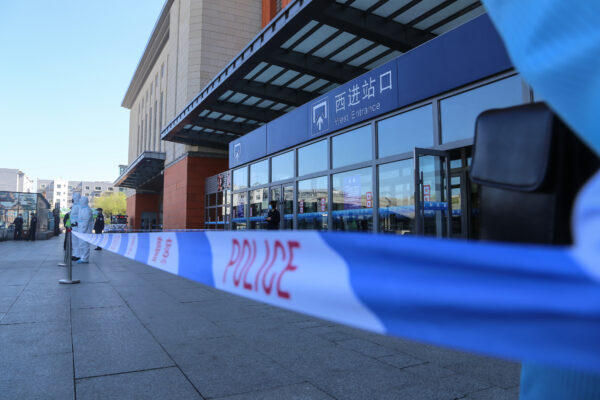 Northern China
The northeastern region first reported a chain of infections that began with a 45-year-old cleaner in Shulan, a small municipality under the administration of Jilin city, Jilin Province. Through her movements around the city and interactions with close contacts, the cleaner, who works at the local police bureau, quickly spread the virus to people living in other cities.
Shulan has since declared a "wartime status" and sealed off local neighborhoods, allowing only one person from each household to go out once every two days for essential purchases. Each trip is limited to two hours. More than 1,100 residential buildings, 1,200 villages, and nine neighborhood communities are now under full lockdown due to possible infections.
A resident from a now-locked down compound in Changyi district, Jilin City, said nearly 100 police came to affix seals on each apartment door to bar people from leaving their household.
The lockdown measures are weighing on locals as they struggle for survival. "You can't go anywhere," a social worker who asked to remain anonymous said in an interview. "There's no one on the street. Not a soul around my apartment building."
Mr. Li, a supermarket owner in Jilin city's Fengman district, one of the two areas designated as "high-risk" by authorities, along with Shulan city, has placed barriers around the entrance to minimize contact with customers. "Just tell me what you want, I will bring it [outside]," he said. Another supermarket staff in Shulan said he would write down people's orders and leave them outside for people to pick up.
"They [the government] tell you there's one or two cases … that it's not serious, but the way they are handling it is pretty intense," Mr. Lü, who works at The First Hospital of China Medical University Shenyang in nearby Liaoning Province, told The Epoch Times.
Fears have also fueled stigma around people from Shulan. "No cabs would take you once they know you are from Shulan," Ms. Zhang, from Shulan, said in an interview. "They don't want to contact Shulan people."
Qiu Haibo, a National Health Commission expert, said patients in China's northeastern clusters seem to carry the virus for a longer period of time than the earlier Wuhan cases, while their recovery also took longer, according to an interview with state broadcaster CCTV on May 19.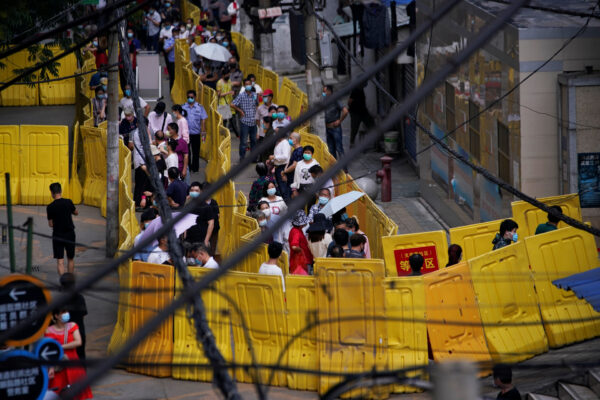 Mass Testing Questioned
Residents undergoing mass testing in Wuhan also complained about sloppy procedures that could render the testing useless and invite safety risks.
In the Shengshi Dongfang residential compound, people said their throat swabs were casually tossed into the same box or bottle without labeling—sometimes dozens at a time, according to a recent video filmed by locals. The medical officers also appeared ill-equipped; although about 6,000 residents live in the compound, the officers brought only about 600 testing kits, according to the residents.
"What do you think they are doing here?" one woman shouted in the video. "You can't even tell which belongs to whom, so what's the use in doing this?"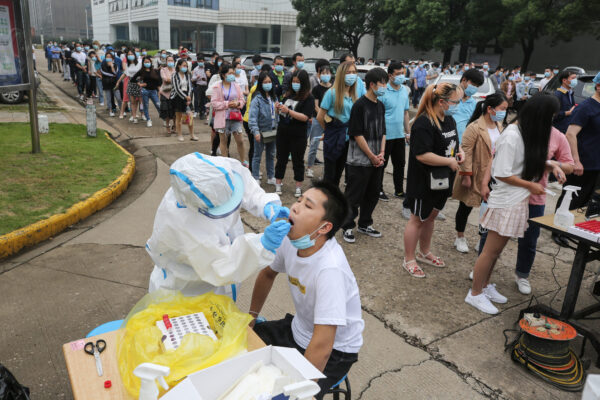 More also accused authorities of profiting off the process. The tests cost about 260 yuan (about $37) for each person, according to Mr. Li, who lives in another compound in Wuhan. His compound has been arranging testing for residents building by building.
Local resident Mr. Wang said his whole family has refused to take the test. "They are treating us as guinea pigs," he said in an interview. Each time the local officers pressed him to complete the test, he questioned them about the test's accuracy. "If it's not accurate, I'm not going to do it," he said.