A large number of Chinese military officers have been forcibly isolated since the end of January to ensure that they won't be infected with the novel coronavirus, insiders have told the Chinese-language Epoch Times.
"Family members can only visit them twice a week to deliver food and exchange clothes," said a source who lives within an apartment complex in the Haidian district of Beijing that's reserved for ranking officers within the air force, retired officers, and their families.
The officers, who serve as aides to high-ranking air force leaders, are now being held within a cordoned-off, centralized area in the apartment complex located on No. 7 Kunminghu South Road. No one other than the officers is allowed to enter or exit the area.
"[Family members] are not allowed to have direct contact with the officers. They pass items through an iron door," the source said.
Military Apartment Complex
He explained that the officers have been required to isolate themselves so they and their superiors are kept safe from the virus.
Top Chinese Communist Party officials such as Xi Jinping, Li Keqiang, and top military generals typically have subordinates assigned to them for their everyday needs, such as driving them around, flying their private airplanes, and doing their shopping.
The source, who asked to remain anonymous for fear of reprisal, said military officials believe the outbreak can't be controlled before May, so those in isolation won't be allowed to go back home before then. Meanwhile, the officers and their families have been instructed not to divulge anything about the isolation measures or the outbreak, he added.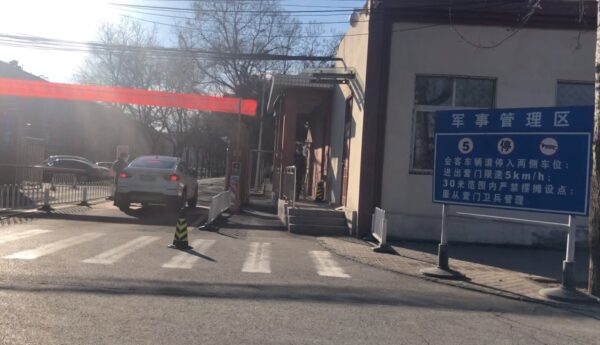 Another source, who lives at another apartment complex for military officers in Haidian, told The Epoch Times on March 3 that there are currently more than 2,000 retired senior Chinese officials and officers living in his complex. Their movements are also being restricted in order to prevent the virus from spreading to them.
"At the front gate, security guards have begun screening our body temperatures since the middle of January. From January 25, the Lunar New Year, the complex began restricting entry. Nannies who come from other cities are not allowed to enter the area," he said.
"Since Feb. 25 … residents are required to hold a pass to enter and leave their building. Each household gets one pass."
The source, who said he has colleagues and friends who live in other military apartment complexes in Haidian, says they have told him that their residential areas have similar restrictions.
"Some don't allow residents to go out shopping. They deliver food to the front door," he said.
Outbreak Among Military Members
Officially, the Chinese regime has denied that any members of the military have been infected.
At a press conference on March 2, Chen Jingyuan, an official within the Central Military Commission, the Party's top agency for overseeing military affairs, said that there have been no infections among the 10,000 or so military medical staff who have been dispatched to respond to the coronavirus outbreak.
The Chinese central government published Chen's speech after the press conference, but deleted it hours later, leaving only Chen's photo on its website.
Previously, official media of the People's Liberation Army (PLA) have reported that some officers were being isolated, but didn't provide further details.
The PLA Daily reported on Feb. 17, "Some commanders and soldiers are currently being isolated [due to the virus]."
It also mentioned Yu Songqiu, captain of the Type 054A missile frigate Changzhou (NATO codename Jiangkai II), who's been in isolation since he returned from his hometown to his military camp on Jan. 29. It's unclear whether he's tested positive for the virus.
On Feb. 18, the PLA reported on its official online video platform that 12 military officers, including a quartermaster named Li Yalei, have been placed under "isolation management." The officers are responsible for providing safe food supplies and safe meals for an air force unit stationed at China's Central Theater Command—which includes Hubei Province, where the virus's spread is most severe.
The Hong Kong-based NGO Information Center for Human Rights and Democracy reported that according to its insiders in China, dozens of soldiers have been infected with the virus, including a soldier stationed at the Chinese naval destroyer Rizhao and a sailor stationed at the aircraft carrier Shandong.
About 100 soldiers at the Shandong are now being quarantined.