The FBI has just become involved in the search for Carlie Marie Trent—a 9-year-old girl kidnapped by her uncle last week in Rogersville, Tennessee.
Both local authorities and the Tennessee Bureau of Investigation (TBI) have been looking for the girl since she was signed out of her Rogersville, Tenn., school during the afternoon hours of May 4 by her uncle, Gary Simpson, 57, who has no current custodial rights to Carlie. Authorities have issued an arrest warrant for him.
The TBI has received over 500 tips but there have been no credible sightings.
Simpson's vehicle, a white 2002 Dodge Conversion Van with Tennessee registration plates 173-GPS, has been reportedly spotted multiple times—as far away as Idaho Falls, which is an almost 30-hour drive from Rogersville.
The FBI seeks information about the girl and has included a notice on its website's list of Kidnappings & Missing Persons.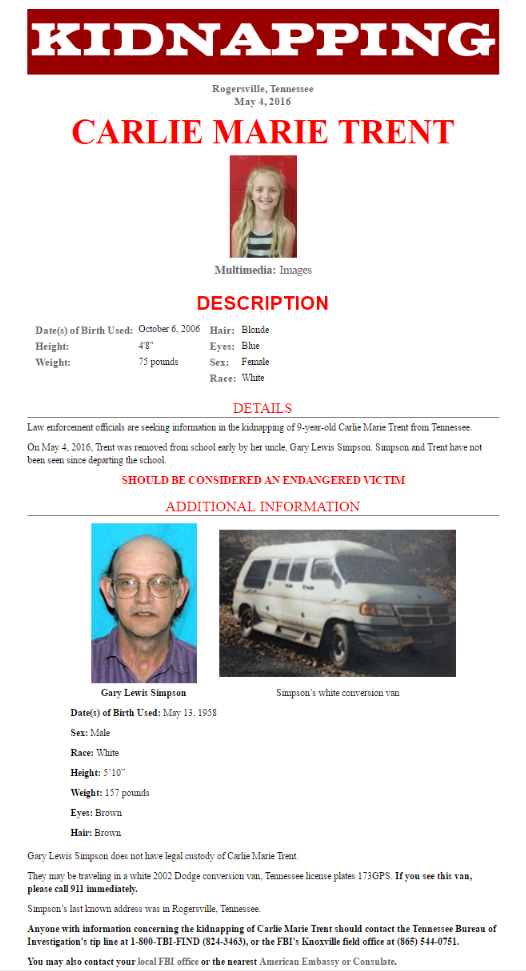 Local authorities requested the FBI assistance, the agency's Knoxville field office spokeswoman told Epoch Times.
Carlie is 4 foot 8 inches tall, weighs 75 lbs with blonde hair and blue eyes, and was last seen wearing a black and grey tank top and blue jeans.
Simpson is a white male, 5 foot 10 inches tall, weighing 157 lbs. He is balding, has brown hair and eyes, and was last seen wearing a brown cap, a dark colored shirt and jeans.
They're believed to be traveling in a white 2002 Dodge Conversion Van with Tennessee registration plates 173-GPS. The van has a dark stripe along the middle with light gold running boards and paint is chipping off of the hood.
Before the kidnapping, Simpson stopped by Walmart and bought some clothes for himself and clothes and accessories for Carlie, including blanket, underwear, a child's bikini, lip gloss, and nail polish.
After he picked her up from school, under false pretenses, according to TBI, Simpson was recorded buying groceries at a Rogersville Save-A-Lot store with the girl.
The FBI urges people who spot the van to call 911 immediately. Anyone with information concerning the kidnapping of Carlie Marie Trent should contact the Tennessee Bureau of Investigation's tip line at 1-800-TBI-FIND (824-3463), or the FBI's Knoxville field office at (865) 544-0751.