News Analysis
Canada's agriculture sector is grappling with soaring demand, rising costs, and a worker shortage while also facing pressure to reduce its carbon footprint.
"Inflation is going to become an issue," Sylvain Charlebois, professor at Dalhousie University and senior director of the Agri-Food Analytics Lab, told The Epoch Times.
The prices of all kinds of agricultural commodities, like corn and soybeans, are skyrocketing. The Bloomberg Agricultural Spot Index, which measures the price movements of agricultural goods, is up over 20 percent in 2021 and is at its highest level since 2013.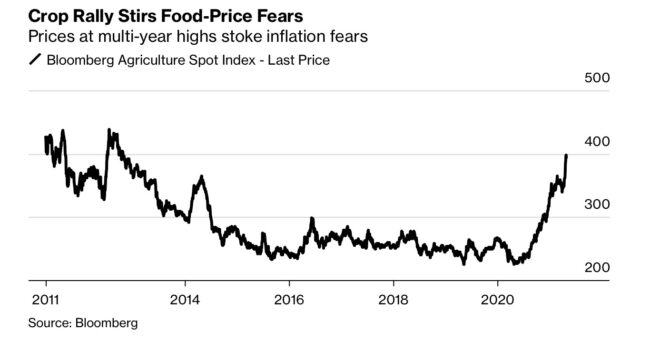 The 2021 Canada's Food Price Report forecasts a total increase of 3 to 5 percent in food prices this year, which is enough to make Canadians feel it in their wallets. Overall, the food inflation index has exceeded general inflation over the past 20 years in Canada, according to the report.
"Five percent is actually much higher than the inflation rate, which means that Canadians are going to have to really spend more on food relative to their income," Charlebois said. 
According to the Food Price Report, 5 percent translates to almost $700 more per year in groceries for the average Canadian family of four.
Bakery, meat, and vegetables are expected to see the biggest price increases, according to the report.
In Canada, food price inflation is tamer than it is in the United States. Food bought in stores was only up 1.3 percent in March year-over-year. However, dairy and eggs, at 2.4 percent and 11.4 percent respectively, were up much higher due to what's known as a base-year effect—bouncing off a very low level a year ago at the start of the first lockdown.
If the forecasted 3 to 5 percent food price increase does occur over 2021, then food price inflation will ramp up noticeably from the latest reading of 1.3 percent.
Central banks in Canada and the United States, which tend to look beyond base-year effects, project aggregate inflation remaining around 2 percent.
The Bank of Canada's April Business Outlook Survey reported that more than half of firms surveyed expected higher prices for the products and services they buy, with commodity-related prices like agricultural products and fuel being the main source of rising costs.
The positive side is that a strong Canadian dollar—currently at around US$0.81, the strongest since the summer of 2017—helps keep the cost of food imports down.
Good Stewards
While the growing demand for their products is a boon for Canada's farmers, Charlebois told the House of Commons Standing Committee on Agriculture and Agri-Food on April 29 that the carbon tax will penalize them, since importers don't face the same levy and will thus have a significant competitive advantage. 
"Price-taking economics do put farmers in an odd position when it comes to the carbon tax," Charlebois told The Epoch Times. Most farmers are price-takers, meaning they can't charge more for their product.
In a February 2021 news release, the Canadian Federation of Independent Business (CFIB) stated that the federal carbon tax cost farmers on average almost $14,000 in the first year it applied to them, between April 1, 2019, and March 31, 2020, when it was $20 per tonne. The scheduled rise to $170 a tonne by 2030 is a game-changer, Charlebois said.
Virginia Labbie, CFIB agri-business senior policy analyst, told the committee that the vast majority of field-crop farmers can pass on to customers less than 10 percent of the federal carbon tax, and that it hurts small business disproportionately.
Grain drying is one operation that's becoming increasingly expensive due to the carbon tax. There are no practical and efficient ways of doing it other than using dryers powered by fossil fuels.
Charlebois said much more is needed to help farmers than what Budget 2021 promised. 
"I actually have always seen farmers as being one of the best environmental stewards in the world. They do take care of the land as much as they can because they make money out of it," he said.
Labour shortage is another one of the many challenges the agriculture industry is facing, despite national unemployment still well above pre-pandemic levels. The April 19 federal budget fell short of alleviating major concerns, according to the Canadian Federation of Agriculture (CFA).
"We continue to push for urgent support, to avoid food security issues, soaring food prices, and food system instability," said CFA president Mary Robinson in an April 29 statement.
"I actually believe that most Canadians under-appreciate how farmers have taken care of the environment. … [But] it's not being rewarded or recognized," Charlebois added.