NEWPORT BEACH, Calif.—For seasoned Newport Beach lifeguard Ben Carlson, July 6, 2014, marked the end of a busy July 4 weekend.
The swells pealing in from a tumultuous, white-capped ocean were larger than usual, driven by an offshore hurricane pounding the coast. Large crowds were gathered on the beach to witness the huge waves.
Red flags, the most serious of all beach warnings, whipped violently in the wind, advising swimmers of serious hazards in the waters along Newport's 6 1/2-mile coastline.
As Carlson arrived at the lifeguard headquarters for his shift, rescue calls steadily streamed over the radio. An unusually heavy undertow was wreaking havoc in the water.
Highly trained and experienced with difficult rescues, Carlson had been a Division 1 collegiate water polo player at University of California–Irvine, and a strong competitive swimmer. His parents had instilled in him a love and appreciation of the ocean during a lifetime of beachgoing, surfing, and sailing. A true waterman, being a lifeguard was his dream job.
In all, Newport Beach lifeguards made 562 rescues that holiday weekend. But what none of the lifeguards on duty that day anticipated was the call that one of their own was in trouble.
At 5:15 p.m. Carlson and fellow Newport Beach lifeguard Gary Conwell were patrolling beyond the large surge in their rescue boat when they spotted a distressed swimmer. Carlson leaped off the vessel and swam toward the man, making contact, but as they began to make their way back to the boat, a large wave hit them, taking them over the falls.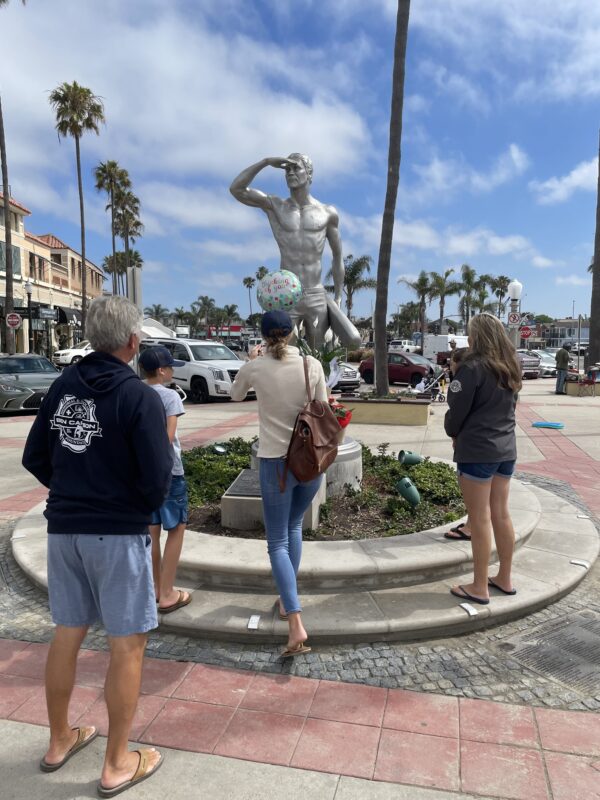 The distressed swimmer emerged at the surface and was rescued, but Carlson was missing. Soon, a three-hour search ensued involving members from seven different agencies, including the Newport Beach Lifeguards, as well as Newport Beach Police and Fire, Orange County Sheriff's Harbor Patrol, Huntington Beach Lifeguards, Laguna Beach Lifeguards, and California State Parks.
Carlson, 32, had lost his life in the frothing ocean and was found at 8 p.m., more than a half-mile away from the original rescue location. The distressed swimmer survived, one of more than 278 people rescued by Ben and 75 of his fellow guards on duty that day.
He was the first and only lifeguard in Newport Beach history to die in the line of duty since the service was formed in 1923. More than 5,000 friends, colleagues, elected officials, members of the community, and lifeguards from around the world attended Carlson's funeral, held on the beach he had once patrolled.
Creating a Legacy
After Carlson's death, the Ben Carlson Memorial and Scholarship Foundation was established by his friends, family, and fellow guards. Plans were made for a memorial statue designed by his brother-in-law, Jake Janz. Through community support, private donations, and the sale of "Ben Did Go" merchandise, the foundation successfully raised the necessary funds.
A larger-than-life statue of Carlson was gifted to the city of Newport Beach by the foundation and erected in the center of Newport Beach's McFadden Square adjacent to the now-named Ben Carlson Lifeguard Headquarters. On July 6, 2016, the statue was unveiled by his family during a ceremony that attracted thousands.
Since then, the foundation has developed and published child water safety educational tools and booklets that are distributed at no cost to educators, and established an annual scholarship program, each year awarding three $10,000 scholarships to applicants studying and training to become lifeguards.
The foundation also formed a grant program, sending lifesaving rescue equipment, supplies, educational materials, and uniforms to under-resourced lifeguards around the world including recent donations to the Mexican coastal cities of Ixtapa, Zihuatanejo, and Puerto Escondido.
"There are lifeguards out there that we reach out to who literally have no equipment or resources to work with when they are working to save lives," Carlson's father, Chris Carlson, told The Epoch Times.
This year, the organization is planning its second annual California Water Safety Summit, a collaborative conference attended by first responders, medical professionals, and data analysts aimed at reducing drowning and aquatic-related injuries through studies and sharing valuable information.
"We've been working on ocean safety guidelines that we hope will set standards across California and then potentially on a national basis," the senior Carlson told The Epoch Times.
An announcement on that initiative is scheduled to take place July 16.
Passing the Torch
Ben Carlson was a group leader for the Newport Beach Junior Lifeguard Program, each year taking his 'A-Group' of kids through his specified drill that included swimming the pier, a beach run, and then swimming the pier again.
On July 6, the 2021 A-Group participated in the same annual swim in memory of Carlson.
Newport Beach Fire Chief Jeff Boyles said that keeping Carlson's memory alive with kids who were just babies when he died is an important message the guards convey to the young crowd.
"I am just so impressed by how this program went from humble recreational beginnings 30 years ago, to today with over 1,600 kids participating," Boyles told The Epoch Times. "It's part of the fabric of this community, we're seeing generation after generation now, and Ben's story helps us impart the many lessons the kids learn in the program.
"This program helps teach the kids the gravity and seriousness of what the ocean brings with it, it brings a lot of pleasure and fun, all kinds of things to different people," said Boyles. "But it also brings dangers, quite a few dangers, and what Ben went through helps us to better understand those dangers and how to handle them better. It's important to keep telling Ben's story to these next generations."
As the junior guards charged down the beach toward the water, one of the instructors shouted from his bullhorn: "Ben would love to see you junior lifeguards out there."
Surrounding lifeguards and kids chanted: "Ben did go!"
The fallen lifeguard's dad watched as hundreds of children dressed in red swimsuits lined up on the beach and park for drills.
"If he had to die saving another, look at this legacy he left behind. We think Ben would be really proud of every single kid here today," he said.