A truck driver had committed suicide at a checkpoint after he was fined $305, when the truck's China-made Beidou navigation system (BDS) receiver failed on April 5.
His brother, also a truck driver, talked to Chinese media on April 6 about how a driver can't fix the BDS receiver. Nonetheless, the Chinese regime fines truck drivers for all possible reasons, making a driver's life tough and harsh.
However, the related reports were removed from the internet on April 8 and Chinese state-owned Xinhua published a standard report. The report, republished by most Chinese media, implied the BDS receiver did not fail.
"No matter how precise navigation that the system provides, it's hard to control people's greed to pursue profits," Xinhua reported.
However, BDS receivers don't help drivers to navigate, as they typically use GPS.
A Driver's Death
Jin Deqiang, 51, is from northern China's Hebei Province. He and his wife had worked very hard to raise their three children and take care of Jin's mother, Jin said in his suicide note.
On April 5, Jin received a new contract and picked up goods from Fengrun District in Tangshan City, Hebei Province. He started on his trip but was stopped by staff at the first checkpoint.
After confirming his truck wasn't overloaded, the staff discovered the BDS receiver didn't connect with the traffic control center. According to Chinese media, the failed connection could be attributed to different causes such as a failed connection between the receiver and the BDS satellite, a malfunctioning receiver, or the BDS satellite failing to connect to the traffic control center.
Although the connection failure wasn't Jin's fault, he was fined $305. The checkpoint threatened to seize Jin's truck if he didn't immediately pay the penalty.
After paying the fine, Jin felt helpless and hopeless. He then wrote a note, bought a bottle of pesticide, returned to the checkpoint, and committed suicide by drinking the whole bottle.
"How can we, truck drivers, know whether the BDS receiver is connected or not?" Jin wrote in the suicide note.
According to a webpage cache, Jin's older brother told state-run Beijing Youth Daily on April 6 that the BDS receiver is a monitor which the regime uses to track where the truck is and whether the truck has run for more than four hours.
According to Chinese regime rules, a driver will be punished if he loses six points (one driver is allowed 12 points in one calendar year) and fined $305 if the system monitors the truck operating for over four hours.
"If we [truck drivers] aren't tired [driving for over four hours], the BDS receiver won't make any notification. It's very hard to realize that it's failed," Jin's brother said.
In China, it's mandatory to install the regime-provided BDS receivers on all trucks and buses, which cost around $460. The drivers or vehicle owners also must pay a local regime maintenance fee annually, which is from $46 to $107.
The regime doesn't allow drivers to do anything with the receiver, which also means drivers don't know how to fix it when the receiver fails. Several drivers don't know how to determine whether the receiver is working or not.
"If I know how to fix it [the BDS receiver], why am I paying the maintenance fee to you [the regime]?" a truck driver criticized in an online video he shot on April 8 in memory of Jin. "Why do you [the regime] fine us when the system is down?"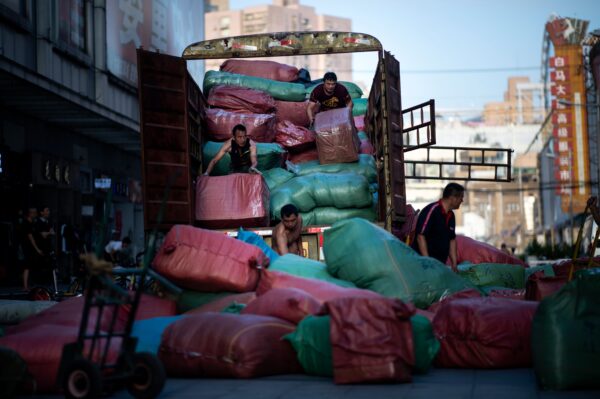 Drivers' Complaints
Jin's suicide note mentioned that he had driven the truck for 10 years but couldn't save any money. Because of the hard work, he suffered from hypertension, hyperlipidemia, high blood sugar, and heart disease.
Jin's brother said that a truck driver can earn $31 to $61 per day, but they are fined frequently for different reasons.
On April 8 Chen Tian (pseudonym), a truck driver from Hebei Province, told the Chinese-language Epoch Times why he was fined by police officers at checkpoints in the past months.
"In October 2020, a checkpoint in Shandong Province fined me [$122] by claiming that my truck was overloaded by 20 kilograms [44 pounds]," Chen said.
Chen complained that for a 10 metric ton truck, 44 pounds is less than two-thousandths of its weight. "You can't bargain with them [the police officers or checkpoint's staff]. They just seize your truck and don't allow you to leave if you don't pay the fines."
"I was fined [$31] several times because the reflective strips on the body of my truck were dirty," Chen said. "It just rained, and I didn't find the chance to stop the truck and clean the strips."
Truck driver Li Cheng (pseudonym) told the Chinese-language Epoch Times about similar experiences in a phone interview on April 8.
"I use plastic cloth to cover my truck trailer. If the cloth has a hole, too big, or too small, the police officer will fine me. They can fine me as much as [$305] each time," Li said.
Chinese media quoted officials on March 9, saying the Chinese regime issued fines totaling around $46 billion in 2020. China has 281 million vehicles in total, which means each vehicle was fined over $152 on average.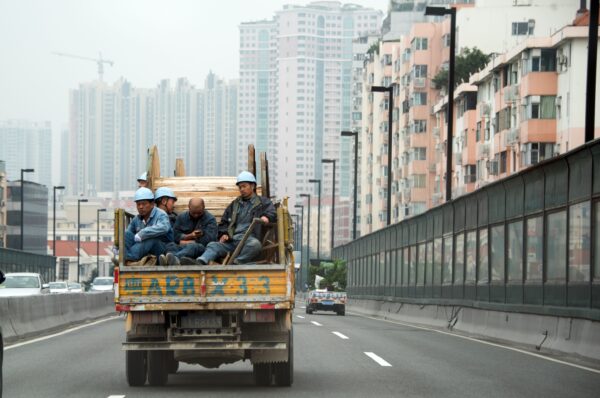 The BDS is the navigation system used by the Chinese communist regime to replace and compete with the U.S.-developed Global Positioning System (GPS).
After about three decades of development, the current BDS-3 has 30 satellites and can track global positions. According to the CCP's plan, its next-generation navigation system—BDS-4—will provide global positioning, navigation, and timing in 2035.