Orange County teenager Alex Chery credits going to the gym with developing his physical strength, but it's what is inside him that makes him strongest.
Every Monday and Friday, the 15-year-old high school student works out at Curl Fitness in Newport Beach, California. It's been part of his weekly routine for seven years.
"The first year I went, I was so small I could barely do anything," Chery told The Epoch Times. "[Now], I'm building abs, I'm getting more muscle, [and] my arms are getting bigger. I can see myself growing and I feel stronger."
Chery has a form of cerebral palsy that's rendered the left side of his body weak. When he first started working out, he didn't have enough core strength to do one sit-up. Now, without stopping he can do as many as 50 burpees, an aerobic squat thrust exercise that requires standing between reps.
"You've got to slowly work at it. That's what I did," Chery said.
Jeff Mendoza, who's been a personal trainer for over 10 years, said one of the benefits of his job is learning lessons from his clients, who come from all walks of life. Out of the estimated 500 clients he's had over the years, Mendoza said Chery has taught him the most.
"Alex is number one for sure. I learned more from him just seeing his perspective on life," said Mendoza. "He doesn't like sympathy. He doesn't like people to think he's any different."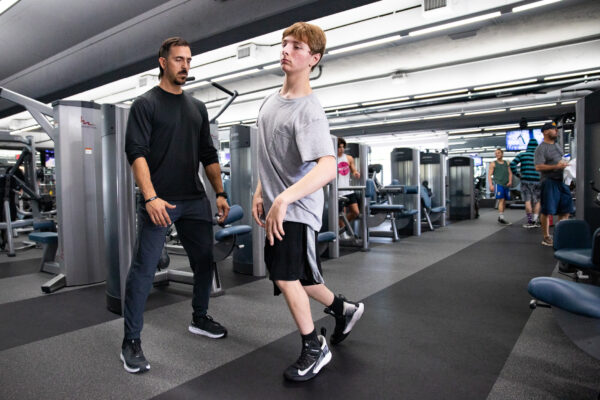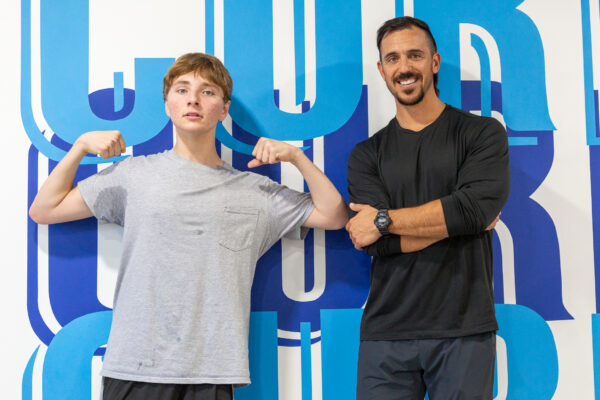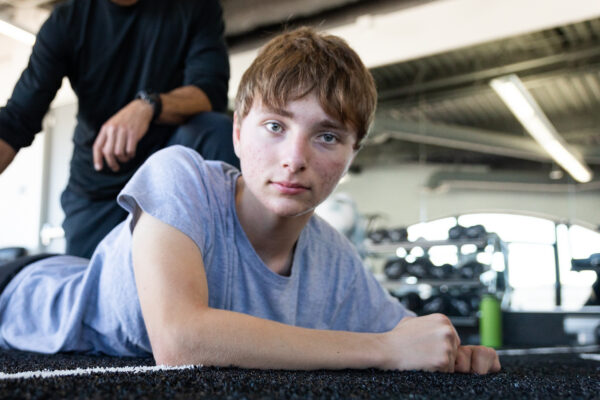 The trainer said Chery's progress has been remarkable. "When he first came in, he'd have to have his walker. Now he can walk into the gym [and] walk out of the gym."
He uses the teenager's experience to motivate clients who are struggling during workouts. "I go, 'Hey, man, I got a guy who would do anything for one day to use your legs.' And I think of that before I go for a run," he said.
Mendoza also praised Chery's dedication and drive, noting he hasn't canceled once in seven years.
"I don't see it as a workout. I see it as a fun activity," Chery said.
The teenager's fitness regimen begins with a warmup on the treadmill, followed by stretching. He alternates between upper body and core work one day, then leg work during the next session, using a variety of machines and exercises.
The youngster's father, Anthony, told The Epoch Times that his son motivates himself.
"I never had to push him," he said. "I never had to force him. … He did it all on his own."
Anthony said his son's progress has been significant. He's especially pleased that Alex no longer has to rely on a walker, calling the step "a huge milestone."
"I always had these fears that he would be somewhere and he would fall down, and he would never be able to get up. [It] brought so much comfort and peace of mind, knowing that Alex is more capable when he's able to go out," he said.
Chery recently decided to take his training further, after he fell in love with mixed martial arts and the Ultimate Fighting Championship (UFC) during the pandemic. In addition to his weekly workouts with Mendoza, he's now taking boxing lessons with a trainer who works with professional fighters.
"I've built a bond with all those guys," Chery said. "Every day I walk in the gym, they all go out of their way to say hello and fist-bump me. … They'll stop and say, 'Hey, do you want to work together today?'"
Chery's father added, "We're so blessed to live in a time and a place where kids like Alex have so much support around them."
Chery, a freshman at Newport Harbor High School, said someday he wants to open his own gym. When asked what advice he has for anyone else who struggles to improve their physical strength, he suggested it's critical to take it one day at a time.
"Just think about how much better you can be … if you just bear down," he said. "I read somewhere you got to do something 66 times until it becomes a habit. … Before you know it, you'll be doing it without even thinking."