Explosion Rocks Downtown Street in Canada's Capital
April 21, 2013 4:33 pm Last Updated: July 18, 2015 5:20 pm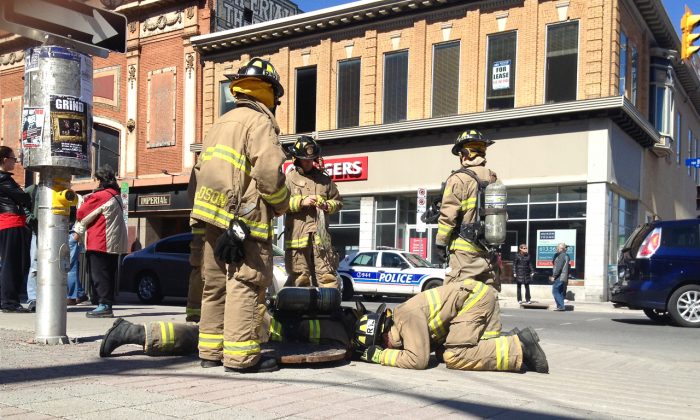 OTTAWA, Canada—A busy street in downtown Ottawa was cordoned off by police and fire personnel this afternoon after a manhole cover exploded into the air in front of an adult novelty store.
Caitlin Scott, the front desk attendant at Trueform Health and Fitness Centre on Bank Street, was in the gym at the centre when the explosion rocked the area at around 2:45 p.m.
"I was in the gym and there was a big bang and the power went out," Scott said.
She thought a car had driven into the building. When she went outside to see what had happened, she saw that the manhole cover in front of Wicked Wanda's Adult Emporium next door had blown off.
"Right away, I was like, 'I need to get out of the building,' because I was alone in the gym," she said.
Police arrived moments later and cordoned off the area, she said. Police closed two blocks of Bank Street to traffic and pedestrians as firemen investigated the incident.
"Everybody was a little shaken up and scared given what happened in Boston this week. Anything loud is scary," Scott said.
Police on the scene said they were not sure what had happened but some suggested it was a gas leak, others suggested something to do with hydro. 
Witnesses said they felt a rumble and moments later heard a loud clang as the manhole cover landed on the ground. One man said it was a miracle no one was hurt.