An all-female NASA team is set to turn history into "herstory" by leading a spacewalk at the International Space Station. As reported by CNN, astronauts Anne McClain and Christina Koch will be the women who carry out this momentous walk, scheduled to take place on March 29 as part of Expedition 59.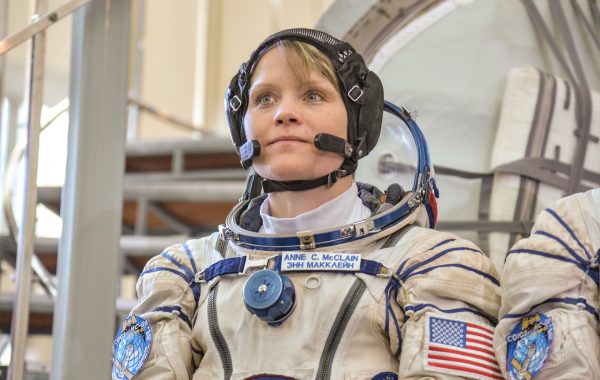 The expedition will comprise six crew members, including the two female astronauts who are scheduled for the spacewalk. Both McClain and Koch are proud to have been selected, and McClain, in particular, has been very vocal on social media throughout March so far. Posting an incredible shot of the view from inside the cabin of a NASA aircraft, McClain captioned: "Yes buddy, that's your Mother Earth. Isn't she beautiful?"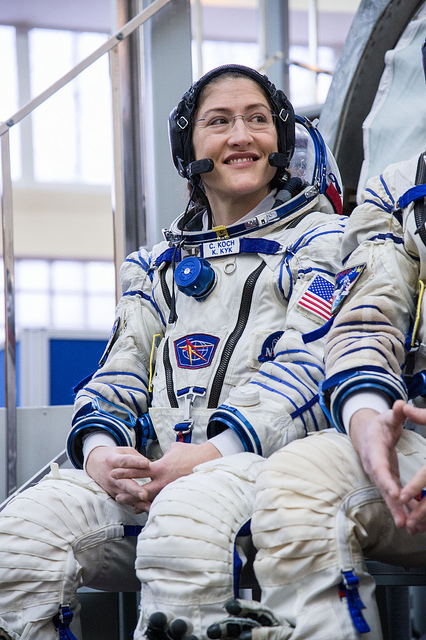 The female faculty doesn't end there. McClain and Koch will be supported on the ground by Kristen Facciol, Canadian Space Agency flight controller for NASA. Facciol will support and maintain communication with the astronauts during their spacewalk from the console at the Johnson Space Center in Houston. NASA spokeswoman Stephanie Schierholz completed the picture: "In addition to the two female spacewalkers, the Lead Flight Director is Mary Lawrence, and Jackie Kagey (also a woman), is the lead EVA (spacewalk) flight controller."
Earth will learn a lot during his busy week on @Space_Station – today he kept me company while we checked our suit sizing to account for space growth (I am 2 inches taller than when I launched!), then we did some translation adaptation. pic.twitter.com/A89tJauyQu

— Anne McClain (@AstroAnnimal) March 4, 2019
Facciol had the honor of announcing the spacewalk herself, and chose to do so via an enthusiastic Tweet on March 1, 2019. "I just found out that I'll be on console providing support for the FIRST ALL FEMALE SPACEWALK with @AstroAnnimal and @Astro_Christina," Facciol shared, capital letters serving to highlight the astronomical (pun intended) level of her excitement for the momentous expedition. She added: "I can not contain my excitement!!!! #WomenInSTEM #WomenInEngineering #WomenInSpace."
First fit check of our actual spacecraft – the Soyuz rocket! This will be the last time we test the systems while wearing our launch and landing space suits. Great to see the real deal with the crew! pic.twitter.com/H7SdhgFuSn

— Christina H Koch (@Astro_Christina) March 6, 2019
CNN spoke to Schierholz, who explained: "As currently scheduled, the March 29 spacewalk will be the first with only women. It is the second in a series of three planned spacewalks. Anne also will join Nick Hague for the March 22 spacewalk." Schierholz was careful to mention that assignments could always change. But McClain and Koch, not to mention the rest of the Expedition 59 team, are ready and anticipant.
"These spacewalks were originally scheduled to take place in the fall," Schierholz added, illustrating the reality of scheduling contingencies.
Yes buddy, that's your Mother Earth. Isn't she beautiful? pic.twitter.com/qY6KDbAIwb

— Anne McClain (@AstroAnnimal) March 4, 2019
Both McClain and Koch were part of NASA's Astronaut Group 21, selected and announced in June of 2013 after an 18-month-long search. Comprising four men and four women, this class boasted the highest historical percentage of female finalists. NASA revealed that their most recent class of flight directors was also 50 percent women, which potentially heralds a change for the face of NASA's space exploration in the future.
March's Expedition 59 spacewalk is expected to last around seven hours, and will likely serve a number of purposes: working outside of the spacecraft, conducting experiments, and testing new equipment. Time during spacewalks is also often allocated to fixing satellites "on location" in space, rather than overseeing the immense operation of bringing them back to Earth.
McClain has a head start: she is currently on the International Space Station, of which NASA is one of five participating space agencies, as part of Expedition 58. Koch will set off from Earth on March 14 and the team's arrival at the ISS will signal the beginning of Expeditions 59 and 60. Joining Koch will be Commander Alexey Ovchinin, and Flight Engineer Nick Hague.
The crew is ready and expectations are brewing: Expedition 59 will be Koch's first-ever spaceflight and McClain's first time in space. It's "herstory" in the making.
Show your support for NASA's all-female spacewalk by sharing this article with everybody you know. Space exploration is changing!