A series of internal government documents from China's Inner Mongolia region has revealed that local authorities have been downplaying the scale of the CCP virus outbreak there.
Data obtained by The Epoch Times showed that authorities kept an internal tally of people who tested positive for the virus, which was far higher than the figures publicly announced.
From April 8 to April 11, the local health commission only announced 31 imported cases in total (0 plus 27 plus 2 plus 2)—46.27 percent of the figures reported in the leaked documents.
Local hospitals are also taking steps to increase their capacity for treating COVID-19 patients, confirming the situation is more severe than authorities publicly admit.
On April 14, state-run newspaper Beijing News reported that Manzhouli city in Inner Mongolia was building a makeshift hospital for treating COVID-19. The hospital has two buildings, with 800 bed capacity total, according to the report.
The city currently has 600 hospital beds for virus patients. The makeshift hospital will be put to use once 80 percent of the 600 beds are occupied, according to the report.
Meanwhile, Inner Mongolia has also seen an outbreak of the bubonic plague among local rodents. Humans can contract the plague if they are bitten by a rodent flea that is carrying the plague bacterium, or if they handle an animal infected with the plague.
The documents revealed that on April 9 and April 10, Baotou, Inner Mongolia's largest industrial city, and Ulanqab reported eight rodent plague cases in their municipalities. To kill the rodents, the Inner Mongolia government bought over a hundred tons of poison. Authorities are concerned the disease could jump to humans.
Previously in November 2019, Inner Mongolia announced that three people were infected with the bubonic plague after consuming a wild hare that was infected with the plague. Since then, authorities have not publicly announced any updates.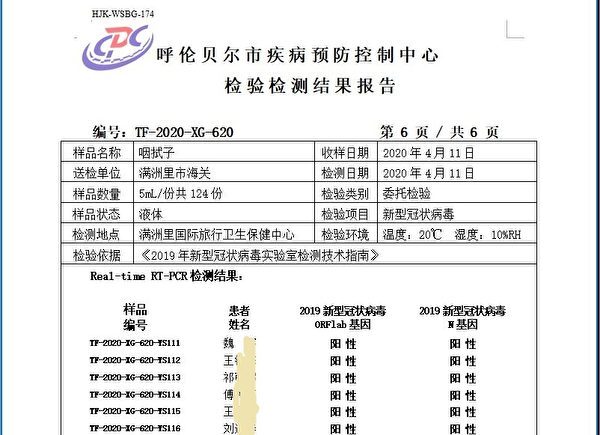 Imported CCP Virus Cases
On April 11, 124 people entered Inner Mongolia via the land port in Manzhouli. Thirty-two of them were diagnosed with the CCP virus, according to the internal documents from the center for disease control and prevention in Hulunbuir, the prefecture city that governs Manzhouli.
Because Manzhouli borders Russia, all passing through the land port would have come from Russia. The documents listed the names of the travelers, all with Chinese names.
On April 10, 2 of 24 who entered the Manzhouli port tested positive for the virus.
On April 9, 23 of 67 who entered Manzhouli tested positive. On April 8, the number was 10 out of 111.
In total, between April 8 to April 11, 67 returnees from Russia (32 plus 2 plus 23 plus 10) had been diagnosed with the virus.
However, the region's health commission announced no new imported cases in the entire region from 9 a.m. of April 11 to 7 a.m. of April 12.
The commission announced 27 new imported cases on April 10; two new cases on April 9; two new cases on April 8.
Because the commission's official figures are a total for tested samples at all ports of entry in the region, this means more cases may have been underreported.
For example, beginning on March 25, some flights from overseas destined for Beijing International Airport stopped at Hohhot—the capital city of the region—for testing the virus. Some of these passengers were diagnosed with the virus as well.
On April 20, the commission announced that 118 imported cases have been diagnosed since March 23, including 74 travelers from Russia, 22 from the UK, 19 from France, two from the United States, and one from Spain.
The commission didn't announce details of which port of entry the diagnosed cases were detected.
The Inner Mongolia government closed the Manzhouli land port at 8 p.m. on April 8, claiming that too many Chinese nationals returning from Russia were infected with the virus. On April 11, the government also closed the Heishantou land port—leaving no land ports with Russia open.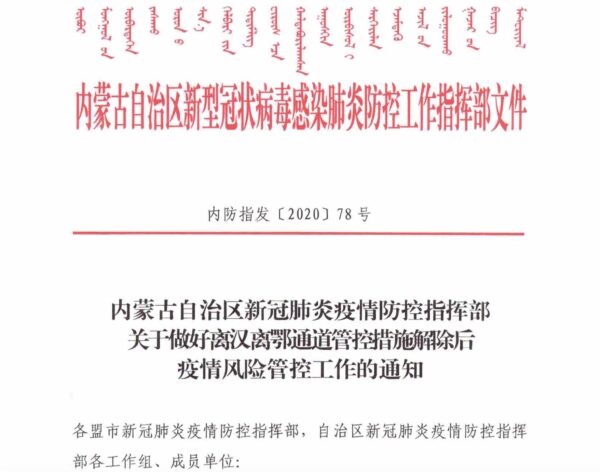 Domestic CCP Virus Cases
Inner Mongolia has not announced any new domestic infections from Feb. 19 until April 20, when it announced one new domestic infection: a person who was infected in Harbin, Heilongjiang Province, and then entered Ewenki Autonomous Banner in Hulunbuir.
So far, there are no details about this patient.
The Epoch Times also obtained documents that recorded the number of discharged virus patients who later developed virus symptoms again or tested positive again.
From Jan. 31 to March 24, authorities tracked the progress of 65 discharged patients. Nine of them presented symptoms after being discharged. Two of the nine tested positive in nucleic acid testing for the virus.
Meanwhile, three of the other 56 patients who did not present symptoms tested positive again.
In total, five (three plus two) discharged patients relapsed, meaning the relapse rate was 7.69 percent. Nine others were placed in quarantine for further medical observation.
Another document, released on April 11, explained that each regional government had to monitor the people traveling from the virus epicenter—Hubei province—and the ground zero—Wuhan city, the capital of Hubei.
For Inner Mongolia, authorities said special passageways for Hubei people at airports, railway stations, bus stations, and so on, should be set up. Furthermore, every Hubei person must be tested, quarantined, monitored for 14 days after they arrive in Inner Mongolia. Then, they have to report their health status to authorities every day for another 14 days.
The document did not mention how many people from Hubei were diagnosed after arriving in Inner Mongolia, but emphasized the need to contain these cases.
In another internal document, released by China's State Council to each region on April 7, the central government asked each local authority to resume business operations based on the severity of local outbreaks.
If it is severe, factories should resume production "step by step." The central government also asked local authorities to disinfect public transportation vehicles, limit people's gatherings, and so on.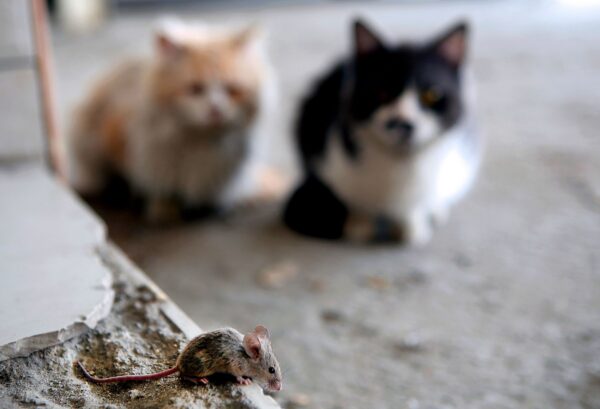 Plague
Another document revealed that "since the first outbreak on March 15, 2020, 21 sites in four leagues [a local jurisdiction] or municipalities in the region have reported an outbreak of the plague" among local rodent populations.
There are 12 leagues and municipalities in Inner Mongolia, meaning a third have reported an outbreak.
The document listed six cases that occurred recently.
For example, on the evening of April 10, government staff found two Mongolian gerbil carcasses in the fields of a village in Xilin Gol League. Test results released on April 12 revealed that the gerbils died of the plague.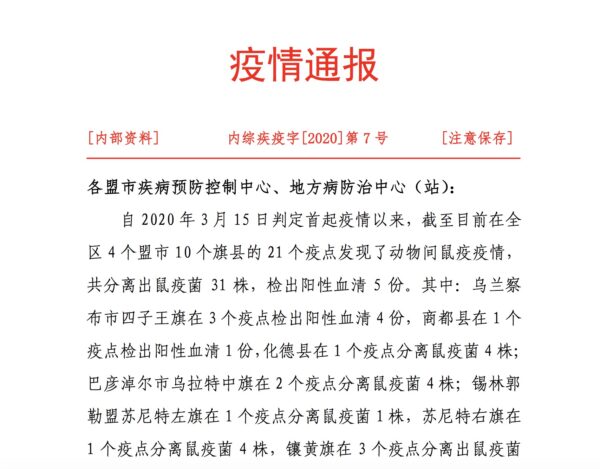 An internal document dated April 3 said, "Currently, the plague among rodents is severe. An outbreak between humans is highly possible." It urged authorities to control and prevent the disease promptly.